Amref Health Africa and Grassroots Business Fund (GBF) hosted the first group of young entrepreneurs selected to join  the 'Innovate for Life Fund accelerator' in Nairobi, Kenya, on 25-29 September 2017.
The chosen innovators come from three different countries: Kenya (2), Ghana (1) and Nigeria (3). The event was the first of the three-month accelerator programme for health care entrepreneurs in sub-Saharan Africa.
Welcoming the young innovators to the event, Dr Githinji Gitahi, GCEO of Amref Health Africa, congratulated them for being among the top six and promised to give them access to an enabling environment where they can develop and grow their ideas.
"We want to save lives and together we can. Your role here is to develop your ideas but at the same time start to think of what Amref Health Africa can do to help you achieve your dream."
During the week, the entreprenueurs were provided with mentorship opportunities by Amref Health Africa and GBF. This included visits to General Electric, a company that leads in manufacturing of machinery for health care.

As part of their training, the entrepreneurs went through sessions on strategy, stakeholder mapping, leadership and team management. In attendance were representatives from Amref Flying Doctors Netherlands and Amref Health Africa in the USA  Board member, Mr Alvin Massy.
Innovate for Life Fund is a programme that seeks to accelerate growth of young entreprenuers who have scalable solutions in support of primary health care in Africa. Through the support of Venture Capital for Africa, the entrepreneurs were selected from 246 applicants at the initial stage. They were adjudicated by  various panels comprising of renowned health care professionals and business experts.
The panelists interrogated the entreprenuers' solutions on the basis of  their scalability across Africa, focus on primary health care in their respective countries, and sustainability.
After the first two months of the accelerator programme, three of the six innovators will be chosen to continue to the next one month where among other things possibilities of strategic partnerships with Amref will be explored. Ending the event was a debrief and planninng session for the next session in November this year and a colourful photo session to profile the entrepreneurs.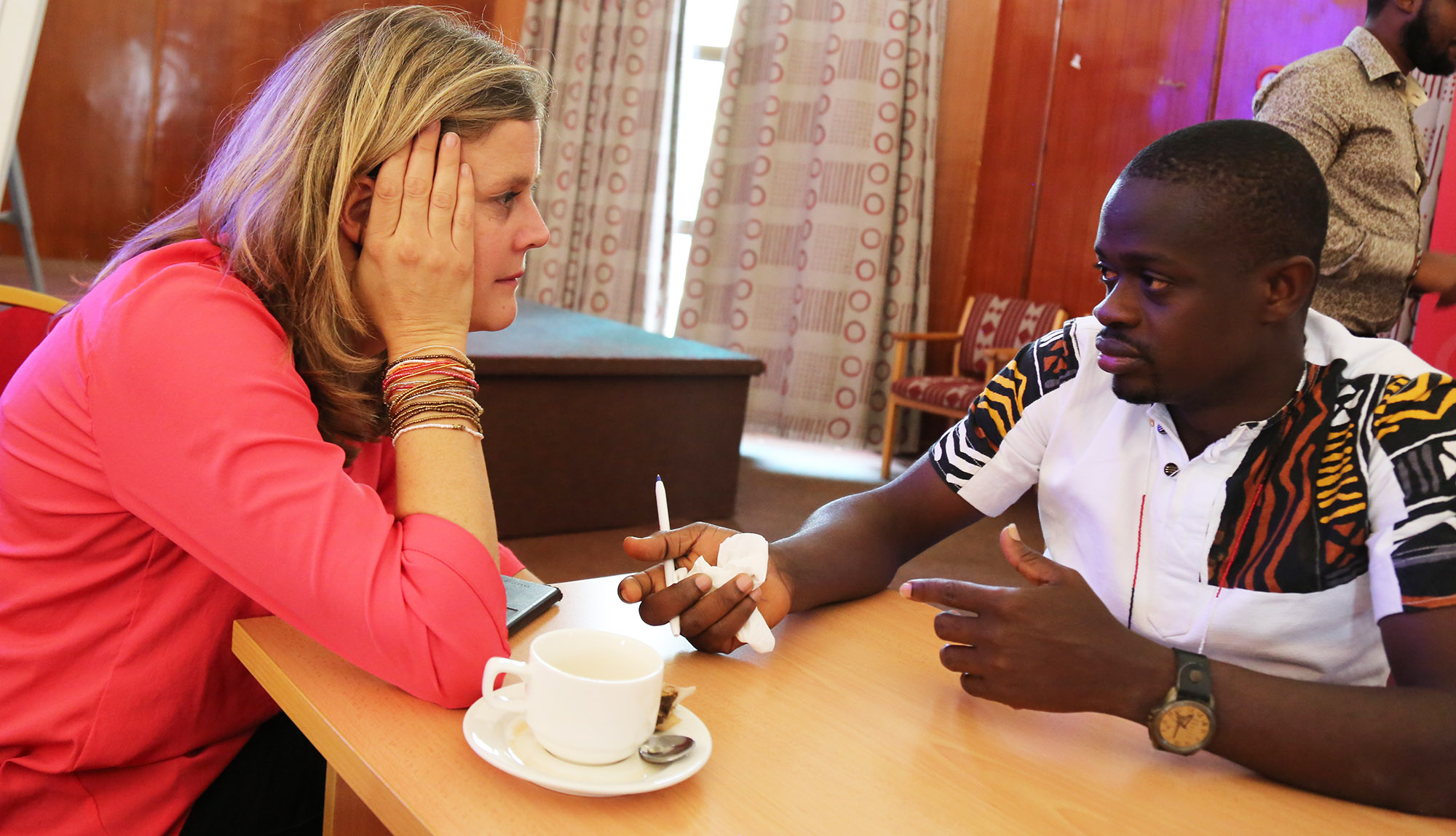 What the innovators had to say: 
"We produce and package high end nutrition foods & beverages for children aged 6 months – 5 years , nursing mothers and pregnant women. Our goal is to create products that help reduce the ravaging effects of malnutrition in African children under 5 years." Mmachuku Omonode, from Nigeria, Founder of Child and Nutrition Advisor, Mahouty Health Solutions
 "Our vision for Africa is that in the next 25 years , all rural districts in Africa will have our services and that the 90% of people in developing nations lacking access to quality and sustainable health services will have them." Mike, Founder and  Director of Primary Health Vision Care, Ghana.
Written by Dinah Karwitha