Members of Parliament (MPs) from the United Kingdom accompanied by representatives of Malaria No More UK visited Amref Health Africa in Kenya to discuss Amref's community interventions in Malaria and Tuberculosis (TB) activities funded by the Global Fund to Fight AIDS, TB and Malaria.
The Amref team was honoured to welcome Andrea Jenkyns, Conservative MP for Atwood and Morley, Stephen Kerr, Conservative MP for Stirling, Stephen Lloyd, Liberal Democrat MP for Eastbourne, and Catherine West, Labour MP for Hornsey and Wood Green. The MPs were accompanied by Malaria No More UK Advocacy Manager Lis Wallace, and Advocacy Officer Charlotte Dixie UK.
In his address to the Members of Parliament, Dr Meshack Ndirangu, Country Director of Amref Health Africa in Kenya said, "Amref aligns its strategic plan around Sustainable Development Goals 2, 3, 5, 6 and 17. We always seek to increase sustainable change and our DNA is truly African. We connect with what happens in Africa and value the African spirit which makes us unique."
Dr Ndirangu further stressed the instrumental role of Community Health Volunteers (CHVs) at community level, urging the MPs to join the movement initiated by Amref to lobby government to recognise Community Health Volunteers as civil servants.
"CHVs play a vital role in responding to diseases such as Malaria and TB among others at the community level. We urge governments to support our global advocacy agenda to ensure CHVs are recognised and included."
Amref Health Africa in Kenya received a grant of Kshs 4.6 Billion in December 2017 from Global Fund after a competitive process. In the capacity of non-state recipient, Amref has trained 7,350 community health volunteers to diagnose malaria using rapid diagnostic test kits and trained 1,470 Community Health Extension Workers on community case management of malaria. The Global Fund TB project has so far screened and identified 59,768 TB cases.
In his remarks, MP Stephen Kerr said, "We represent the needs of vulnerable people in communities. We just came from a field visit to Siaya and what we want is to represent the women and children that we saw during the visit," he said. He further commended Amref for its impressive work that is positively impacting local communities.
The MPs discussed the concrete actions that should be made in ensuring the realisation of Universal Health Coverage. Challenges faced in the implementation of projects at community, county and national levels were also discussed.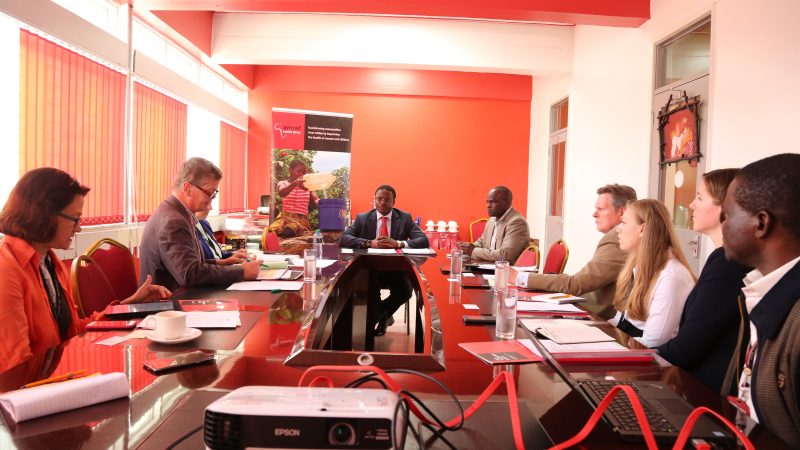 Responding to a question on quality of data collected from Amref projects, Jared Oule, Manager of the Amref Global Fund Malaria project explained to the team how the Kenyan health system works.
"Every month, CHVs submit data they have from the household and community level to Community Health Extension Workers (CHEWs). After verification, the CHEWs submit the data to the sub-county health representatives for quality assurance. Thereafter, the sub-county teams submit the data to the county and onwards to the national government. The data is then available on the national Health Information System."
MP Catherine West acknowledged His Excellency Uhuru Kenyatta's commitment to the Commonwealth goals as demonstrated during the Commonwealth Meeting held this year and noted that devolution in a key step to ensure these goals are achieved.
Kenya is among the 30 countries with a triple burden of TB, TB/HIV and Multi-Drug Resistant TB (MDR-TB) and is ranked number 14 among the TB high-burden countries that contribute to 80% of the global TB burden (Global TB Report, 2016).