Addis Ababa, Ethiopia, 26 February 2019— As part of its efforts to strengthen the health systems in the developing regions, Amref Health Africa in Ethiopia hands over more than USD 800,000 (Approximately 24 million birr) worth of medical devices carried in a backpack – "PHILIPS Community Life Centre Outreach Kit" to Afar Regional Health Bureau for use in health posts, health centers and hospitals.
Amref Health Africa through its A'ago – Improving Sexual Reproductive Health project, which is supported by the Netherlands Government, provided the equipment and solutions, partnering with Philips Healthcare Africa. The community outreach kit includes a high quality image portable Ultra Sound, foetal Doppler, digital blood pressure and heart beat monitor, Children's Automated Respiration Monitor, diagnostic ECG and more. These medical tools are used by community health workers and midwives to diagnose and refer people in need of further treatment, and will be distributed to 93 health posts, 23 health centers, and hospitals as well as 10 health district offices in Afar region. The A'ago project is implemented through a consortium that includes EngenderHealth,Trigerise and Philips Healthcare Africa.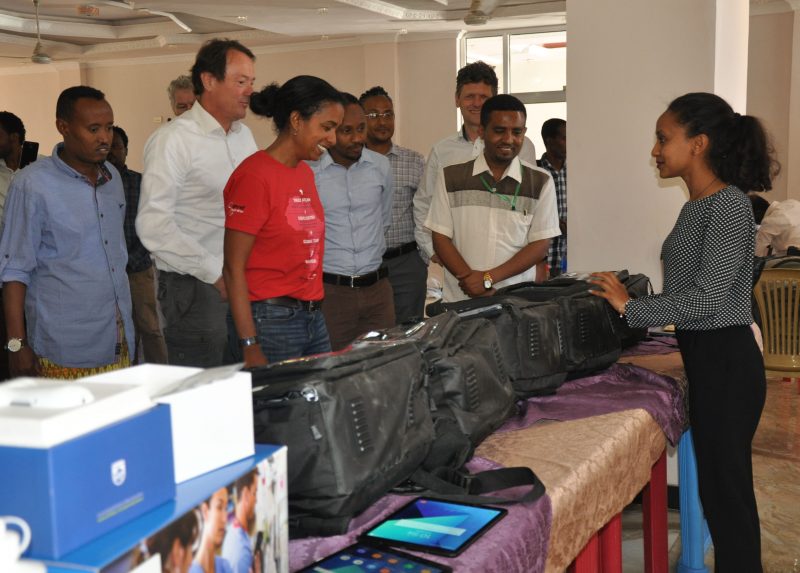 Founded in 1957 in Nairobi, Kenya, Amref Health Africa is the largest African based non-government organization. With a vision 'Lasting Health Change in Africa', Amref Health Africa works to ensure every African can enjoy the right to health services by helping create vibrant networks of informed communities that work with empowered health care providers in strong health systems. With over half a century of experience in delivering health care and building health systems in Africa, we partner with those at the heart of communities, particularly women and children, to bring about lasting health change.
For More Information, please contact – [email protected] or cell phone at +251 911704787, Genetu Addis- [email protected] /+251933033843.