Amref Health Africa in Kenya has called for legal reform and enactment of legislation to support the realisation of universal health coverage (UHC).
The priority areas include operationalising the Kenya Health Financing Strategy, domestication of County Public Participation Acts, enactment of County Facility Improvement Fund Bills and enactment and recognition of Community Health Volunteers (CHVs) as facilitated by the Community Health Service Bill.
Speaking at the 4th Annual Legislative Summit held in Kisumu County, Amref Health Africa in Kenya's Country Director Dr Meshack Ndirangu added voice to the forum that seeks to assess progress made in legislation across various sectors of the economy including health.
The realisation of universal health coverage calls for equitable access to health services, quality of service, adequate financing for the delivery of health services and accountability from duty bearers. Critical to this is an enabling environment that, among other things, avails legislative action that provides formative guidance and institutional changes. To a large extent, this means domesticating existing policies and legislation from national to county levels.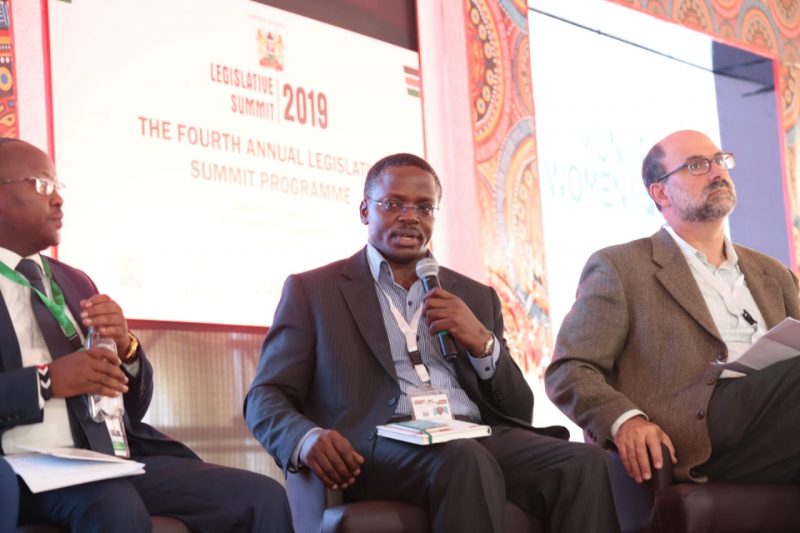 In his remarks at the summit, Dr Ndirangu appreciated counties that have prioritised health in their budgeting and legislation processes. These include but are not limited to Turkana and Homabay counties that have approved Community Health Service (CHS) bills. Dr Ndirangu also emphasised the need for counties to employ a multisector approach to involve various ministries as it is only through concerted effort that Kenya will achieve its global commitment of UHC by 2030. He further posed questions on how effectively citizens are being engaged to understand UHC and hold leaders to account especially as relates to resource allocation and utilisation.
While appreciating the vital role being played by various county assemblies, the Country Director encouraged Members of County Assemblies (MCAs) to play their legislative role effectively as lawmakers at County level.
Towards the realisation of UHC, Amref Health Africa in Kenya is supporting county advocacy efforts for the enactment of Facility Improvement Fund Bills to allow sub-county units such as hospitals to have residual rights over the revenues that they generate. These funds can be used to invest in infrastructure that can attract additional investment from the private sector, as well as improve infrastructure for quality service delivery.
The Public Finance Management (PFM) Act of 2012 took away the freedom of hospitals' to retain, bank and spend collected revenues. Revenue collected is currently submitted to the County Revenue Fund (CRF) and has to be requested by the facilities causing bureaucracies and often less funding than remitted. This has resulted in reduced autonomy of hospitals over their financial management. However, a keen examination of devolution laws reveals that the law also provides for county governments to develop bylaws that will allow them to give financial autonomy to units such as health facilities.
Amref is currently working with West Pokot County on a bill, the first of its kind, to ring-fence revenue collected from health facilities for use in facility improvement. The Bill has been tabled to the County Assembly for discussion.