Health is today viewed as a key aspect of human and economic development. This is a view championed by the United Nations after Member States endorsed the 17 Sustainable Development Goals (SDGs) in 2015 as a blueprint of the global development agenda through to 2030.
SDG 3 (good health and wellbeing) entrenched Universal Health Coverage (UHC) as a development priority for all countries. Naturally, UHC has today become a key talking point among health and policy experts across both developed and developing countries.
But the approach to achieving UHC in the developed world is markedly different from the approach in developing countries across Africa. This is because the health needs for developing countries in Africa differ greatly from the rest of the world's health needs.
According to the UN, Africa has only 3 per cent of the global health workforce, despite being saddled by the better part of the world's disease burden. Furthermore, preventable diseases are still very much in the fore in Africa, contrary to the situation in Europe, North America and other developed parts of the world.
It is against this backdrop that the Africa Health Agenda International Conference (AHAIC) will be hosted in Nairobi from March 7-9 at the Radisson Blue Hotel. The conference has been organised by Amref Health Africa in collaboration with GSK, Nairobi City County and Ministry of Health.
AHAIC will attract over 450 delegates from the continent and beyond who will gather to develop health strategies modelled and tailored to meet the SDGs in Africa.
Dr Githinji Gitahi, the Group CEO of Amref Health Africa, noted that the conference will help create awareness about Africa's distinct health needs.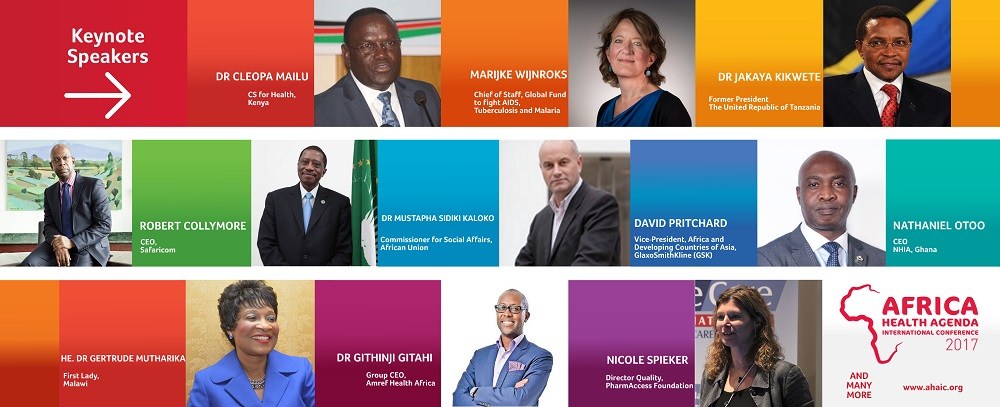 "The much-touted global health agenda narrowly focuses on the situation in the developed world at the expense of Africa. For Africa, we need a distinct and separate agenda running concurrently with the global agenda. The health indicators in the continent are still comparatively lower than the rest of the world," observed Dr. Gitahi.
According to WHO, equity in access, quality of health services and financial risk protection are the key pillars of achieving universal health coverage. Access to healthcare should not be limited to ability to pay, but driven by the need for healthcare services. Similarly, the quality of healthcare should guarantee better lives for those who receive the health services. Likewise, the cost of healthcare should not put people at risk of financial hardship.
Though these pillars are strong in areas like Europe and North America, they are characteristically weak in developing nations across Africa, including Kenya. WHO notes that an overwhelming percentage of poor households in Kenya cannot afford healthcare without serious financial setbacks.
Nearly four out of every five Kenyans have no access to medical insurance, thus a large part of the population is excluded from quality healthcare services. This scenario is replicated throughout the rest of sub-Saharan Africa, with the notable exception of Rwanda, which has 90 per cent health insurance cover, surpassing even the U.S.
Partnerships
Achieving universal health coverage in Africa will ultimately boil down to partnerships.
"Partnerships are our preferred model. AHAIC is not about Amref touting its achievements over the past six decades, but about Amref bringing its key strength of strong community linkages to the table in order to forge partnerships with other progressive stakeholders," noted Dr. Gitahi.
Partnerships will be particularly instrumental in bridging health funding gaps. Less than 10 sub-Saharan African countries have met the 2001 Abuja declaration committing to allocate 15 per cent of their annual government spending to healthcare. These financing gaps can only be met through partnerships across the board.
Moreover, the public sector needs to muster sufficient political will. A compelling example of what political will can do for African healthcare is Ethiopia. Ethiopia's strong political will has seen it become the benchmark for Africa's community health worker strategy. Through its health extension programme, it has expanded disease prevention and primary care through service delivery to the communities at the grass-root level.
Another key constituent—the youth—also need to be heavily involved in African healthcare. In line with this, AHAIC will be preceded by a Youth Conference to get the young people's perspectives on African healthcare.
Partnering is a key theme for AHAIC. Tellingly, key speakers are not exclusively drawn from the health sector, but also from the private sector and government.
Bob Collymore, the CEO of leading telco Safaricom is expected to deliver a keynote address about the role of innovation in achieving Africa's health outcomes, while former Tanzanian President Jakaya Kikwete will also make remarks. The Malawian First Lady, Getrude Maseko, who is a nurse by profession, will also attend AHAIC, underlining the event's continental appeal.
This article was first published in the Daily Nation's Healthy Nation Page 3 on Tuesday, Febraury 14, 2017.