Samburu County, Kenya: The morning sun beats down on Loruko village in Kenya's Samburu County, as the birds chirp in the air, and as you enter the Samburu homestead here, you can't help but notice the houseflies that keep your hand busy trying to scare them away from your face.
Clad in a green Kaunda suit and traditional sandals made from old car tires, 69-year-old Peter Leaduma throws his shuka off his shoulder and wraps it tightly around his waist as he prepares to catch the naughty kid goats as his grandson drives them out of their pen. Their mothers have already gone to graze in the fields nearby.
The rains have been gracious to them this year, and as Leaduma notes, that is why there is why the flies are in plenty, as the cattle and goats are home and not grazing far in the bushes. They are a sign of blessings from the gods.
Flies are the cause of trachoma, the leading infectious cause of blindness worldwide, according to the World Health Organization (WHO). It is caused by an obligate intracellular bacterium called Chlamydia trachomatis. The infection is transmitted by direct or indirect transfer of eye and nose discharges of infected people, particularly young children who harbour the principal reservoir of infection. These discharges can be spread by particular species of flies.
According to more recent data published in a WHO report dated October 24, 2022, and based on June 2022 data, 125 million people live in trachoma-endemic areas and are at risk of trachoma blindness.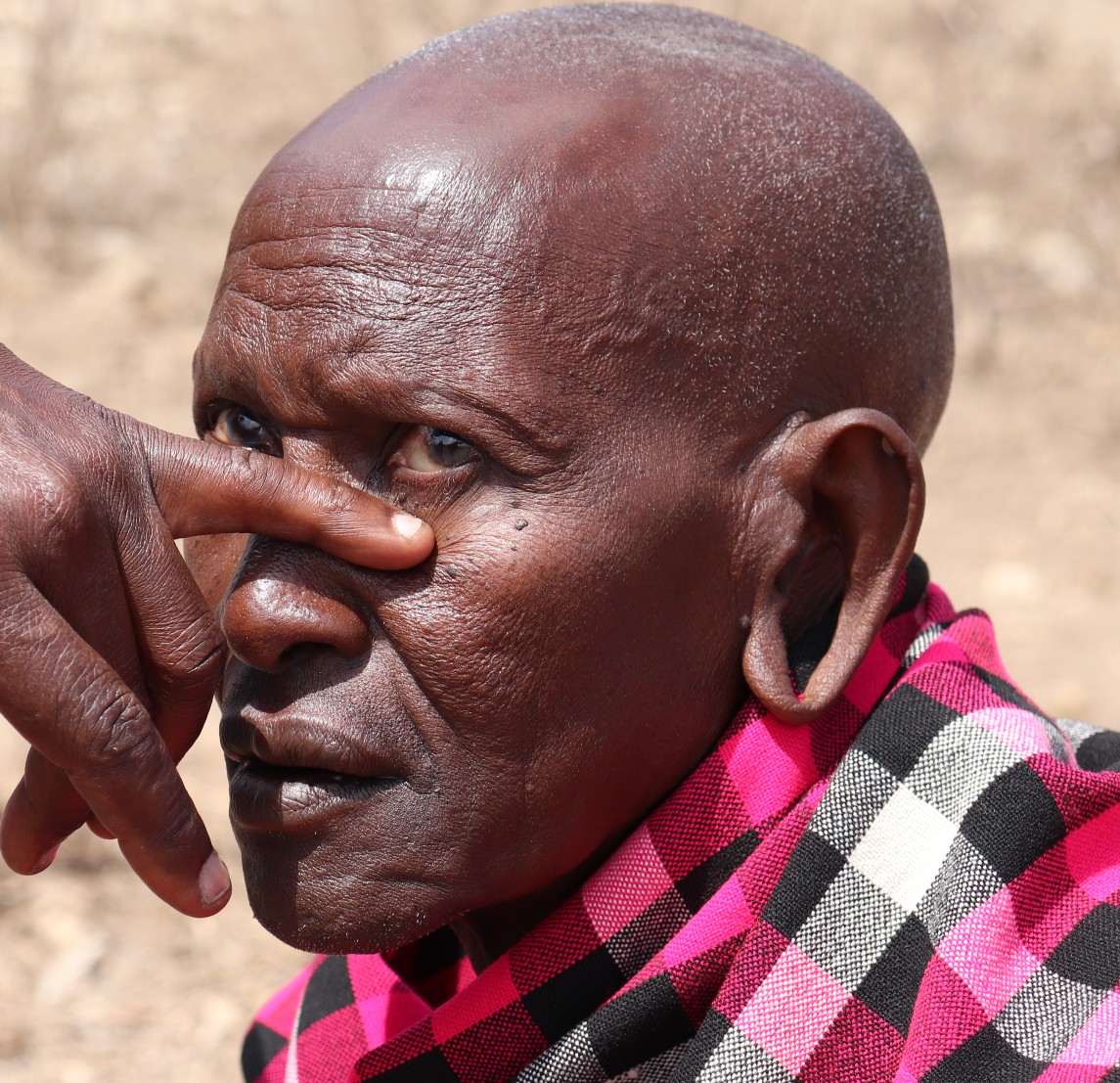 "In 2021, 69 266 people received surgical treatment for the advanced stage of the disease, and 64.6 million people were treated with antibiotics. Global antibiotic coverage in 2021 was 44%," the report reads in part.
Ledauma is suffering from a type of trachoma called Trachomatous Trichiasis (TT) that affects older adults and says that his right eye had completely gone blind, but after surgery at Kisima by doctors from the Africa Medical Research Foundation (Amref), he regained his sight.
"They said that there was something inside that they had to remove for me to feel better as it was itching and I could feel it rubbing my eye, causing too much pain. I felt relief after they removed it," he says.
Among the Samburu and the Maasai, the flies being a sign of blessings were not supposed to be drawn away from the faces as it would be as if you were driving the benefits away. This has been the main cause of the other type of trachoma that affects children below 15 years and is called Trachomatous Follicular (TF).
"It was a belief and we held on to it growing up because we did not want to lose the blessings of milk in our homestead, as we were taught by our elders. But that has been reduced now, with information that we are supposed to maintain cleanliness as taught to us by these health officers who come here. Children now can even carry twigs with leaves to chase the flies away," Ledauma explains.
He is referring to sanitation campaigns and community health talks carried out by public health officers in the area, that have led to a reduction of trachoma cases in Samburu County.
Savimbi Lalaikipiani, the Assistant Community Health Officer at the Loosuk Health Centre says that these campaigns have driven trachoma cases from about 70% to the current 20% according to the records at the health center.
"They would have traditional ways of dealing with it before, saying that washing eyes with cattle urine would heal it, but it didn't work. And that's why they have accepted to come and seek medication," he says.
Among the Maasai in Kajiado County, the same is taking place, with older members of the community suffering from trachoma. 
At Enkusero village, 60-year-old Leshoko Lekopili says that he's been pulling his eyebrows because they itch him and rub his eyeballs. He is now left with none and says that he has trouble whenever the wind blows with dust, especially during dry seasons like this one.
As a desperate measure or a remedy, Lekopili says that they normally take a leave from an indigenous shrub called esiteti in the Maasai language, fold the leave longitudinally into two and rub the inner part of the eyelid with it until it bleeds. "But it heals!" Lekopili asserts.
Also, he explains that in the morning when children have just woken up, their eyes are completely closed and full of pus. The parents or elder siblings forcefully open it, bursting with a jet of white pus, after which they wash it with goat urine. This, he also says, saves the children from going blind at that age.
Solomon Mwaniki, the NTDS and eye care coordinator at Amref Kenya says that trachoma remains a disease of public health importance in the endemic counties.
"This is probably due to the existing bottle-necks factors and barriers to effective trachoma management which are yet to be fully addressed including resistance and slow uptake to positive behaviour change, social and economic factors, existing health system gaps in addressing trachoma, possible cultural factors influencing trachoma transmission among the pastoralists," Mwaniki says.
He says that there should be more collaboration between government and non-government organizations to ensure a steady fight against the disease.
"Concerted efforts required towards a preventive approach which will not only create positive behaviour change in trachoma management but also synergize the curative and concerted WASH intervention efforts. Governments and development partners need to prioritize and allocate resources both material, personnel, and funds to sustainably address and manage the diseases and other underlying social, economic, cultural, and health system factors that are affecting trachoma management," Mwaniki adds.
Titus Watitu, the Trachoma Focal Point Person at the Kenyan Ministry of Health says that the main cause of trachoma is unhygienic practices and that it can be cleared by basic hygiene.
"The bacterium is not a very strong one and it can be cleared by soap and water, or just one dose of azithromycin antibiotic. Even simply washing your face is enough to clear the virus," he says.
According to Watitu, trachoma is endemic in most pastoralist areas in Kenya, where the communities have a scarcity of water and they are moving from one place to the other to find it.
He says that the government has worked with other organizations to reduce trachoma prevalence across the country by providing water and sanitation services among these communities, carried out some behaviour change communication, and as well reached them with eye care medical services.
"With behaviour change communication, we would not even need those other interventions such as antibiotics, as long as we get people to wash their faces every day," Watitu says.
In the past ten years, endemic counties have reduced from 12 counties to about only five, according to Watitu.
"Now we have scaled down to about five counties and we are pushing it down still. As a country, we aim at eliminating trachoma as a public health problem by 2026. The five counties with trachoma as an endemic disease right now include Narok, Kajiado, Turkana, West Pokot, and Baringo," he says. 
Article first published on https://www.talkafrica.co.ke/kenyan-pastoralists-still-suffer-trachoma-amidst-traditional-beliefs/