By Arthur Mwai
Some stories begin in the middle or at the end and then roll back to the beginning, with the audience on edge, waiting to see how it all ties up.
The Coca-Cola Foundation COVID-19 Response project is one such story. Hatched in the most unexpected of circumstances, set in the weirdest of years in human history and unfolding through the selflessness of a new type of heroes and heroines in the frontlines.
Where it Started
The partnership between Amref Health Africa and the Coca-Cola Foundation in response to COVID-19 in the Coast region started with what was at hand given the scramble for scarce medical commodities globally and set amidst rising cases, long before the siege fatigue of responding to the pandemic's terror set in and Kenyans were beginning to understand a new term – asymptomatic.
In July, we launched the project with the County Public Health Department.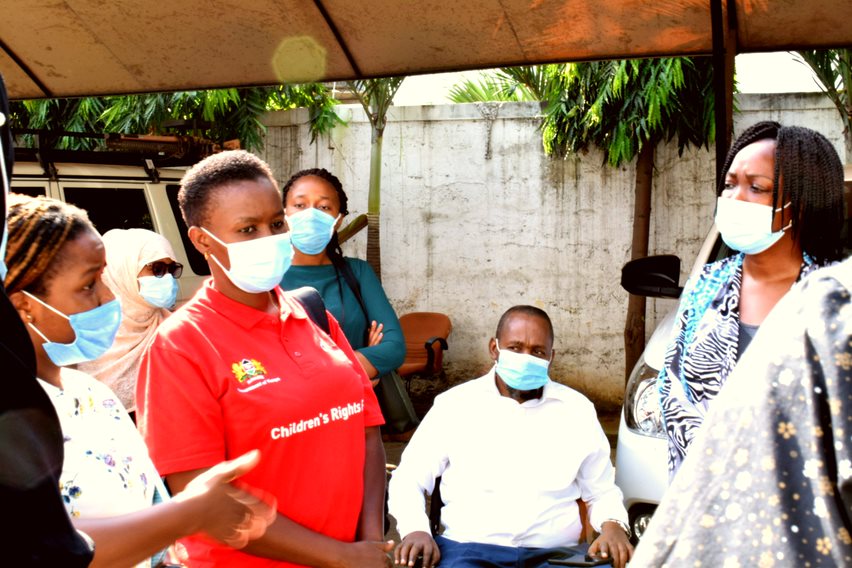 Dr Salma, the soft-spoken and calm Director of Public Health, had at the previous day's planning meeting diplomatically lobbied for other emerging hotspots and called Dr Khadija of Mvita Clinic to negotiate for a small batch of the commodities donated to Mvita sub-county Clinic.
Fumigation
A mist of chemical spray unleashed by a fumigator in an overall with a hoodie, gumboots, heavy-rubber gloved hands, a chemical mask and goggles reminds one of the Hazmat suits worn by response teams in nuclear disasters.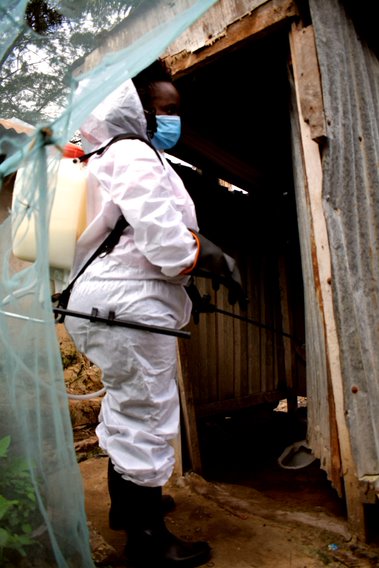 But for Community Health Volunteers (CHVs) in the informal settlements of Tudor, the situation is very different. Acquiring a pair of gumboots came only after a long struggle of complaining and waiting; instead, they have a standard-issue knapsack manual sprayer and a surgical mask:
"Accessing the houses sometimes is very difficult, especially when it rains and it gets all muddy. Initially, we did not have kits. Some as basic as gumboots. I was given an N95 mask, but it is supposed to be disposed of after a single day of use; it does not filter out the chemical fumes either. Sometimes after fumigation, you sit down and feel the effect of the chemical you have inhaled.
But what can we do? We have to serve our community. Nobody forced me to become a CHV. It is very fulfilling to serve my community and see lives transformed for the better." —Eunice Wangui, CHV, Muoroto Community Unit, Mombasa.
A fomite is any inanimate object, which when contaminated with or exposed to the COVID-19 virus can infect anybody who touches that surface. In shared toilet facilities typical in an informal settlement, this communal point creates a near-perfect touch-point for infection – given that proper handwashing with soap is not consistently done.
Whenever she gets issued with fumigants and the weather is just right, Wangui and other CHVs visit households under their care early in the morning to fumigate such communal spaces, even as they continue to preach the gospel of proper handwashing with soap:
"We used to have serious cholera cases every rainy season without fail. But this year we have seen very few if any case of cholera….mostly because of frequent handwashing with soap and water by residents. This is a relief for us because that is one less deadly disease outbreak to worry about." –Fatma, Community Health Extension Worker, Tudor, Mvita Sub-County
As Ahmed, the Mvita sub-county Public Health Officer explained to us in one of the initial planning meetings:
"Fumigation chemicals are scarce, and only households where there has been a confirmed COVID-19 case are prioritised as part of contact tracing. We also fumigate areas deemed to have high foot-traffic, where the public gathers and interacts. This way, efficient use of the fumigation chemicals is realised," he explained.
When we asked about training for the health workers doing the fumigation exercise:
"Please convert every single penny into chemicals for fumigation, we have a few trained staffers and our biggest need right now is the chemicals. That is our top priority," he replied, stressing the point with a pen in hand.
Face Masks
The ongoing war against COVID-19 is multi-faceted and awash with strange terms, outfits, irrational denial of the new reality and wild conspiracies which in a way help some people deal with huge disruptions in their social and economic lives, but unfortunately pose a huge danger to public health and greatly slow down progress towards a COVID-19 free country.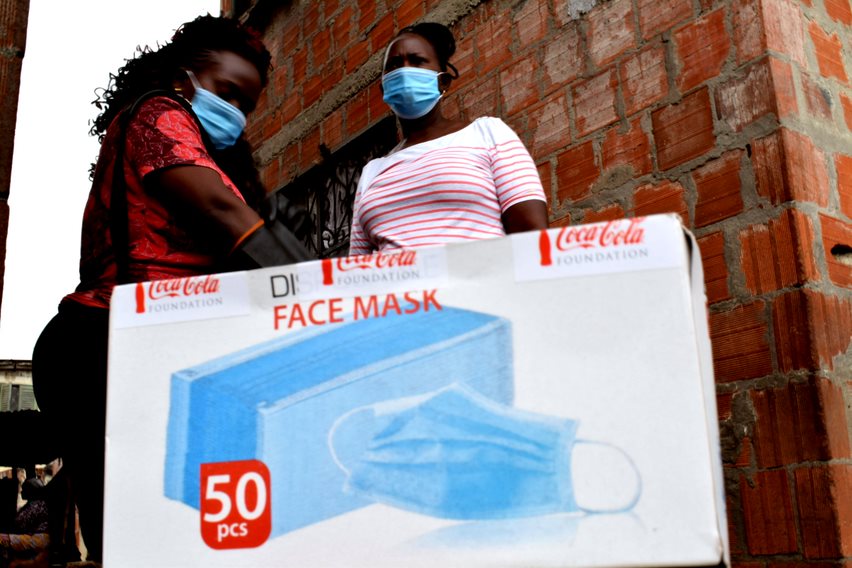 At the height of the pandemic back in April when daily death counts in Europe shocked the world and much less was understood about the virus, face masks were so scarce that some health workers in Mvita sub-county had to do with a single disposable surgical mask for a whole week, while most had to buy varied types of masks. A few got infected with COVID-19, prompting the Mvita Clinic to shut down for a while.
The face mask is the most common piece of PPE, seemingly basic, yet so critical in enabling health workers to safely do their jobs – both at the clinic and in the informal settlements where Community Health Volunteers carry out door-to-door preventive health interventions.
Difficult decisions have to be made about who to give the scarce surgical faces masks and who not to give – akin to the decision that doctors had to make in hospitals overstretched with COVID-19 patients, which life to save and which to let go. These are difficult decisions.
Face masks and hand sanitisers are not stored in the general store along with other medical commodities in the Mvita sub-county Clinic. Instead, they are kept under lock and key near the boardroom, under the watchful eye of ever-busy but friendly Sumeya. Every request must go through her, and she is held accountable for each medical commodity issued out of the store.
The thirteen thermal guns that we donated in early June were not even stored for a single day under Sumeya's watch. Instead, they went straight into action to fill a critical gap for COVID-19 response teams in the field.
Magdalene Radier, a seasoned Community Health Volunteer from Mburukenge who was wearing a surgical mask that told tales of being washed, re-washed and washed again, carefully packed away the new set of masks that we issued them for use during the week's door-to-door sensitisation campaign.
She did not want to wear one just yet – they are too precious to use and dispose of. Instead, the utility of a surgical mask, which is designed for use over eight hours only, must be stretched as much as possible. Wearing a new mask has to be postponed, avoided – because a CHV never knows when they will be issued with face masks again.
A Different Kind of Messaging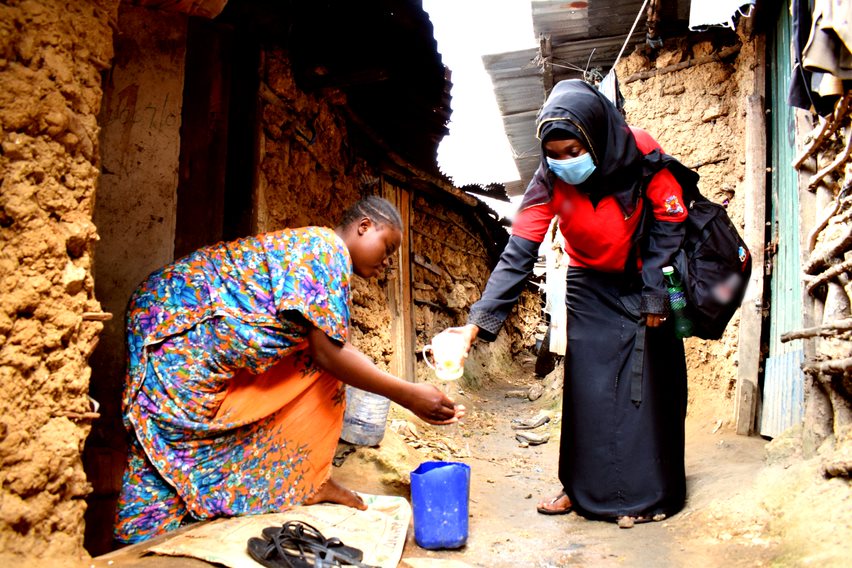 Weeks turned into months, with the fear of getting infected with COVID-19 that turned into indifference and many unanswered questions. Sensitisation posters had started to yellow from the beating sun, and the wet patter of rain after cars fitted with blaring loudspeakers and
intermittent music made their rounds blaring out COVID-19 messages to disinterested people going about their business.
We sat down and crafted a different approach, bold and difficult, but formidable and engaging. We were going to engage CHVs in a door-to-door sensitisation campaign, where residents of Muoroto, Tudor Mwisho and Mburukenge informal settlements, within Mvita sub-county, would get a chance to pose questions about COVID-19 to the health workers and generally have an interactive sensitisation session.
As a reward for their time, and to reinforce proper hand hygiene, where washing hands with soap and water is not feasible, targeted households would receive two small bottles of hand sanitiser.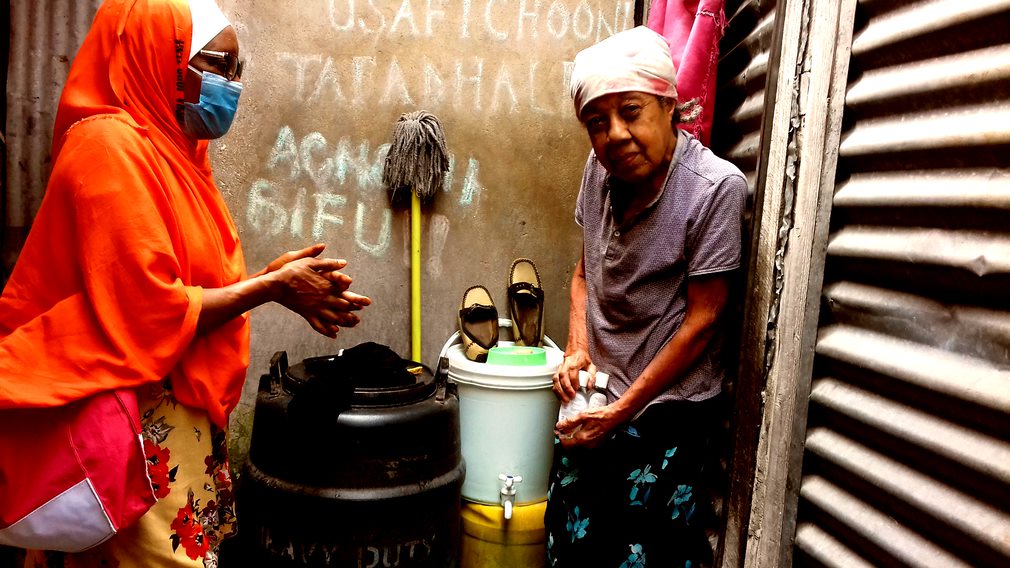 Some Community Health Volunteers also double up as Balozis, or community leaders and thus effectively act as the link between the communities they serve and the outside world:
"Why were my name and details taken but we never got the relief food?" a woman frying mandazi asks Riziki after greetings have been exchanged, "Why?"
"Last time you were here you promised us facemasks," a resident jokingly reproaches CHV Magdalena with a warning finger. "Where are the masks?" he asks.
CHVs have a difficult job of dealing with the blowback and serving as the de facto customer service between residents of the informal settlements and project implementers – from the
government to NGOs, especially when projects pull out before implementing promised outputs or data is collected without proper follow up, feedback or interventions in the community.
"Sometimes you get to a household to do your intervention and find that they have not eaten in days, especially the TB and HIV patients. So the humane thing to do is to dip into your pocket and help. Remember that we are not paid a salary or stipend; we are just volunteers." –Teresia Okeyo, Community Health Volunteer
From welcoming mothers, to hostile residents who insisted that COVID-19 was a government ploy, to water-poor households that washed their hands several times using the same water in a basin. To teenage mums who respect and look up to the health advice given by the CHV, to neighbours who complained that the CHV did not come to share the message with them. The team of eight CHVs managed to reach 800 households over five days, across three sections of the Tudor informal settlements in Mvita Sub-County.
A Simple Long-Lasting Message: Talking Walls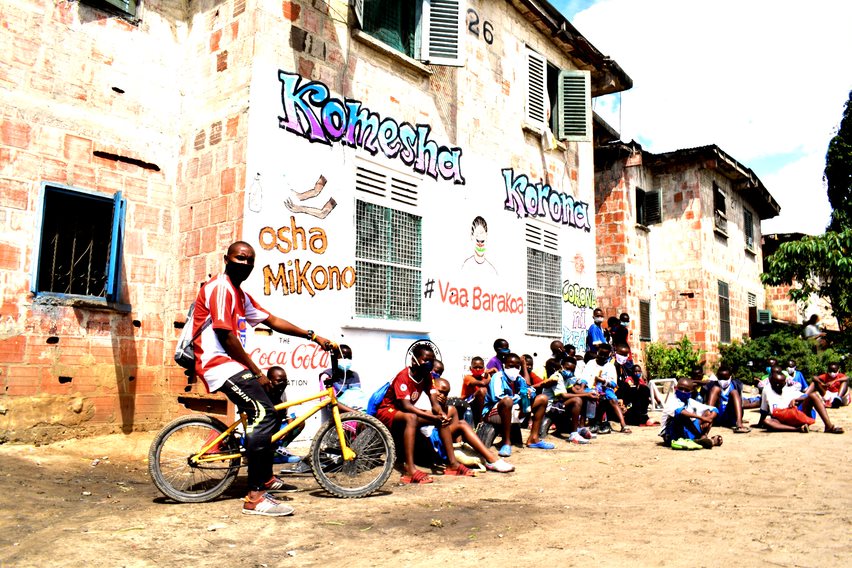 A set of simple COVID-19 messages on a community wall beats posters and cars fitted with loudspeakers, sharing a quick message that goes with the wind and wafts past disinterested ears.
Mutisya, also known as "Coach" or "Coaches" lives in a tiny house next to the mural, above CHV Wangui's tiny apartment. Parents adore him for keeping their kids engaged through sports in morning and afternoon shifts; he is much respected and loved.
"As a community, we feel proud of this message that you have put on this wall. In our neighbourhood, girls rarely get married formally. Once in a long while, when a girl does get married, her parents paint the outside walls of their house to signify the achievement and prestige of marrying off their daughter as it should be.
This wall art, in a way, signifies to us that we have not been forgotten in the fight against COVID-19. Some people still care about our lives and health. As a coach and mentor to many young people, I am proud to have this talking wall in this key community space. The family living inside the house feels very happy and proud to host such an important message to the community." — Mutisya, also known as 'Coach.'
As work on the mural was still ongoing, youths came to pose for a photo, while some took a selfie. The messages on four other strategically located walls will reinforce the information passed during the door-to-door campaign and serve as a subliminal reminder to many unreached residents that COVID-19 is real and of the preventive measures that need to become a habit, for many months to come.
Adopt a Handwashing Station
In our first field briefing with the CHVs before starting the sensitisation campaign, we met under the elusive shade of a tree at the Assistant Chief's office, between two buildings. A nice handwashing frame branded with the donor name was strategically placed at the entrance, but it looked sad without a water tank, and soap and the ground below was dry and cracked – tell-tale signs that no handwashing had happened in a long time.
Big branded tanks with rows of taps greet everybody entering Muoroto Simitini, Mburukenge and Tudor Mwisho informal settlements. But they all do not have soap.
Soap, in conjunction with flowing water, helps wash away the COVID-19 virus when hands are washed properly. But washing hands without soap is pointless in the fight against COVID-19.
So for the 14 handwashing stations that we distributed across the three informal settlements, each was adopted by a CHV who would ensure that the station always had soap and water and that it was safe in a strategic community space for maximum impact.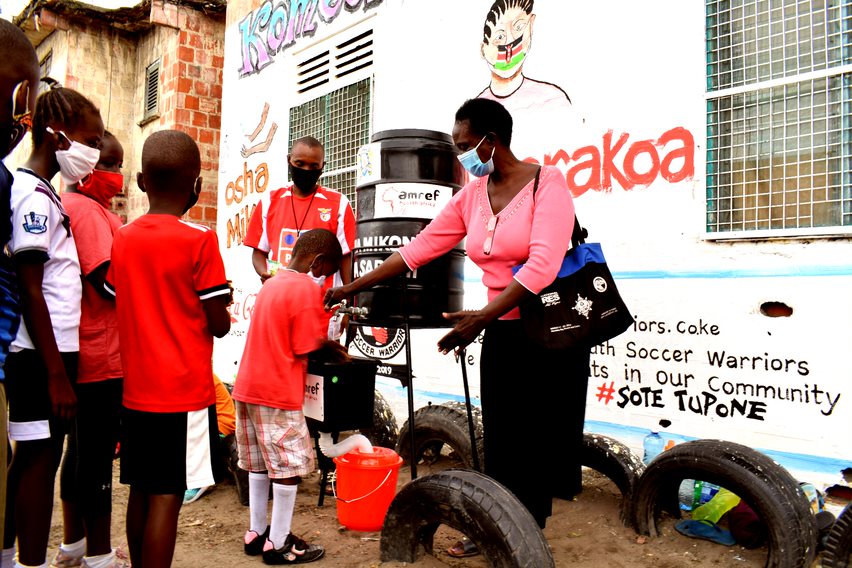 Proper handwashing with soap and water is not as obvious as it may appear, but when done correctly, it is a highly effective preventive strategy for most diseases.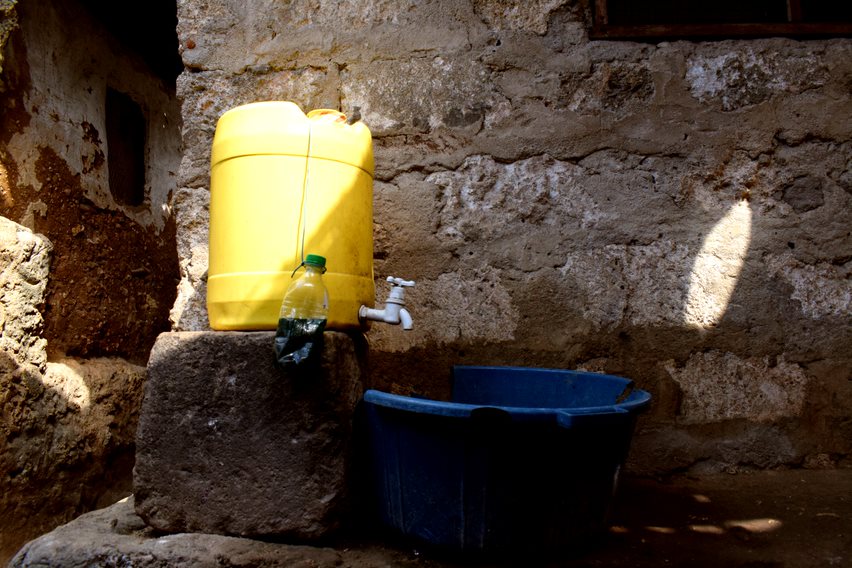 Why the Basics Matter
In most of the developing world countries like Kenya, maintaining physical distance is impossible in the informal sector where a majority of Kenyans live and conduct their daily business.
Staying at home or working remotely is a preserve of the small middle class. Even this is not a sustainable strategy as we have seen in calls for reopening of the economy in most developed world countries.
So proper wearing of facemasks, sneeze and cough etiquette, frequent handwashing with soap and water or using a hand sanitiser in place of soap and water – will be pivotal in suppressing and consequent flattening of the COVID-19 curve.
The Strength of Partnership
The partnership between Amref Health Africa and the Coca-Cola Foundation has left an indelible mark in the lives of youths, CHVs and members of women groups trained to make soap and their lives forever changed. We have walked hand-in-hand with Mvita sub-county Clinic – one of Kenya's worst-hit COVID-19 epicentres, which needed all the help they could get.
We have run the race and amplified the little help that we could offer by ensuring quality where quantity was not feasible. We have worked in the field, shoulder-to-shoulder with CHVs and shared our COVID-19 dreams and fears with selfless health workers at the Mvita Clinic who show up every day, ready to serve.
The basics matter, the health and lives of marginalised communities living at the fringe of our society matters, every corporate partnership that we can make in the ongoing and multi-faceted fight against COVID-19 matters.