Working as a security guard at a hospital gate, this Kenyan woman has beaten the odds to achieve her dreams and is in the middle of the fight against COVID-19.
Nyeri, Kenya — On a chilly Tuesday morning at the Consolata Mission Hospital in Kenya's Nyeri County, Jane Kagwiria attends to patients and visitors at the gate as they come into the hospital. She checks their temperatures and ensures they follow the COVID-19 rules to wash their hands and maintain a social distance before entrance. She is a security guard at the hospital.
The 27-year-old mother of one, was able to get all these skills from the training she received from Amref Health Africa through the EU COVID-19 Response Programme. As a security guard, a vital part of her work is providing information about the virus to people coming to the hospital.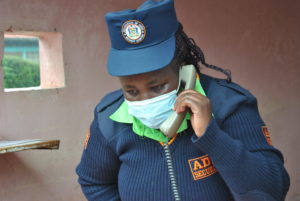 Kagwiria continues to educate her community on the importance of adhering to prevention measures to curb the spread of the disease. Because of her dedication and passion in her work, she was chosen by the hospital management to be part of the hospital's COVID-19 response team.
"When we first attended the training, there were some forms we were supposed to fill but after filling, the person in charge of training looked at the list and asked who I was and what a security guard was doing at a health workers' training. I had put my name among those of doctors and nurses," she says. "But after explaining myself and my passion, I was allowed to attend and complete the training.
Kagwiria is also a student at the Sister Leonella Consolata Medical College that is housed by the hospital. She is studying preoperative theatre technology, a course she says has been the best challenge in her life and one that she says will fulfill her dream.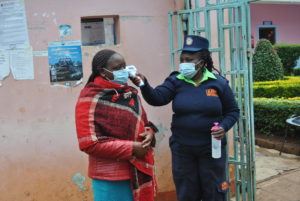 But, even as she climbs up the ladder of life and succeeds in what she does right now, Kagwiria's past life has not been a walk in the park.
In 2006 at age 11, she ran away from her home when her father wanted her to get circumcised so she could be married off.
"My father who was a drunkard at the time wanted me to get married after getting circumcised. I thought to myself that I couldn't continue with that life and so I decided to run away," she says.
She then went to the priest at their church and explained to him what had happened and he took her to a nun with whom she lived and worked as a house help at Nkubu in Meru County where she was born.
She then met another priest while at Nkubu and being a jovial kid and an active Sunday school pupil, he asked her what she would like after she explained to him she had run away from home. "I told him that I would wish to go back to school," she says.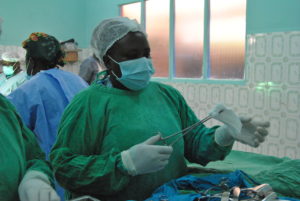 The priest agreed and took her back to school, this time to a boarding school, where she sat her primary school exam three years later and passed. She then joined a secondary school and after four years, she sat her high school final year exams.
She then went back to her previous employer who was a nurse to work again as a house help, and she was welcomed. A few months later, Kagwiria joined some youth who were looking for a job at a security company. After going through an interview, she was hired.
"That was the beginning of my career as a security guard. As I went through training, my former high school principal gave me pocket money to survive through training. And when I started working, I was posted to St. Teresa Mission Hospital where I met a man who was a doctor there and fell in love with. I got pregnant with my son but he wanted me to have an abortion. He gave me money but I did not take it as I felt that my child's life was more important," she explains.
Kagwiria now works for AND Security Company Ltd and is stationed at the Consolata Mission Hospital at Mathari in Nyeri. Here, she is praised as being the best.
Regina Kajuju, the Quality Assurance Manager at the hospital says that she met Kagwiria in 2018 when she was employed to work at the gate as a security guard.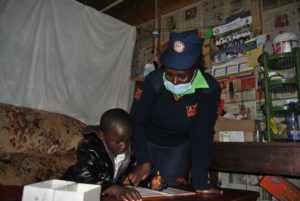 "Despite the fact that she has been working at the gate, she is so much attached to the patients. She has even gone ahead to join the college when she heard of an opportunity to train as a theatre technician. That was her own initiative, not being sponsored by the hospital," Kajuju says.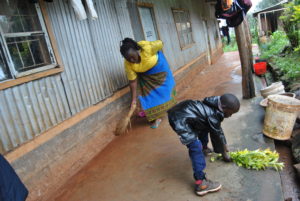 Father Lucas Gatero, the Assistant Director at the Archdiocese of Nyeri (ADN) Security Company Limited also confirms the same.
"She has been the best we have in the company and have, in several occasions added her responsibilities. There was a time we wanted to move her to another workstation but even the hospital management opposed it, saying she was their best guard at the hospital gate," Father Gatero says of Kagwiria.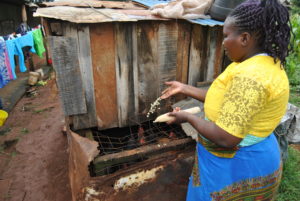 Kagwiria is now almost completing her studies and is left with an internship where she is attached to the hospital and working at the theatre as an intern. She is on unpaid leave at the security company, but still volunteers to work there and help out during the pandemic.
Article first published on The Ubuntu Times