When Timpiyian Leseni an IT graduate recovered from TB disease in 2011, she decided to change her career from information technology to a TB crusader.
Timpiyian was ill for almost a year and the disease almost killed her.  Her stomach was swollen and she used to sweat at night. 
She sought treatment at a health facility near her home in Kajiado County, but her condition did not get any better. She decided to seek treatment in Nairobi, where  TB was diagnosed. She learnt that she had zoonotic TB, commonly caused by unpasteurized milk, raw meat or blood, common staple foods among the Maasai.  
She was admitted to the hospital for treatment where she underwent surgery. "It was a terrible time for me, I almost gave up," recalls Timpiyian. "I was very sure I was not going to survive.".  
As she was going through TB treatment for seven months, she hoped to recover fast so that she could go back home and help her community to fight TB.
Upon discharge, she started reflecting on the impact of TB in her community. She knew that she was not the only one affected. She thought of the many who could be contracting TB in the community but lack knowledge and do not seek treatment. They die in their homes, their families unaware that the disease that killed them could be treated.
Timpiyian decided to discard her career in IT to educate her community about TB as a way of giving thanks for surviving the disease. She established TALAKU community based organization, which means "set them free" in the Maa language, and embarked on her new-found mission. She started by tracing treatment interrupters in the community and taking them back to health facilities to continue taking medications.
Since 2018, with support from the Amref Health-led Global Fund TB Program, TALAKU has been working with 25 community health volunteers who are trained go to the communities to screen for TB, trace contacts of people who have been bacteriologically diagnosed to have the disease and re-link those who have interrupted treatment to health facilities to resume care.
The volunteers also visit households to with for patients likely to experience difficult taking medicines to conduct directly observed treatment (DOTS), an approach where a treatment supporter witnesses a patient take their medication.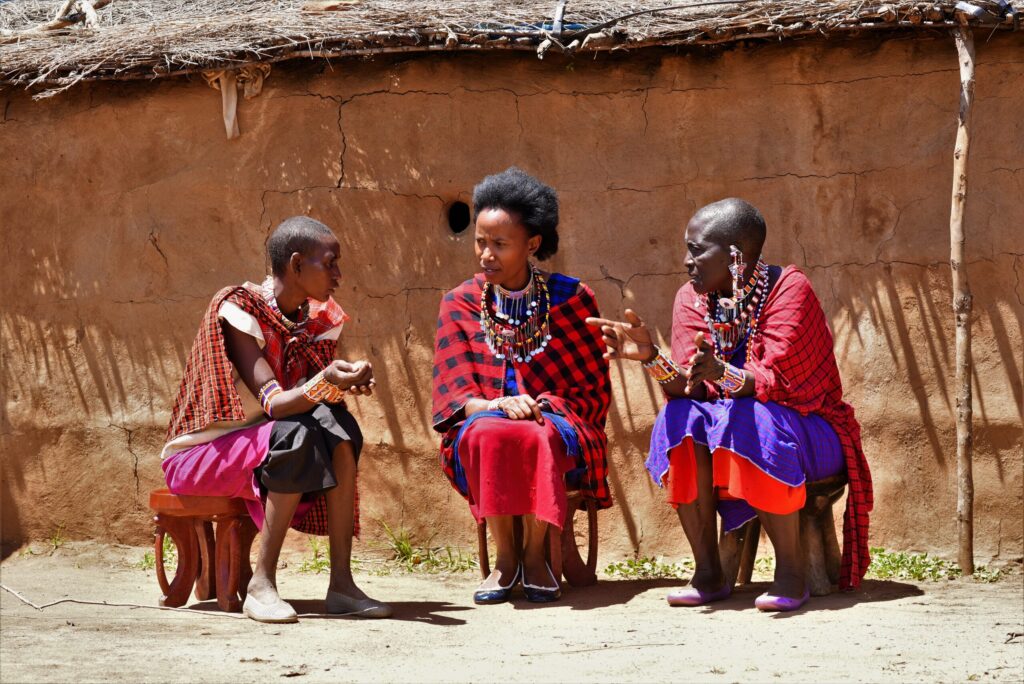 TALAKU also supports 10 health facilities in Kajiado County in active case finding by screening all patients seeking health services so that those with suspected TB can be referred for diagnosis.
As a young Maasai woman working in a culturally male-dominated society,  Timpiyian initially encountered challenges in her community outreach. It took months for men to accept to listen to her and allow her to talk to their women. 
"At the beginning they looked down upon me due to my age and gender," says Timpiyian. Over time the community started appreciating her efforts and now invite her to talk to men and women in their villages and homes.
She soon realized that one of the major contributors of TB among her Maasai community is the lack of adequate ventilation in their traditional houses or manyattas, enclosed houses with small or no windows. The houses have little holes which do not allow proper air flow. She has now embarked on changing the design of the houses to include widows to improve ventilation, which is important forTB prevention.
The team found it easy to sell the idea to women, are traditionally responsible for constructing houses among Maasai community, but they also had to educate them men so that they could give permission for the houses to be modified.
"This was a challenge since it meant altering people's traditional way of constructing houses and the change was initially resisted, particularly by men," says Timpiyian.
With her persistence, the efforts are paying dividends. The community has embraced the idea and modifying their houses to have larger windows.
One of the main challenges her team faces is the pastoralist lifestyle of the Maasai who migratewho in search of pasture. Sometimes families migrate to as far as Tanzania, which makes tracing patients difficult.
Timpiyian recalls a time when one patient she was following up in the border area of Namanga migrated to Tanzania and could not be reached on phone. By the time she came back, she was emaciated by illness and too weak to walk. Luckily, when the family returned to Kenya, volunteers reached the family. They went for the women and took took her to Kajiado County Referral Hospital where she was admitted and put back on treatment at the TB manyatta, an isolation facility that houses patients until they complete treatment.
The patient completed her treatment and recovered. "This lady reminded of my own situation… it is experiences like this that gives me satisfaction in my work," Says Timpiyian.
Timpiyian says poor nutrition sometimes makes it hard for some patients to adhere to treatment. "Some patients have no food, and we have to look for donations to support them.." adds Timpiyian.
TALAKU has started an initiative called "Adapt a Family", in which they reach out to individuals to support TB patients who lack food . "People are responding well andthis is helping patients adhere to treatment.
The other challenge is the distance to health facilities in Kajiado. "Patients have to walk long distances to reach health facilities. Sometimes they are too weak to do so," says Timpiyian.
"My vision is to see to it that everyone in Maasai land, especially men, have knowledge about TB, lack of knowledge is killing our people," concludes Timpiyian.
To date under the Global Fund project TALAKU has reached 1,120 people with TB information, screened 2,000 people and linked 465 to TB treatment.