There is an urgent need to accelerate cancer care in Africa, a panel of global cancer experts told participants at a side-meeting of the United Nations General Assembly (UNGA) in New York City, U.S.
Organised by Amref Health Africa, Takeda and the Cancer Alliance, the event called "Accelerating Cancer Care in Africa" drew the attendance of key stakeholders, including high-level representatives from the office of Her Excellency Madam Roman Tesfaye, the First Lady of Ethiopia and President of the Organization of African First Ladies (OAFLA).
The First Lady was represented by Mr. Meskele Lera, Health and Nutrition Advisor, Office of the First Lady of Federal Republic of Ethiopia. Speaking on behalf of the First Lady, Mr Meskere said that: "Women are bearing the greatest burden of cancer."

He also added that:
"Our health systems are burdened with the double burden of diseases," underlining the fact that while African countries confront the rising threat of cancer, threats from communicable diseases like tuberculosis, malaria and HIV still linger. Also present was Dr. Githinji Gitahi, the Group CEO of Amref Health Africa, who delivered the closing address to the participants who attended the invitation-only event.
In his address, Dr. Gitahi said that the meeting symbolizes that Africa's growing cancer burden is gaining recognition locally and globally. "Now that we are all paying attention to Africa's growing burden of cancer, we need to highlight the challenges faced by countries across sub-Saharan Africa in tackling the disease and together provide models that will work," he said.
In the past, many believed cancer was not an African problem. The last few years have proven the contrary. Cases of those affected by cancer have been on the rise, while diagnosis has been poor and often late. About 75% of all cancers in sub-Saharan Africa present to the hospital in stage 3 or 4 and the survival rates are poor. Data show that the number of deaths every year equals about 70% of the number of cases diagnosed.
Other than late diagnosis, another challenge is that those diagnosed often lack the financial resources to get treatment. This is especially true for countries in Africa where there is low health insurance penetration and out of pocket is the main source of funds for accessing much needed care. "Cancer treatment is still expensive and out of reach of many affected Africans. With a few exceptions, such as Rwanda, health insurance penetration is low across Africa with out of pocket expenses account for up to 70% in some countries," said Dr. Gitahi.
He urged African government health officials present at the meeting to fast track the process of enrolling their citizens into national health insurance schemes or seeking other models of health financing including ring-fencing funds. He also urged pharmaceutical companies to partner closely with key stakeholders to improve access to information and medication, citing Amref Health Africa's existing partnership with Japanese pharmaceutical company, Takeda, which has enabled the training of community health workers in Kenya.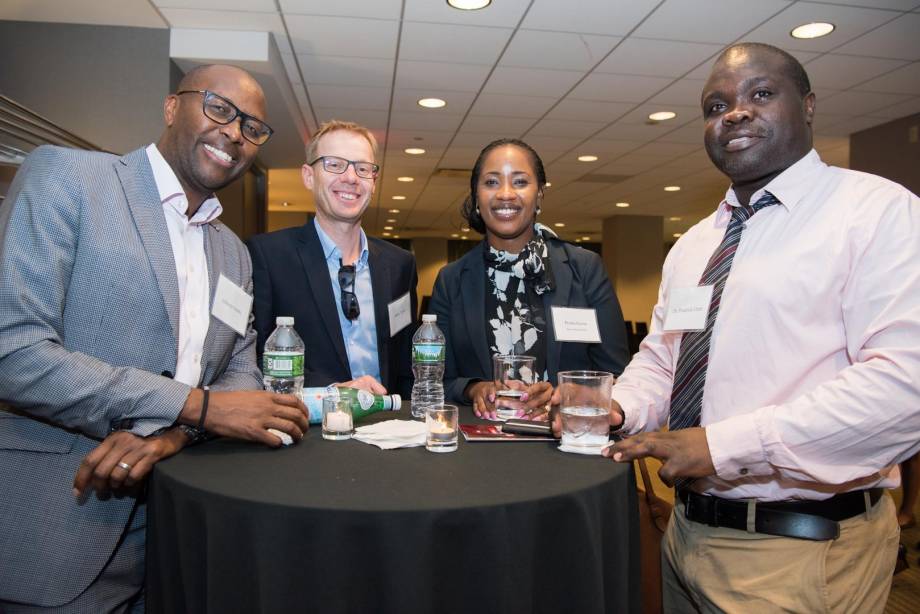 "The pharmaceutical industry has a vital role to play in increasing access to medicines for patients, but we cannot work alone," explained Isabel Torres, Global Head of Access to Medicines at Takeda. "Agreeing on specific approaches to address the cancer burden, and the complex access challenges, is fundamental to help improve the lives of people across Africa," said Ms. Torres. "This is why Takeda is proud to partner with Amref Health Africa and the Cancer Alliance as well as governments, other pharmaceutical companies, academia and NGOs to embrace partnerships and innovation that put patients first."
The side-meeting also featured a Davos style panel where the panelists and participants deliberated on different strategies to accelerate cancer care in Africa through collaboration of government, private sector and civil society organizations. The panelists advocated for the formulation and implementation of a common strategy for cancer care in the region.
Participants also showcased some of the key cancer care initiatives in the continent. One such initiative is Amref Health Africa's cancer advocacy project in Kenya's urban informal settlement of Kibera.
The project is aimed at creating awareness about cervical and breast cancer in Kibera. The project has already created awareness among 33,740 women and availed cervical and breast cancer screening services for 1,588 women.
According to WHO, the leading cancers in Africa are cervical cancer, breast cancer and prostate cancer. Dr. Gitahi said that the model of partnership, if tailored for different countries in Africa, would be effective in accelerating cancer care across the continent.
About Accelerating Cancer Care in Africa: The event highlighted the challenges faced by countries across sub-Saharan Africa in tackling the growing burden of cancer, shared information on some key initiatives already underway, and provided a platform for government, private sector and civil society organizations to identify potential areas for collaborating, such as regulatory and health care practitioner education, to maximize their limited resources and further share a common strategy for cancer care across the region.
About Amref Health Africa: Amref Health Africa, the largest African-led international organization on the continent, reaches more than 11 million people each year through 150 health-focused projects across 35 countries. Founded 60 years ago as the Flying Doctors of East Africa to bring critical health services to remote communities, Amref Health Africa now delivers preventative, community-based health care. With a focus on women and children, Amref Health Africa manages a full range of medical and public health programs tackling the most critical health challenges facing the continent: maternal and child care; HIV, TB and malaria; clean water and sanitation; and, surgical and clinical outreach. www.amref.org; @Amref_Worldwide
About the Cancer Alliance: Formed in 2017, the Cancer Alliance is made up of various member organizations including University of Nairobi, Nairobi Hospital, KEMSA, MP Shah Hospital, KENCASA, KENCO and Amref Health Africa. It was established with a vision to address the existing barriers in cancer treatment in sub-Saharan Africa and strive to raise standards of health by addressing the cancer need in the region in a coordinated and structured way that will bring about improvements in the cancer ecosystem and impact the lives of patients to dramatically shift from despair towards hope and recovery.
About Takeda: Takeda Pharmaceutical Company Limited is a global, research and development-driven pharmaceutical company committed to bringing better health and a brighter future to patients by translating science into life-changing medicines. Takeda focuses its R&D efforts on oncology, gastroenterology and central nervous system therapeutic areas plus vaccines. Takeda conducts R&D both internally and with partners to stay at the leading edge of innovation. New innovative products, especially in oncology and gastroenterology, as well as our presence in Emerging Markets, fuel the growth of Takeda. Around 30,000 Takeda employees are committed to improving quality of life for patients, working with our partners in health care in more than 70 countries. For more information, visit https://www.takeda.com/newsroom/.
For more information or to arrange interviews, please contact:
Betty Muriuki, Amref Health Africa, +254 (0) 726 261495; [email protected]
Jennifer Foulds, Amref Health Africa +1 647-771-5815; [email protected]