Amref Health Africa in Kenya distributed supplementary food worth KSh22 Million (€200,000) to drought-stricken residents of Samburu Central, Samburu East and Samburu North Sub-counties in Samburu County between September and December 2017.
The region has been facing one of the worst dry spells following the failure of both the short and long rains, pushing many who are majorly pastoralists to neighbouring Counties counties and Countries in search for food, water and pasture. The nutrition situation in the County is deteriorating due to poor rainfall that affected regeneration of pasture for livestock which is the main economic activity in the County. Samburu County is experiencing a critical nutrition situation (Phase 4; GAM WHZ 15.0 – 29.9%) owing to food insecurity and compounded by poor access to health services due to closure of majority of the public health facilities.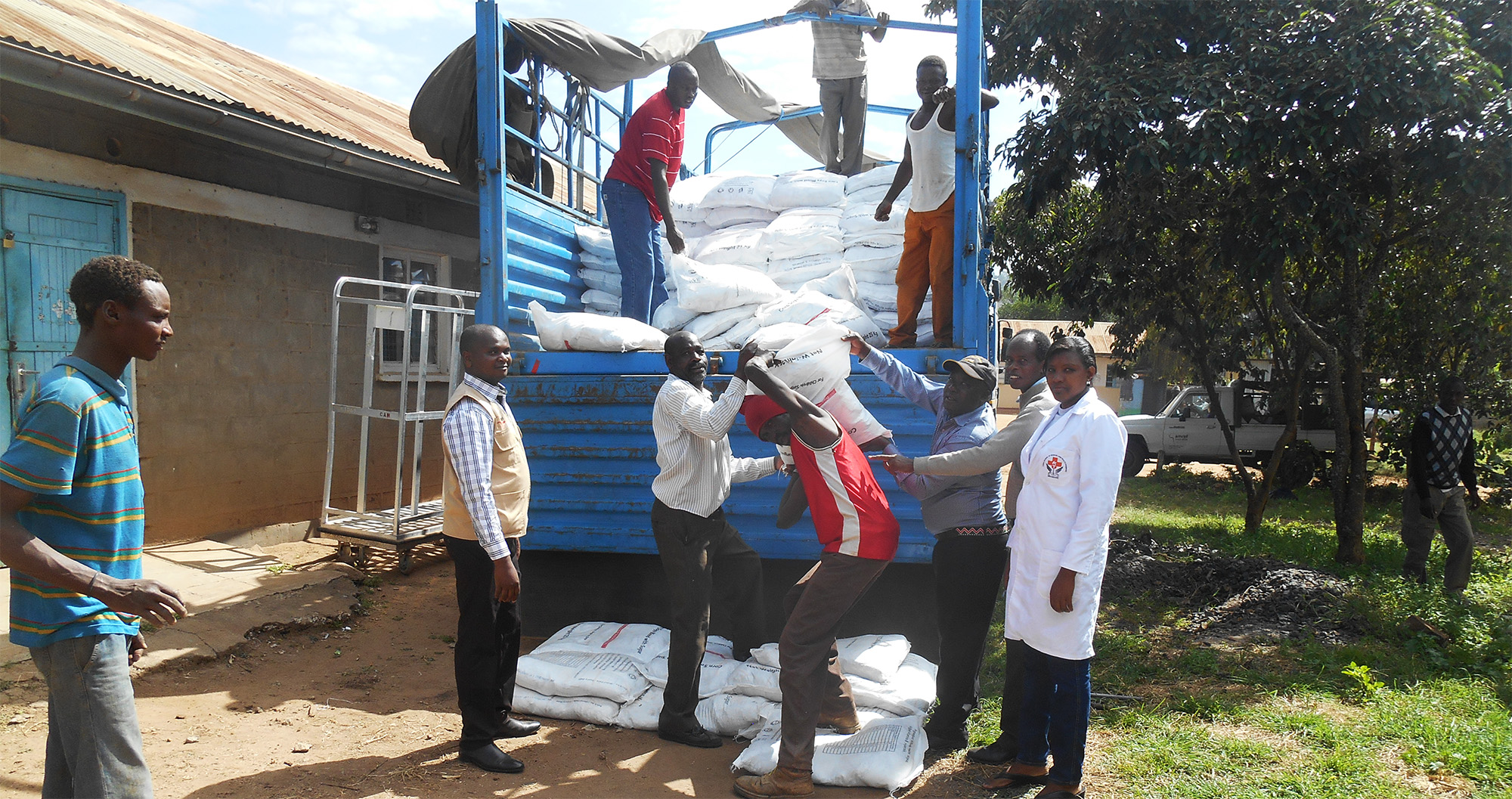 Samburu County Government Department of Health Services officials receive corn soya blend for drought response
"The supplementary feeding is additional supply of feeds majorly to children under the age of 5years, expectant women and breastfeeding mothers who are moderately malnourished," said Magdalene Naisula, a Nutritionist at Maralal Referral Hospital.
The much-needed nutritional intervention, was aimed at improving the health and nutritional status of communities through supplementary feeding to the moderately malnourished children under the age of 5years, expectant women and breastfeeding mothers in hard to reach areas of Samburu County.
The nutrition initiative, funded by Sternstunden through Amref Health Africa in Germany donated 4,231 25 kilogram bags of Corn, Soya Blend (CSB) fortified food with sugar which was distrusted to 3, 500 residents who are moderately acute malnourished children and pregnant & and lactating women. By the end of 2017 3,736 bags have were been distributed to 7,923 moderately acute malnourished children and pregnant and lactating women through Amref Health Africa, the Ministry of Health in Kenya and other partners supported outreaches in the three Sub counties. An additional 900 bags of CSB have been procured and delivered for distribution through integrated mass nutritional screening and outreaches in hard to reach remote areas of Samburu County.
From mid 2017, the County faced one of the worst humanitarian crisis, aggravated by poor access to health services as major health facilities remained shut because of prolonged strike by health workers.
Jane Lesumbat, 26, a casual labourer and a mother of two from Nomotio village is one of the beneficiaries of the drought response intervention pProgramme.
"Life has been unbearable – no food, no water. We have lost our main source of livelihood – livestock. We are forced to survive on meagre and unreliable earnings from casual labour," she says.
"The relief food has come at the right time and we thank Amref and the Samburu County Government. Our nutritional status has greatly improved." Jane she  addedsays.
In a region which recorded one of the worst cases of malnutrition, the delivery saw children and their mothers get 4 kilograms of CSB bi-weekly on an average total duration of during the 4 moths distribution period 3 – 4 months in order to prevent deterioration of their nutrition status in this community.
"The distribution yielded good results as several moderately malnourished children and mothers recovered few weeks after the exercise despite the health workers strike which afeected the distribution to some health facilities," noted Ms Lesumbat.