Amref Health Africa hosted the first social accountability conference at the Amref International University from 14 and 15 March 2018 to stimulate dialogue on enhanced social accountability among health sector stakeholders in Kenya.
The conference which was organized by Health Rights Advocacy Forum (HERAF), a national non- governmental organisation that promotes human rights based approach in health care delivery brought together over 100 participants drawn from the National and County government officials, Civil Society organisations, the private sector, Faith Based Organisations, Non-Governmental organisations, Community Based Organisations and development partners to transform the understanding of social accountability in the Kenyan health sector.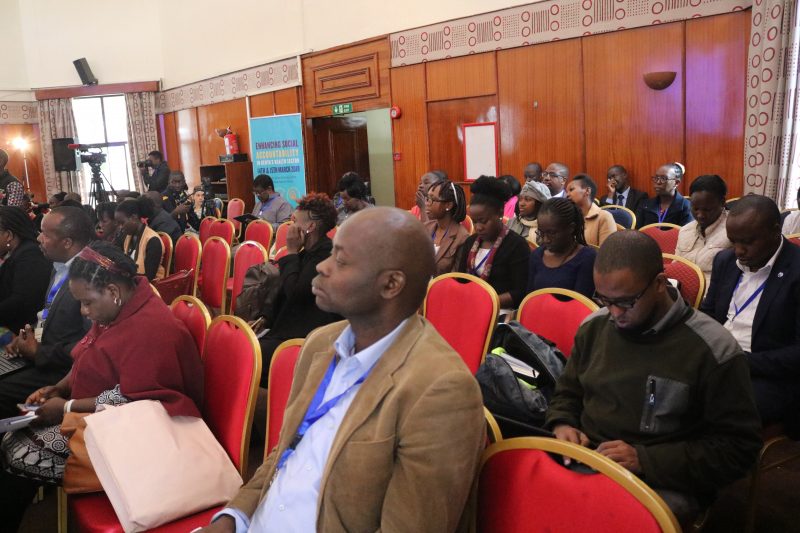 Social accountability is a key component in the Kenya Community Health Strategy  and it emphasizes the need to strengthen communities to realize their rights for accessible and quality health care and provide opportunities for citizens to engage with the government in making policy decisions, health sector investments planning and budgeting, management and community feedback.
In order to improve access, quality and demand for health and related services in Kenya, public participation is key to ensure the government puts in place people-centered approaches and social accountability mechanisms for planning and delivery of healthcare services as one of the guiding principles in the Kenya Health Policy 2014 – 2030.
With the devolved system of government, the Kenya health sector has seen an increase in the use of social accountability tools such as citizen report cards, community score cards, gender budgeting, Public Expenditure Tracking System (PETs), public hearing, civic education as some of the strategies for mobilizing and empowering citizens to participate effectively in decision making process and ensure accountability in national and county government management of public resources.
According to Dr Rosemary Obara, Kisumu County Executive Committee Member of health, "the county emphasizes the need to involve and allow public participation in all development activities and decisions that affect its citizens in development of bills, budget cycle using customer satisfactory surveys, services provided by Community Health Workers on prevention and management of minor ailments, referrals and data collected at the household level among other tools".
The conference provided a platform for key stakeholders to share experiences, challenges and lessons learnt through different social accountability tools and discuss progress on Reproductive, Maternal, Newborn, Child and Adolescent Health and Nutrition (RMNCAH+N) investments and the progress towards Universal Health Coverage.
Amref Health Africa Group CEO, Dr Githinji Gitahi who is also the current co-chair of UHC2030, noted that "UHC is a human right that ensures the people's constitutional right is obeyed, allow active citizens who are involving citizens in budgeting and accountability and providing data that is openly available to the community."
Other key areas discussed during the conference include: health financing in Kenya, leadership and health governance at the national and county level in partnership with KANCO, KELIN, LVCT Health, Kenya Paraplegic Organization (KPO), WACI Health, Stop TB partnership, NTA, Evidence for Action (E4A), Action Network for the Disabled (ANDY) HENNET, URAIA, AHF, GIZ Health Sector Programme in Kenya, Palladium, and OSIEA.
Compiled by Caroline Khamala