Nelson Mandela Day is a day set aside to honour and celebrate the life and legacy of former South African president and anti-apartheid revolutionary, Nelson Mandela, through voluntary activities and community service projects.
The event is marked globally each year on July 18, and is geared towards fighting poverty, as well as promoting peace and social justice. To mark the day, people engage in tasks that serve to offer fair and equal life opportunities especially to the less privileged in the society.
To mark this auspicious day this year, a group of women under the umbrella body of the South Africa Women's Association in Kenya visited with Amref supported Dagoretti Child Protection and Development Centre. The team donated 120 litres of quality paint to the centre, and joined the children in painting three of their classrooms. The remaining paint will be used to paint the community library used by the children.
As Cezanne de Broize, the Association's chairlady notes, it started off as a social organisation majorly comprising of South African women whose husbands were working in Kenya. They would meet on a monthly basis to socialise over a cup of coffee, and it was through this that the idea of extending their bond of friendship into a charitable organisation came to be. The South Africa Women's Association in Kenya has now been in existence for over 10 years, during which they have established links with various centres across Kenya offering support for humanitarian needs.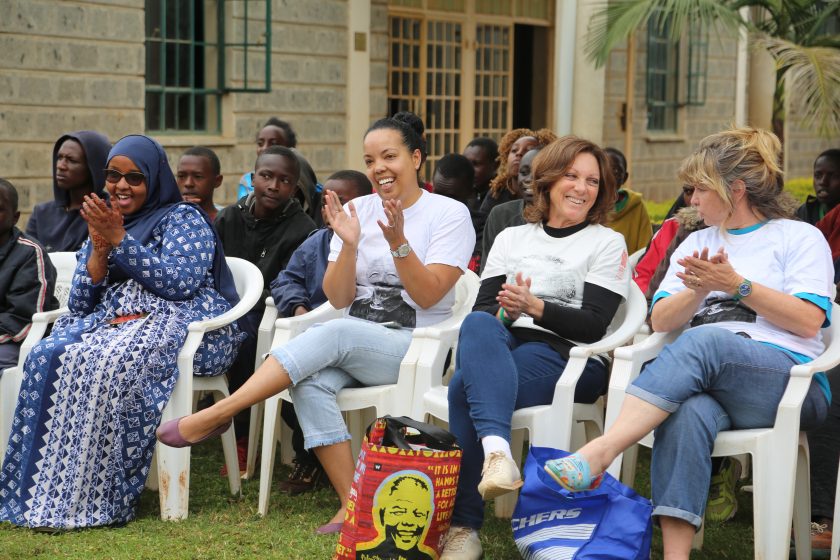 The Association is fully donor funded and free of any incentives from the South African or Kenyan governments. The Association relies on funds from donor companies and well-wishers towards the community social responsibility agenda they support each year.
The Association also donated 167 packets of sanitary towels to the centre. As Ms Cezanne notes, the choice of 167 was deliberate – '1' represents the 100 years of age that Mr Mandela would be celebrating, while 67 denotes the 67 minutes South Africans set aside to mark this day by donating their time, energy and skills to help the less fortunate.
"Our commitment is to join hands and help the centre in the best way we can to make the children feel cared for and thought of because these are the values that Nelson Mandela lived for," explains Cezanne.