By Nanjinia Wamuswa
A week ago, over 500 cyclists took to the city roads to urge the government to speed up the promises to empower women and girls.
Achieving zero unmet need for family planning information and services, zero preventable maternal deaths, zero sexual and gender-based violence and harmful practices against women and girls were first committed at an International Conference on Population Development (ICDP25) in Cairo, Egypt 1994.
Experts see these promises as critical to achieving the Sustainable Development Goals (SDGs) by 2030.
Dubbed 'Accelerating the promise through cycling,' organized by United Nations Population Fund (UNFPA Kenya), Amref Health Africa and Critical Mass Nairobi (CMN) is a precursor to a Nairobi high-level conference on that begins today.
The three-day conference brings together governments, UN agencies, civil society, private sector organizations, women groups and youth networks to discuss and agree on actions to accelerate the implementation of the promises.
The cyclists at the free and open event to the public included government officials, advocates, health development organizations, women and youth, children as well as the public started at Jevanjee Gardens, Nairobi and covered 21km to Two Rivers Mall through Limuru Road.
Some of the participants said the race was tough but something worth it. "I know why l am in this race. We are pushing not only our government but others too to ensure challenges that face women are given first priority and implemented," said Loice Wachira, adding it is long since countries are committed in Cairo.
Dr. Meshack Ndirangu, Country Director, Amref Health Africa in Kenya said they were cycling to transform the lives of women and girls because they are most vulnerable.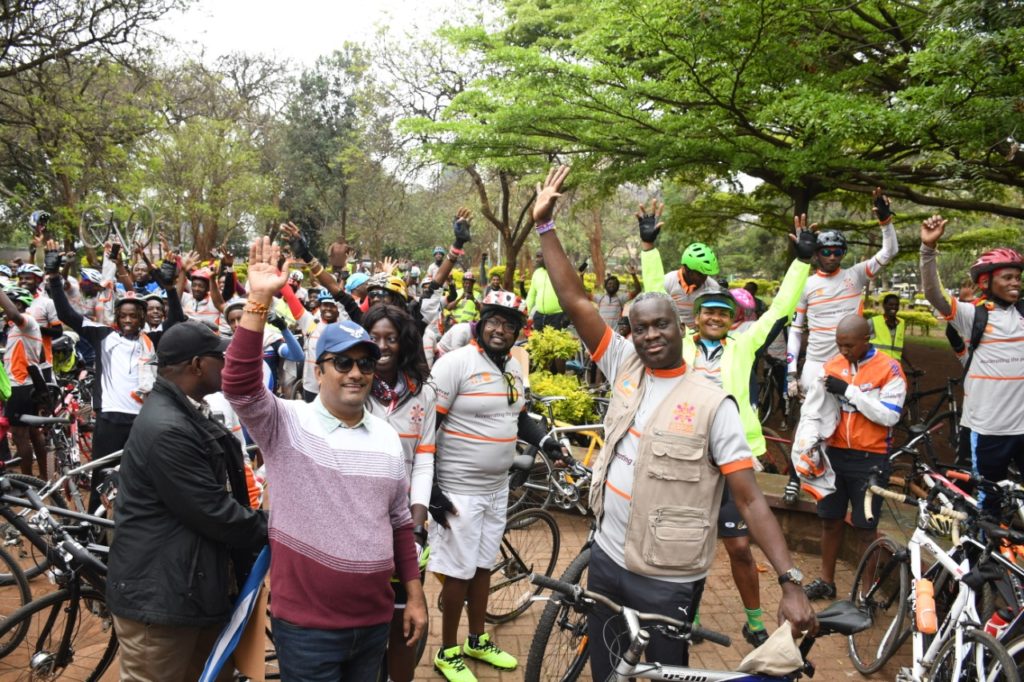 "In the spirit of increasing investments in health, we are cycling towards transforming the lives of women and girls because they are the most vulnerable. We remain steadfast in contributing towards ending harmful practices such as female genital mutilation (FGM) which are great barriers of progress that subsequently slow down the SDGs," he said.
Dr. Ademola Olajide, the United Nations Population Fund (UNFPA) Representative for Kenya said although major strides have been made to promote the state of sexual and reproductive health and rights around the world, a lot needs to be done.
"The cyclists will unite to raise their voices urging the various government and world leaders to honor their political will and financial commitments to fully implement and accelerate ICPD Programme of Action," he said.
He explained that cycling brought together women, men, boys and girls which in it tries to break the gender stereotypes the societies have created.
He said: "There is equality among genders already here and that is one of the critical messages that we are trying to push as we approach the November summit."
Cyprine Odada, Director, Critical Mass Nairobi promised to get people back to cycling because it is healthy and does not pollute the environment.
"Bicycles have significant benefits for people. Cycling is environment-friendly and one of the ways to tackle climate change. And one significant promise at ICPD25 is taking action on climate change," she said.
At the event, there were other fun-filled activities for children, while adults will be sensitized on Water Sanitation and Hygiene (WASH) and climate change.
Article first published on http://www.talkafrica.co.ke/cyclists-ride-in-nairobi-asking-government-to-accelerate-empowering-women-girls/