As Africa's urban population continues to grow rapidly, the rise and growth of informal settlements (slums) continue unabated. With rapid population growth, challenges in accessing essential health services particularly in these informal settings remains a challenge that requires urgent attention.
Globally, there has been uneven progress in improving access to sexual and reproductive health and rights (SRHR), with Africa making the least progress and in some cases, experiencing significant rollback of gains.
It is against this backdrop that Kenya hosted the 9th Africa Conference on Sexual Health and Rights (ACSHR 2020) from February 10 to 14 in Nairobi. Hosted by the African Gender and Media Initiative (GEM) Trust under the theme Advancing the Sexual and Reproductive Health and Rights of Women and Girls in Urban Informal Settlements (Slum Communities), the conference gave an opportunity for medics, academics, activists and development partners to RETHINK and RENEW their commitment to SHR and RECONNECT with partners for change. The conference commenced with a two-day Youth Pre-Conference.
On the second day of the three-day main conference, Amref Health Africa in Kenya Country Director Dr Meshack Ndirangu had the opportunity to moderate an interesting session titled: Advancing Actions for SRHR for Women and Girls Living in Urban Informal Settlements.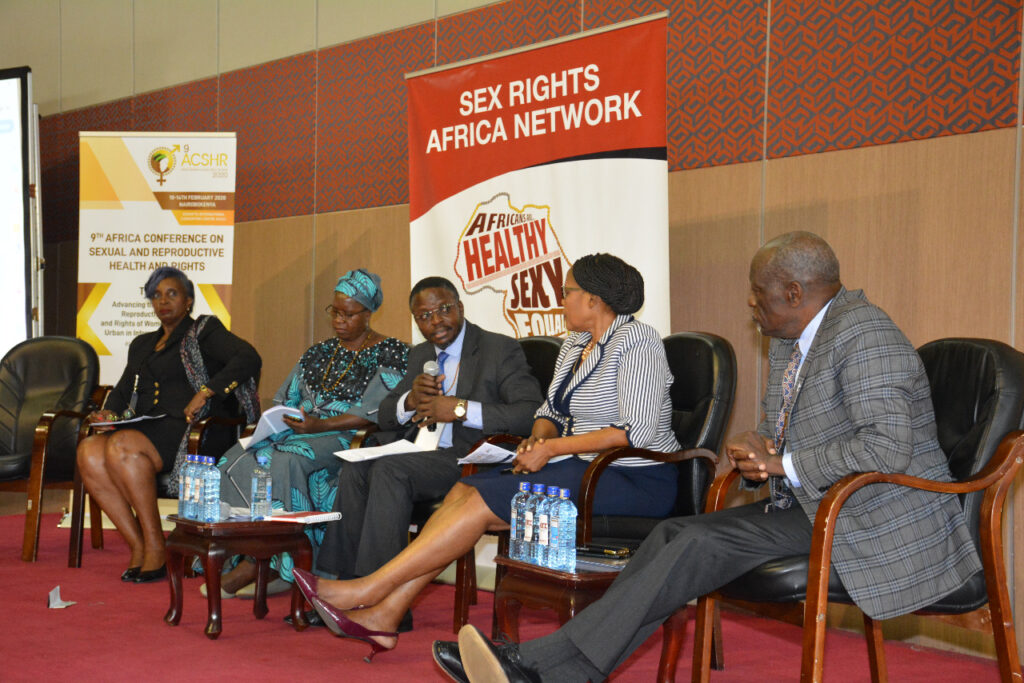 The session panellists included Prof Khama Rogo (Kenya), Nyaradzai Gumbonzvanda (Zimbabwe), Hon Marie Rose Nguni-Effa (Cameroon), Idda Joseph (Tanzania), Hon Susan Lyimo (Tanzania) and Ricki Kgositau-Kanza (South Africa). The session addressed the topic of SRHR from a diagnostic and prescriptive lens. Some of the key issues emerging from this discussion included the fact that SRHR issues have remained the same from 25 years ago, though the players and activists have changed, with the current ones being younger, more energetic and more eloquent.
It was noted that SRHR actors and actions are more fragmented while entities opposed to the advancement of SRHR appear more united, and the continued reliance on donor/foreign funding towards SRHR actions and not as much local resource mobilization.
On the human resources for health (HRH) front, it was noted that as is the case with the health sector in general, there is a shortage of health workers to support the delivery of SRHR services against an increasing number of health facilities.
Poor sanitation, lack of accountability, poor policy implementation and a high prevalence of teenage pregnancies were also cited as factors that affect the uptake of and access to SRHR services by women and girls living in informal settlements.
In response to these challenges, the session panellists proposed improving accountability and redefining priorities to address the socio-economic dynamics of informal settlement dwellers including the provision of much-needed social services.
Generating evidence on what has worked and not worked in addressing the SRHR needs of women and girls in the urban informal settlements was also noted as a thing to do, as well as the inclusion of the SRHR agenda in health programming to ensure that no one is left behind.
The need to engage young people living in informal settlements in setting the agenda on SHRH was also discussed so as to ensure that services meet the needs of those who need them the most.
The ACSHR 2020 conference is part of a long-term process of building and fostering regional dialogue/alliance on SRHR that leads to concrete actions and enhances stakeholder-capacity to influence policy and programming in favour of a sexually healthy continent.
More details at https://acshr2020.org