Amref Health Africa in Kenya and Plan International Kenya signed a Memorandum of Understanding on behalf of Civil Society Organisations to transition the End Child Marriage Network Kenya into a fully-fledged National Partnership under the Girls Not Brides Global Partnership to End Child Marriage.
Signed by Amref Health Africa in Kenya Country Director Dr Meshack Ndirangu and Plan International Kenya Country Director Representative Rebecca Theuri, the MoU signing was witnessed by 10 other members CSOs who will jointly facilitate the transition from End Child Marriage Network Kenya to Girls Not Brides Kenya.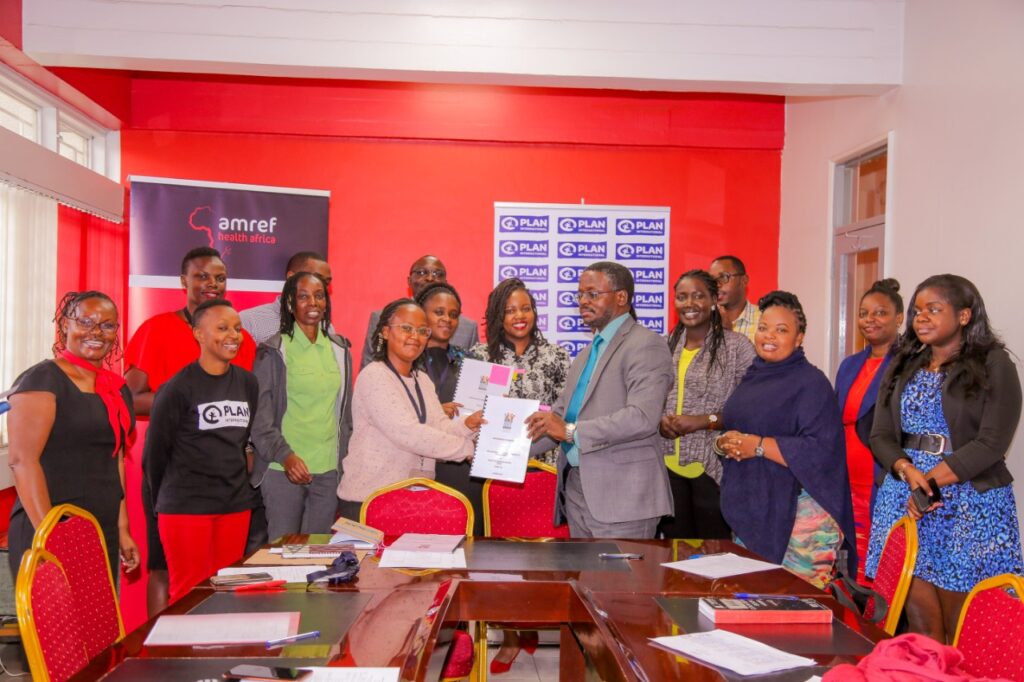 Incepted in September 2017, the End Child Marriage Network brings together over fifty CSOs from across Kenya into a functional network to end child marriage. Prior to the formation of the network, most CSOs at the national and grassroots level lacked coordinated synergies that would create a common agenda in their campaigns to end child marriage in Kenya.
The move to Girls Not Brides Kenya will establish a functional partnership that will engage in concerted policy and budget advocacy efforts towards ending child marriage.
Operating at the community and national level, the active and diverse national CSO partnership will work with the government of Kenya in the development, implementation and monitoring of national strategies to end child marriage; raise public awareness of child marriage in Kenya through media engagement; public mobilisation and sensitisation activities, while benefiting from the visibility that comes with being associated with a strong global partnership.
Amref Health Africa in Kenya supports and believes in initiatives and interventions that engage young leaders in providing the requisite leadership towards dialogue and programmatic efforts to end child marriage. This is in line with efforts to champion the health and wellbeing of women and girls who are at the heart of Amref's work.
Among other responsibilities, partnership coordinators Plan International Kenya and Amref Health Africa will facilitate engagement of other stakeholders on the status of the National Plan of Action on Child Marriage, ensure collective advocacy for a state agency to coordinate all actions towards ending child marriage in Kenya, manage the funds of the National Partnership and Facilitate the initiation and sustainability of an 'East African End Child Marriage Movement.'
The members of the national partnership include Amref Health Africa in Kenya, Plan International Kenya, Africa Capacity Alliance, Akili Dada, Child Fund, Daughters of Kenya, EACHRights, Marakwet Girls Foundation, NIGEE, Pastoralist Girls Initiative, Samburu Girls Foundation, VSO, Youth Anti FGM Network Kenya and GNB Kenya Office.