Amref Health Africa's Central Laboratory in Nairobi has received accreditation as a medical testing laboratory after meeting the requirements of ISO 15189:2012 for quality and competence. ISO 15189 specifies standards required for quality management systems (QMS) for the provision of laboratory services.
The accreditation, awarded by the Kenya Accreditation Service (KENAS), certifies that the Amref Central Laboratory meets international standards in its delivery of quality and reliable results. Achieving ISO accreditation reinforces the Amref Central Laboratory's aim to provide additional testing services to support the Ministry of Health of Kenya in delivering the Covid-19 response.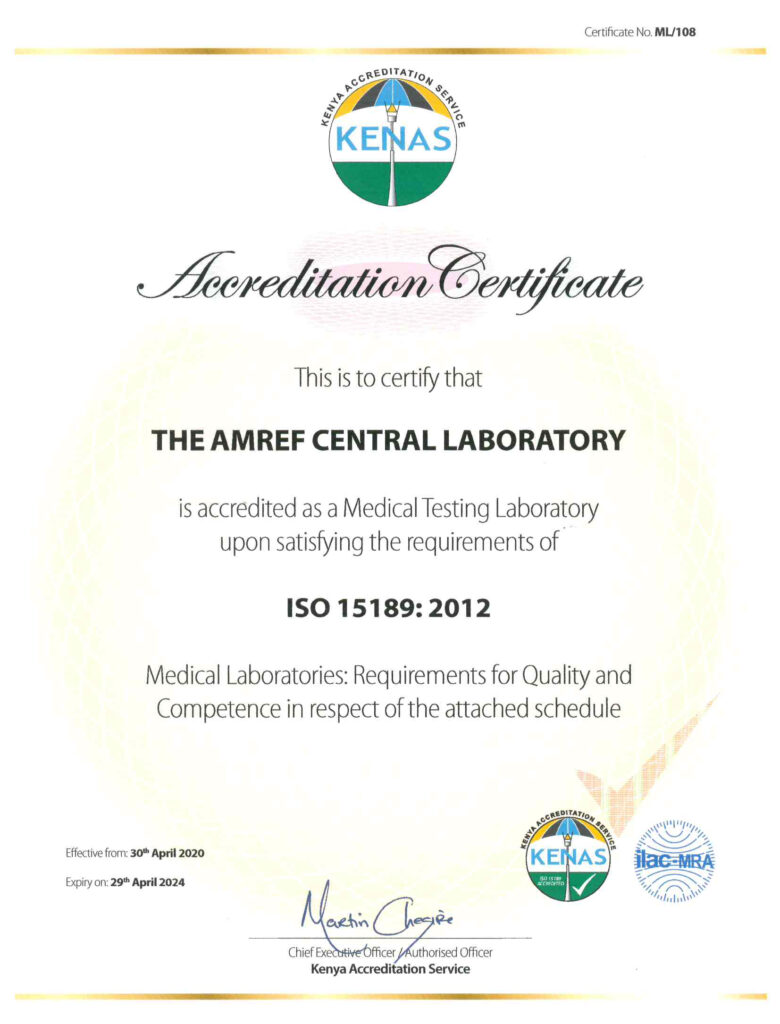 The accreditation of the Amref Central Laboratory brings to nine the total number of laboratories accredited with funding support from the U.S Centers for Disease Control and Prevention (CDC) through Amref Kenya's Sustainable Laboratory Quality Systems (SLQS) project. In 2019, eight laboratories in seven counties – Makueni, Taita Taveta, Mombasa, Kwale, Kilifi, Machakos, and Kitui achieved ISO 15189 accreditation and are now providing quality laboratory services in line with the Universal Health Coverage (UHC) pillar of quality.
"Amref Health Africa remains committed to ensuring laboratories in Kenya diagnose diseases accurately for proper patient management and for timely responses to epidemics, and provide the highest standards of care," said Julius Tome, the SQLS Project Manager. The Amref SLQS project works towards the implementation of sustainable, reliable and quality assured laboratory services to increase access to testing for surveillance, prevention, treatment, and care of HIV, TB, and related opportunistic diseases in selected health facilities in seven counties in the Lower Eastern and Coastal regions.
Amref Health Africa is addressing quality as one of the critical steps towards the realisation of its current strategic plan (2018–2022), implementing total quality management with a focus on improving health service access for communities, with processes for continuous improvement.
The Amref Central Laboratory provides reference laboratory services addressing bacterial and parasitic disease outbreaks of public health importance such as cholera, meningitis, typhoid fever, and leishmaniasis, among others. Through these activities, additional on-the-job training is offered to health care workers on the appropriate collection, handling, and processing of suspected outbreak specimens, including strengthening referral linkages.
Across Africa, Amref provides laboratory strengthening services to Ministries of Health to develop quality-assured laboratory services; national biosafety, infection prevention, and control and infectious waste management; specimen transport networks and handling; and equipment maintenance and calibration, as well as establishing e-Laboratory Information Management Systems (e-LIMS). Amref has also developed and continues to offer laboratory training courses and health learning materials that include: Medical Laboratory Practices and Management, Laboratory-Based Disease Surveillance, WHO External Competency Assessment of Malaria Microscopists, and Refresher Training in Laboratory Diagnosis of Malaria, among other courses.
Twitter Handles:@KENASgoke; @CDCKenya; @AFRAC_Official