"When I got pregnant with my fifth child, my husband and I agreed to try the pill for contraception because we did not want to have more children at the time. After delivery, the nurse suggested that I start taking the pill after six months of exclusively breastfeeding my infant. After six months, the nurse gave me some pills for a month and told me to come back after thirty days for a refill. I went back to the health centre after thirty-four days and discovered I was pregnant. Contraceptives do not work" opines 28-year-old Nancy Aloru.
"I have seven children, but in total, my husband has 21 children from three wives. We do not use contraception because it has chemicals that are harmful to the body. When any of my co-wives give birth, our husband goes away to herd cattle for until the child is old enough to be sent for a cup – almost two years," says 32-year-old Akiru Nawoton.
"The more children I have, the more wealthier my kraal will be. That is why we value children in this community " explains 30-year-old Akwa Nangole.
These are some of the views from recent interviews with locals in Loima, Kibish and Turkana South sub-counties oin Turkana County. The beliefs are evident in statistics from the Kenya Demographic Health Information System (KDHIS 2014) showing that while that the national contraception rate in Kenya is 58%; Turkana County recorded a paltry 10%. There has been minimal progress in the recent past with the statistics oscillating between 14% and 19.8% (KHIS 2019) https://hiskenya.org/dhis-web-pivot/ for the past five years placing the County among the top ten Counties in Kenya with low contraception prevalence rates.
"Although our culture dictates having several children to help with herding livestock and a sign of prestige, we encourage families to practice child spacing to prevent pregnancy-related complications and poor health in women and children. The cycle beads introduced in collaboration with the Turkana County department of health and USAID's Afya Timiza project are more culturally acceptable to both men and women because they are easy to use, moreso for those who cannot read and write. Most couples are more receptive to discussions on child spacing once they understand how to use them. In the past year individuals seeking child spacing services has increased from zero to fifteen in a month" explains Linda Minayo, a nurse at Lorugum sub county Hospital.
The "special beads" with three sets of different colours help women to count their menstrual cycle days and to be aware of their fertility period and then abstain or use protection to plan and avoid pregnancies.
Mary Echapman, a resident of Turkana South and mother of four, narrates, "I decided to use beads as a method of family planning because it is easy to learn how to count the beads and above all, the beads do not have any side effects on me. I encourage other women to consider adopting the beads."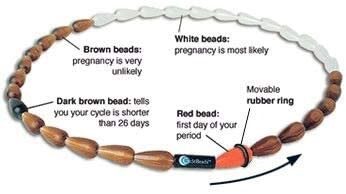 According to Alice Akalapatan, Director of Family Health in Turkana County, uptake of contraception is majorly influenced by cultural and religious beliefs. Speaking during an interview she lauded USAID's Afya Timiza project for its dedication and commitment to educating communities on health-seeking behaviour including child spacing, highlighting, " Innovations steered by Afya Timiza including the Kimormor outreach, engaging traditional and religious leaders and training of community health volunteers have been a game-changer in Turkana County and stakeholders coming on board are encouraged to scale up such innovations to ensure that our people get the right information on reproductive health."  
Over the past four years, the Afya Timiza project that is designed to sustainably improve health outcomes for women, children and adolescents in the hard to reach areas of Samburu and Turkana counties has empowered over 146, 000 women of reproductive age to access contraception and child spacing beads in both counties. Through, county led strategic collaboration and coordination to increase access to equitable and affordable maternal, reproductive, family planning and child health services.