The Lancet Maternal and Child Nutrition series (2013) affirms that the first 1,000 days of a woman's pregnancy and the child's second birthday are a critical window to shaping future outcomes. They play a vital role in the child's ability to grow, learn and thrive. It is recommended that a child is breastfed within one hour of birth and exclusively for six months, after which breastfeeding should be combined with age suitable soft, semi – sold and solid foods.
However, adopting optimal feeding practices for ASAL communities like Turkana County remains a challenge due to frequent and prolonged droughts leading to malnutrition and loss of lives and animals. According to SMART (Standardized Monitoring and Assessment of Relief and Transitions) survey 2019 report, Global Acute Malnutrition rate of 25.6% was exceedingly above the minimum of 18%. According to John Awar a trained volunteer nutritionist at Lopur Dispensary in Turkana South sub county, lack of exclusive breastfeeding, low complementary feeding practices and lack of knowledge on dietary diversification are the leading causes of poor nutrition outcomes among children under two years in the County. Equally, this is also reflected in the Knowledge, Attitude, Beliefs and Practices (2017) survey conducted in Turkana, that, 33% of both breastfed and non-breastfed 6-23 months' children received foods the minimum times.
The case of Asinyen Lokamary, an 18 months old child illustrates the effect of sub-optimal knowledge of feeding practices on malnutrition. Asinyen was abandoned by her teen mother and left under the care of her great grandmother Mama Ebei Lokamar. Asinyen could not stand and looked severely malnourished. Without knowledge that the child had been receiving Ready to Use Therapeutic foods, Mama tried to ensure that Asinyen did not miss feeding times in the household. Nonetheless, Asinyen's health continued to deteriorate and Mama sought for help from the village community health worker (CHW) who referred them to the nearest dispensary. Anthropometric measurements done by the nutritionist at Lopur dispensary recorded a weight of 5.8Kgs and z-score of -3 indicating severe malnutrition. Asinyen was immediately admitted to the Outpatient Therapeutic Program (OTP) for treatment.
"Culturally, all children (especially those under ten years) in a household sit together during mealtimes and feed from one large plate or tray. Without supervision you find the older ones will finish food for the younger ones while in cases where the older ones feed the younger ones in turns the under-fives are at risk of becoming overweight or obese."Mr Awar explains.
Further, Mr. Awar outlines that for average households in rural Turkana communities the staple meals are nangaria – a semi solid mixture of maize flour, oil and akimet (curded goat milk). These do not provide the adequate vitamins and minerals required for optimal nutrition in children. Although most households in Turkana South have started diversifying their diets by growing vegetables in kitchen gardens and practicing agriculture, most mothers and care givers do not pay attention to the quantities given to children.
Through the support of the USAID's Afya Timiza project, CHW's and mother to mother support groups have been trained on appropriate nutrition counselling and complementary feeding practices. They have been equipped with the Maternal, Infant, Young Child Nutrition (MIYCN) information package that guides caregivers on the frequency of feeding (3-5 times a day), amounts, texture, variety, active feeding (Not by force) and hygiene in meal preparations and feeding. In addition, the project has provided caregivers with Pima Toto bowls – calibrated feeding bowl denoting the appropriate amount of food for each age.
A beneficiary of the MIYCN training and the Pima Toto bowls, Asinyen now weighs 9.8 Kgs at 24 months and can stand and walk with limited support.
"After the doctor (nutritionist) told me about feeding Asinyen with mangoes, bananas, pumpkin, sweet potatoes, beans and vegetables, it was difficult to measure the precise quantities in the recommended textures especially with my poor eyesight. However, now that I have this bowl, my great granddaughter's feeding has greatly improved" enthuses Mama.
According to Nakapuan David, a CHW in Lopur, the Pima Toto bowls are helping caregivers to successfully monitor and foster progressive complementary feeding practices especially among children admitted to the outpatient therapeutic program. Shaynel Lobenyo, a beneficiary of the Pima Toto bowls and client of the OTP at Lopur Dispensary for over a year has been able to exit the program within two months of her caregiver receiving the Pima Toto bowl.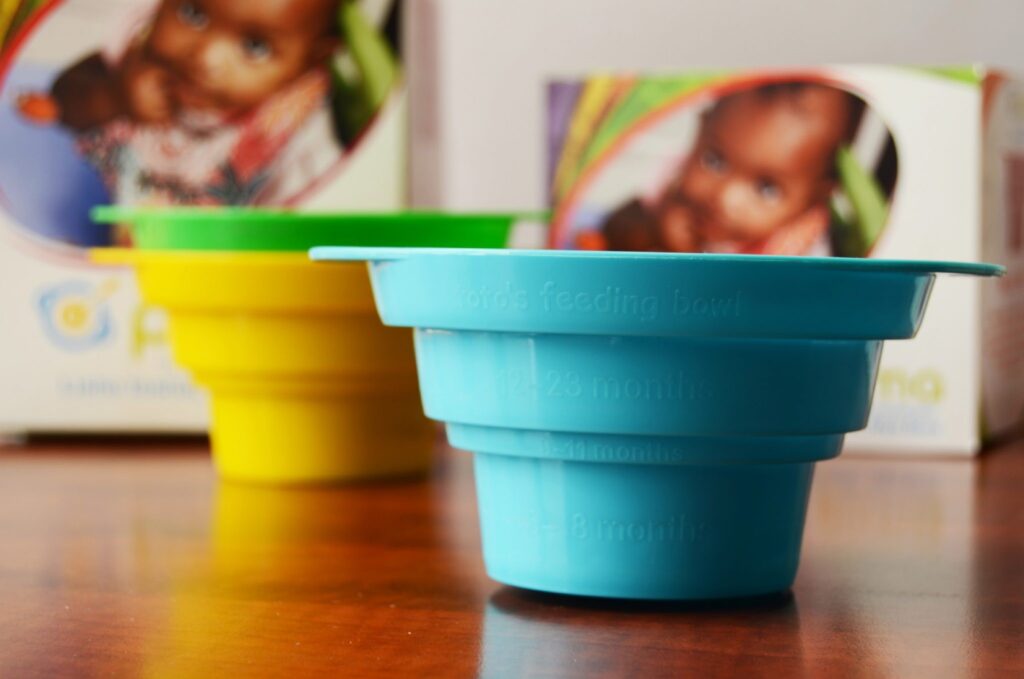 To strengthen messaging on the quantity of food given to children in the first 1000 days, health care workers in the target communities have been trained to continuously plan and schedule nutrition health talks and cooking demonstrations. The Afya Timiza project aims to sustainably improve health and nutrition outcomes for mothers, children and adolescents residing in the arid and semi-arid areas of Turkana and Samburu Counties. The overall objective of the project in nutrition is improving coverage and quality and over 150,000 children under five years with high impact nutrition interventions and over 450,000 parents and caregivers with comprehensive nutrition information. In addition, the project will continue mentorship of CHVs on Pima Toto bowls and the national guidelines on complementary feeding for children 6-59 months; and support the County Department of Health (CDOH) to commit, plan and budget for evidence-based impact interventions to promote survival and wellbeing of mothers and children.