On Wednesday, March 10, Elizabeth Merab of Nation Media Group won a prestigious global universal health coverage award for her contribution to health journalism across Africa.
The Agenda for Health in Africa International Conference (AHAIC) 2021, in conjunction with Amref Health Africa, celebrated Merab for her reporting and investigative skills, noting that her journalism skills had led to major changes in health problems.
"Your investigative efforts on reporting major health issues have led to significant changes in health policies in Kenya and this is a true example of journalism with impact. Your tireless efforts to ensure access to the right information and your constant call on governments to prioritize health issues is a stellar example of positive impact journalism, "said the AHAIC Steering Committee 2021 during the award ceremony.
Merab has been honored alongside other world health leaders, including the Director General of the World Health Organization (WHO), Tedros Adhanom Ghebreyesus.
The Africa Health Leadership on Covid-19 Prize was awarded to Dr John Nkengasong and Dr Matshidiso Moeti.
Merab, while speaking to TBEN.co.ke, said today's award was one of the biggest in her career and especially because she was honoured alongside world leaders.
"The award is a show of appreciation for what the media are doing in health and science. Without the media health changes in the world would not be possible and I am happy to be a part of that change,"
In 2017, she won the Next Generation of Science Journalists Award.
After the 2017 award, she was invited to participate in the World Health Summit in Berlin, Germany in October of the same year.
One of her memorable stories dates back to 2018 when she investigated how surgical confusion occurred at Kenyatta National Haopital (KNH).
His story indicated that the KNH doctors operated on the wrong patient, which has since led to changes at the facility.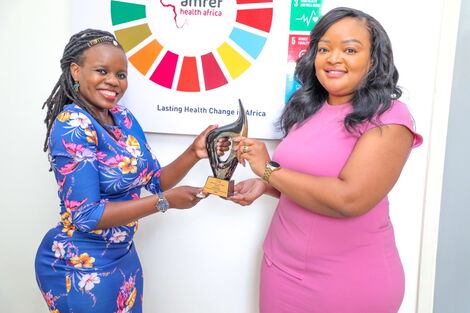 Article first published on thebharatexpressnews.com