Through the pandemic, Covid-19 sceptics have exploited misinformation and misrepresented official reports to undermine confidence in vaccines and restrictions.
Their new battlefront; the highly contagious Delta variant.
Information swept across social media implying Covid-19 vaccines are ineffective against the variant.
On Friday, August 6, 2021, Citizen TV shared a story from Reuters on Twitter ("Early signs COVID-19 vaccines may not stop Delta transmission, England says), but repackaged the title to 'Vaccines may not stop Delta variant'.
The story set off a chain of reactions online, with many questioning the purpose of vaccination under the post. 
Netizens jumped on to the confusion, some pushing the narrative that vaccines do not work against the fast-spreading Delta variant.
However, the report quoting scientists at Public Health England was speaking about the transmission of the variant.
It said there were early signs people who have been vaccinated against Covid-19 may be able to transmit the Delta variant of the virus, just as easily as those who have not.
"Vaccines have been shown to provide good protection against severe disease and death from Delta, especially with two doses, but there is less data on whether vaccinated people can still transmit it to others," an excerpt read.
On July 5, the Daily Nation newspaper claimed in a front-page headline reading "AstraZeneca vaccine works against Delta Variant but not Alpha".
In a swift rejoinder, AMREF Health Africa CEO Dr Githinji Gitahi, a commissioner with Africa Covid-19 Response refuted the claim. He cited an article from the medical journal Lancet saying, "both vaccines (AstraZeneca and Pfizer) are effective for both alpha and delta variant but a little less effective on the latter". The local daily has since corrected the online version of the story.
Kenya Medical Research Institute (KEMRI) Deputy Director Professor Mwatilu Mwau has also dismissed the narrative that some vaccines are infective against the notorious variant.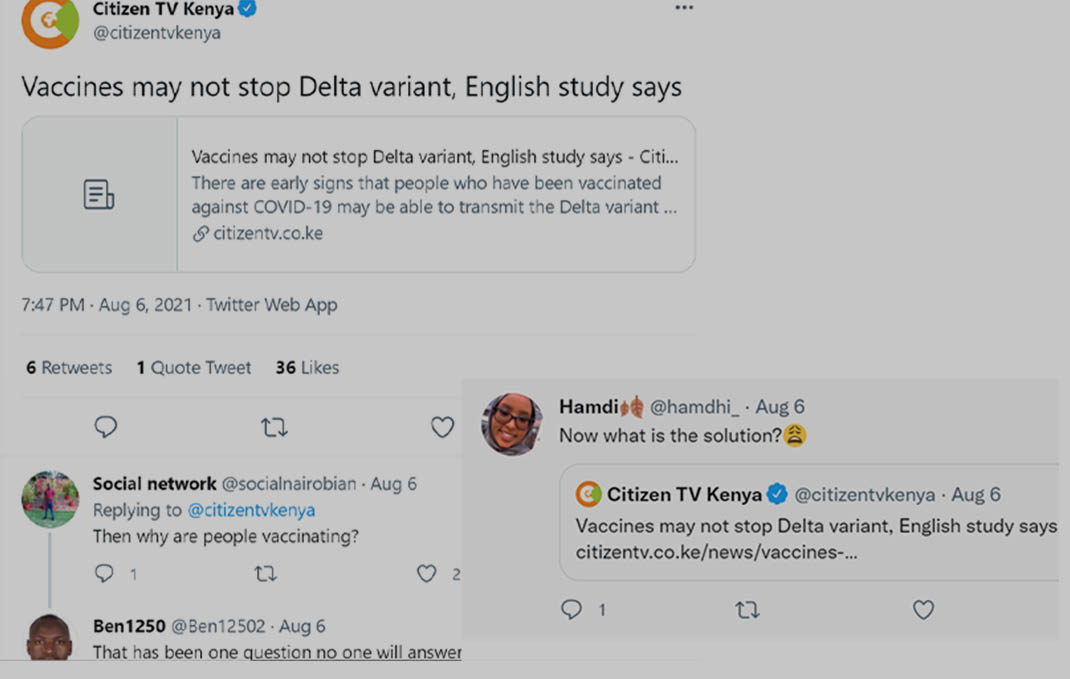 "Vaccines might not be perfectly effective against all variants but they are significantly effective against all of them including delta," he said.
Professor Mwatilu affirmed, "it is false that vaccines work only against a particular variant and not against other variants".
Citing a study in the New England Journal of Medicine, Professor Mwatilu said two doses of any of the approved vaccines are enough to offer protection against the Delta variant.
The study, however, outlines that the Delta variant is slightly less susceptible to neutralisation than the original strain.
"But most convalescent serum samples and all vaccination serum samples showed detectable neutralisation activity," says the American Society for Microbiology.
Researchers have concluded that mRNA vaccines are effective against the Delta variant.
Delta Alarm
The Delta variant of Sars-CoV-2 was first detected in India where it began circulating in April. It is now present to varying degrees in at least 100 countries, including Kenya.
The World Health Organisation (WHO) describes the variant as "fastest and fittest". Compared to other strains, various studies have outlined that delta variant's symptoms differ but are not any severer.
"Fever, headache, sore throat and runny nose are common symptoms, while cough and loss of smell are not," the American Society for Microbiology says.
There is no data in Kenya showing to what extent the Delta variant is responsible for the Covid-19 cases in Kenya but Professor Mwau confirmed that the Delta variant is now dominant.
"We have not yet done any survey to say Delta variant is responsible for a certain percentage of the Covid-19 cases in Kenya at the moment but it is roughly around the US' rate," he said by phone.
Delta variant accounts for more than 80 per cent of Covid-19 cases being reported in the United States according to the Wall Street Journal.
According to the Professor, the spike of Covid-19 cases being linked to delta variant has nothing to do with vaccine effectiveness but another major factor like low vaccination rates.
"Most people infected with new cases of Covid-19 Delta variant are unvaccinated," he said.
According to government figures, in Kenya, less than two per cent of the population has been vaccinated.
The Director of the Centres for Disease Control and Prevention (CDC) Dr Rochelle Walensky cautioned that the spike of Covid-19 cases "is becoming a pandemic of the unvaccinated."
KEMRI Deputy Director Professor Mwatilu says that the highly infectious delta variant can be transmitted to anyone whether vaccinated or not.
"If fully vaccinated people contract Covid-19 (Delta variant), they have very minimal chances of being hospitalised or even die of Covid-19 complications," said Professor Mwatilu.
Article first published on https://www.standardmedia.co.ke/explainers/article/2001421219/scientists-correct-misinformation-about-vaccines-and-the-delta-variant