To commemorate World Toilet Day-2021, Amref Health Africa in Kenya, with support from Global Affairs Canada (GAC) launched a distribution of dignity-kits to 122 schools in Migori and Homabay counties. The kits contain a four-month supply of sanitary towels, cotton pants, toothbrush, soap and toothpaste.
The initiative, which was launched during the Kenya national celebration held in Migori County, sought to equip adolescent-girls with knowledge on menstrual hygiene and management, confidence building and awareness on sexual and gender-based violence (SGBV).
Menstruation makes access of safely managed toilet a more vital infrastructure for women and girls. Lack of access to private toilet, sanitary towels and clean water, which is key in the management of menstruation could lead to girls skipping school days, or hinder their ability to concentrate in class. When girls have access to safe and well managed toilets, it improves their health, security and a greater sense of dignity.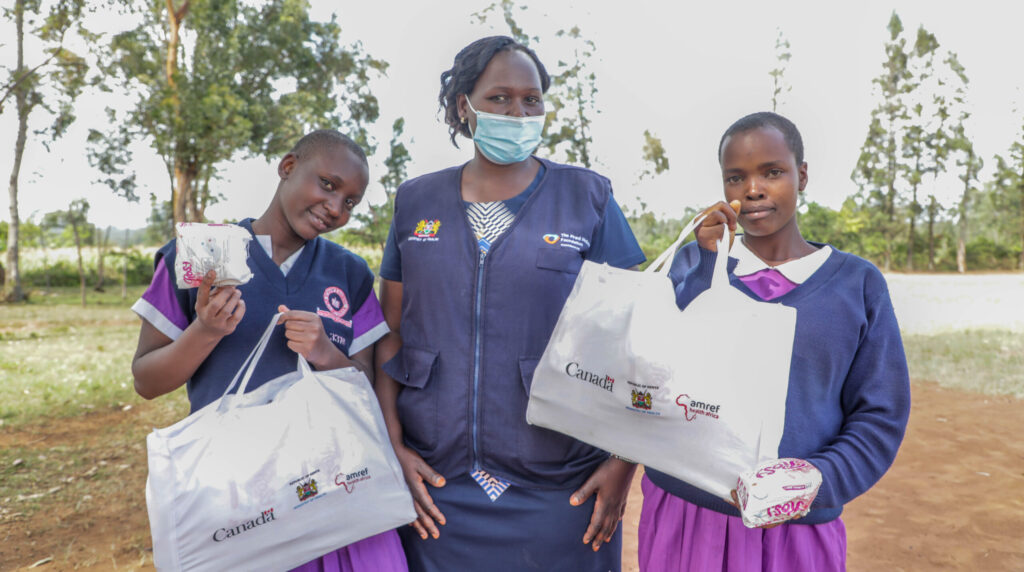 The launch kicked off at Tagare primary school in Migori County. Speaking during the distribution exercise, Lucy Nsoto, a Community Health Assistant in Kuria West sub-county said, "most of the adolescent girls in this community are unable to afford sanitary towels because of high levels of poverty. Currently, we have three cases of girls who were forced to expose themselves to early pregnancy in exchange of sanitary kits."
Lucy noted that inability to work or attend school because of lack of funds to buy sanitary kits makes life even harder for girls. She added that sometimes the girls are forced to develop personal unhygienic coping strategies by desperately using old pieces of clothes or pieces of mattress.
According to the Ministry of Health Menstrual Hygiene Management (MHM) policy published in 2019, one million girls miss school each month in Kenya because they cannot afford sanitary pads, while some share used ones. This notwithstanding, 54% of Kenyan girls face challenges with access to MHM products. The study further showed that 65% of the rural population dispose their sanitary products in a pit latrine.
Menstruating girls are likely to have a more stressed experience in the absence of a clean friendly toilet where they can manage their menstrual hygiene comfortably wash hands, change sanitary towels and safely dispose them or clean the reusable towels. "Toilets are also important in disposal of menstrual waste and hinders infectious diseases from poor disposal. It also provides privacy for girls during that period," adds Lucy.
"Menstrual hygiene management is intrinsically linked to availability of girl friendly toilets. The absence of a clean girl friendly toilet means girls miss school during periods or eventually drop out of school, said Lennah Kanyangi, CAIA-MNCM project, Amref Health Health Africa in Kenya. "Consequently, friendly toilets are a priority if the Sustainable Development Goals (SDGs) on education, gender equality and health are to be achieved".
World Toilet Day is a global event celebrated annually to inspire action in order to achieve access to adequate and equitable sanitation. Furthermore, Covid-19 pandemic showed how Water, Sanitation and Hygiene is critical in preventing and controlling the virus and other diseases. The theme of this year World Toilet day is 'valuing toilets'.
At Tagare primary school, we asked girls, why they value toilet especially during menstrual period and this is what they said;
Elizabeth Boke, form three student, "I value the toilet because I use it to dispose my used sanitary kits, and I use the facility to check myself whenever I feel any discomfort. The toilet gives me privacy when I am menstruating"
Sarah Phanice, form two student, "If there were no toilets in my school, I would not be going to school when I am on my periods. That is why I value the toilet because I do not miss school and waste a lot of time."
Story by Maureen Cherongis, Communications Officer, Media Relations, at Amref Health Africa