A four-year resilience program dubbed 'Ustahimilivu' was on November 18, launched in Masol Community Conservancy, West Pokot County to support increased resilience of communities to drought and other effects of climate change in Arid and Semi-Arid (ASAL) areas of the region.
The Cabinet Secretary (CS) for Public Service, Gender, Senior Citizens Affairs and Special Programme Professor Margaret Kobia together with the European Union (EU) Ambassador to Kenya Her Excellency Henriette Geiger while presiding over the launch, lauded the progress of the program saying it will help address food insecurity and improve livelihoods.
The program, supported by the European Union (EU) in Kenya is implemented under a consortium of partners among them the Northern Rangelands Trust (NRT), E4Impact Foundation, European Committee for Training and Agriculture (CEFA), Social Ministry Research Network (SOMIRENEC), AMREF health Africa, West Pokot County Government with the National Drought Management Authority (NDMA) playing the oversight role.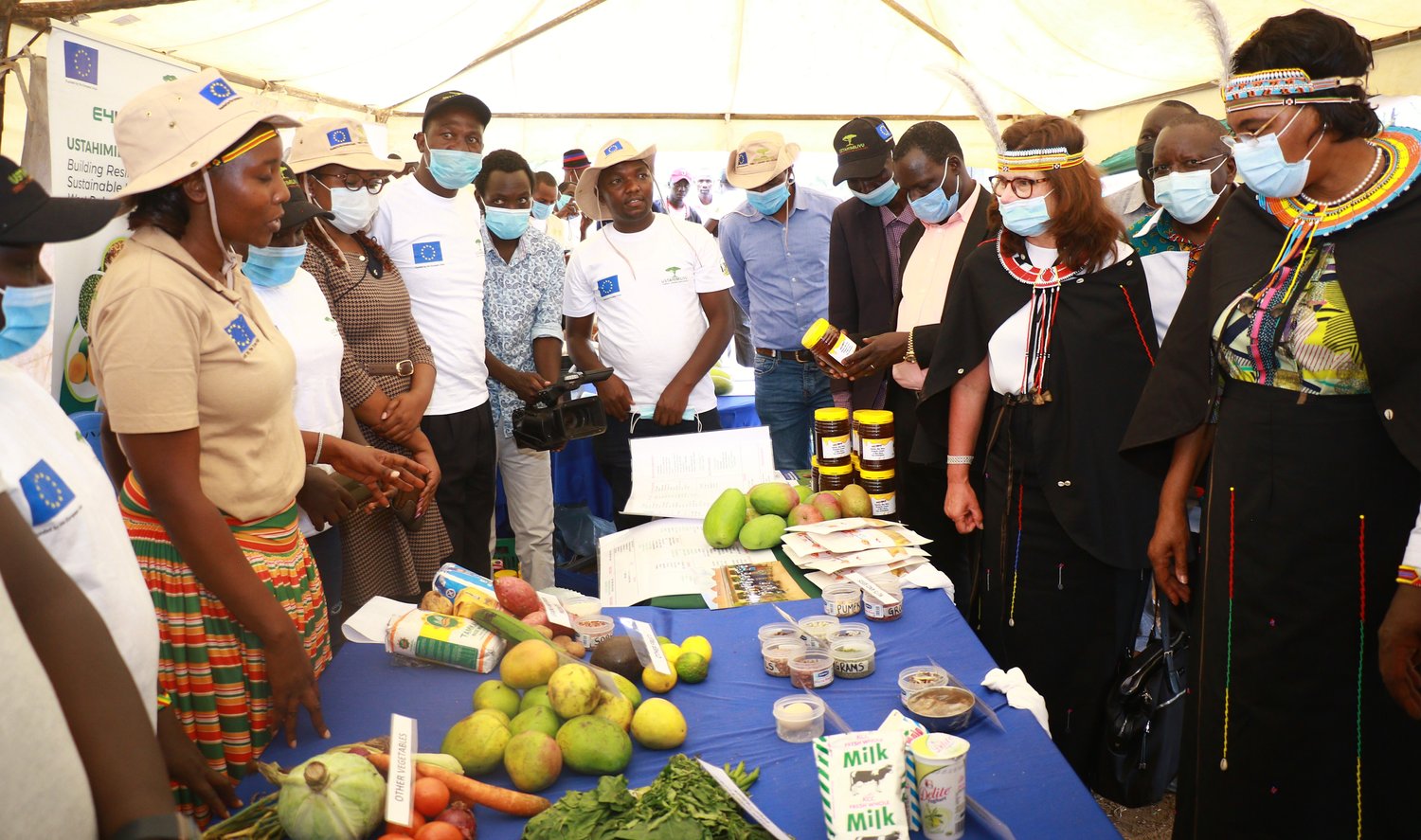 The program also aims to promote the fundamental socio-economic human rights, such as the right to health and the right to food of acceptable quality, endorsed by the Kenyan Constitution. It also aims to contribute to enhanced climate-resilience, economic development, and prosperity as well as improved stability, peace, conflict prevention and security in the fragile and challenging region of the lowlands of West Pokot.
Additionally, the program aims to ensure better cross-sector synergies and complementarity while strengthening NDMA and county level administration capacities in building drought resilience and food and nutrition security, and secure livelihoods for vulnerable and at-risk households. it also seeks to strengthen the devolved systems on implementation of policies and strategies as well as influencing policy and strategy changes for improved resilience building and drought risk management, including in the face of climate change impacts and other climate risks.
"The European Union is pleased to be part of the support to building resilience to communities living in the lower and drier regions of West Pokot faced with effects of drought and climate change. Climate change has been one of the greatest challenges of our generation. Because of its serious effects to the fundamental rights to life such as; health, food and an adequate standards of living affecting all communities regardless of class, race and gender. However, women and children have been the Most affected, therefore, we appreciate the contributions that this action is promoting a multi sectoral approach to reducing the effects of drought and climate change. Through this action women, children and youth are at the forefront in ensuring that they take charge and provide home based solutions that are adaptable to climate change which includes fodder production, modern beekeeping methods, kitchen gardening just to mention a few," says European Union (EU) Ambassador to Kenya Her Excellency Henriette Geiger.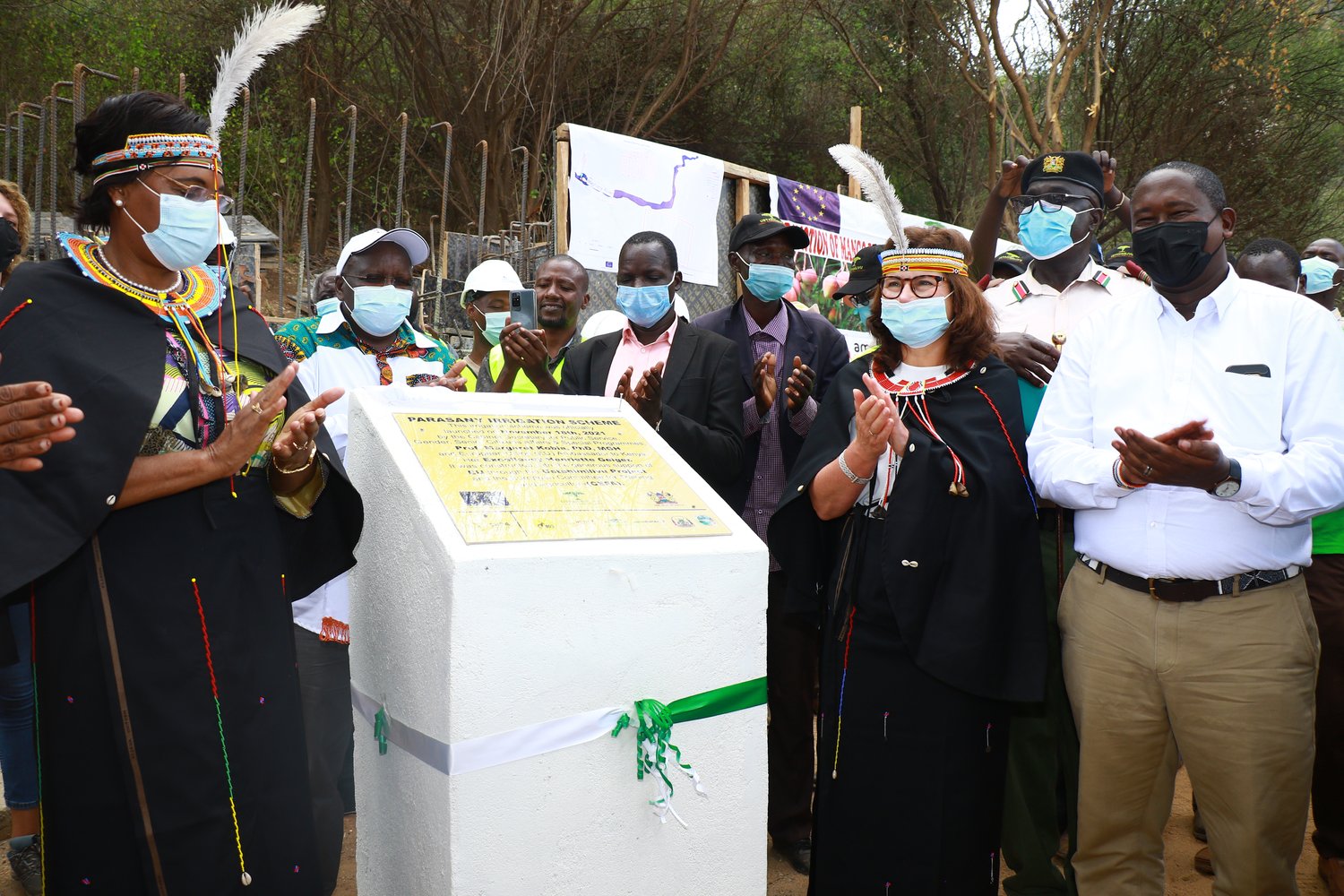 Due to the characteristic of the consortium, the action is built on a multi-sectoral demonstration and approach which leverages on the existing presence of two community conservancies in Pellow and Masol and a total of 10 ward enclosed in their belt. The consortium leverages on the successful community resilience model of sustainable livelihood and addressing food and nutritional insecurity as well as the underlying root causes of natural resource-based conflicts in West Pokot County.
"Our Constitution guarantees several economic and social rights, including the right to be free from hunger and to have adequate food of acceptable quality, as well as the right to healthcare services. I am glad to note the great demonstration of partnership between the two levels of government and non-state in this project towards the attainment of these rights," said Professor Margaret Kobia, Cabinet Secretary for Public Service, Gender, Senior Citizens Affairs and Special Programmes.
The CS added that overall, the project contributes to the Government's Ending Drought Emergencies strategy and is aligned to the Vision 2030 and Food Security Pillar of the Big Four Agenda. She assured the implementers of her Ministry's support in their resilience building efforts but called for conscious consideration of the deeper vulnerabilities within households to ensure the inclusion of women, children, persons living with disabilities and the elderly.
"We must factor in gender considerations to ensure we leave no one behind as we seek solutions to the perennial challenge of drought and climate change," Prof. Kobia added.
The region's lowlands have limited livelihoods options, unsustainable use, and management of natural resources and under investment in the green economy. There are unsustainable rangeland management practices, including poor soil and water conservation, water shortage, pasture regeneration as well as limited access to markets and services. This has contributed to sub-optimal livestock production in the County.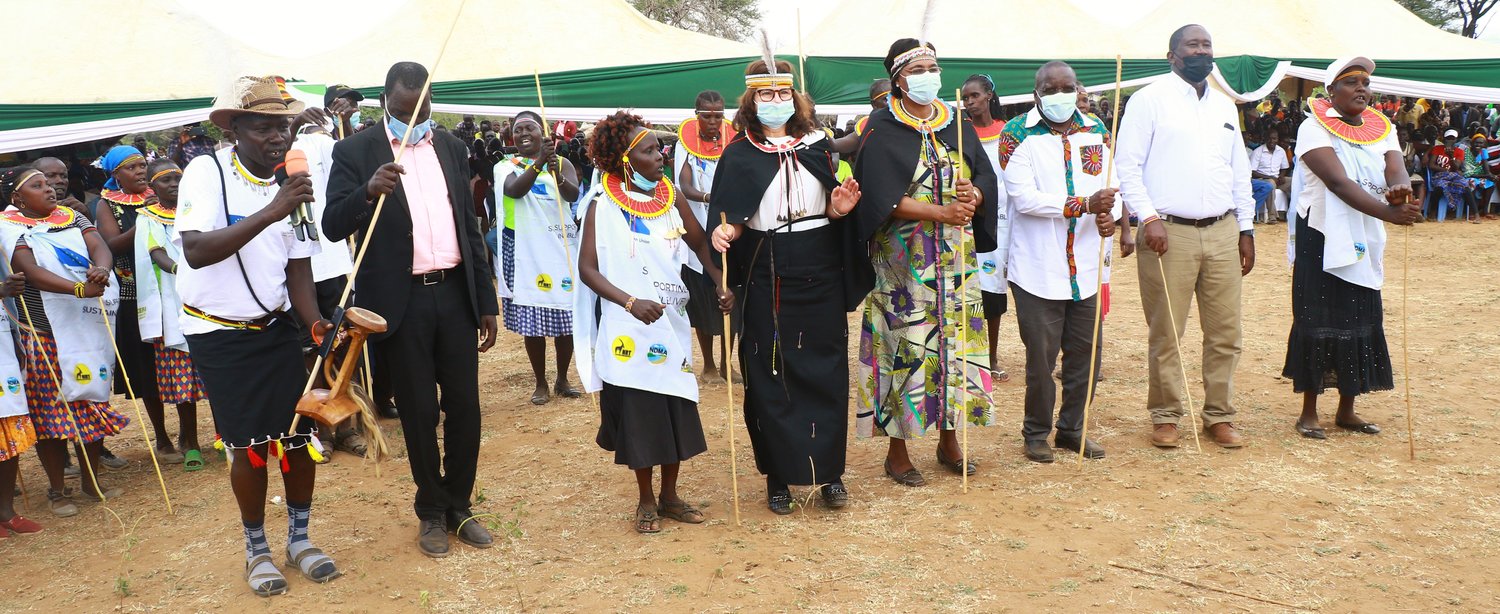 The project targets six wards that fall within the conservancies including: Wei wei, Lomut, Masol, Sekerr, endugh and Kasei. There also neighboring wards which are termed as indirect beneficiaries. They are those wards that fall outside the conservancies, and they are Alale, Kiwawa, Sook, Sam and Riwo.
"It has been such a great pleasure working together with the consortium partners including E4Impact Foundation, CEFA, SOMIRENEC and AMREF Health Africa in implementing this crucial Ustahimilivu program. With support from the European Union (EU), West Pokot County government and the oversight lead- the National Drought and Management Authority (NDMA), I am pleased with the efforts that each partner has input in rolling out this program to improve resilience for sustainable livelihoods of our communities. We remain committed towards achieving our goal of building drought resilience, improving peace and stability as well as preventing conflicts while working with government agencies and improving food and nutrition security in this region," says Tom Lalampaa, NRT CEO.
Article first published on https://www.nrt-kenya.org/news-2/2021/11/19/european-union-eu-funded-ustahimilivu-program-launched