The need for emergency medical attention can occur in any place at any time. However, getting medical services for patients has always been a daunting task, with some of them dying for failure to access care within the shortest time possible as their condition may require.
Although there have been attempts to address the delays of patients in need of emergency healthcare getting to hospitals through road ambulances, the challenge still exists with victims succumbing on their way. This is due to challenges such as poor roads in rural areas and traffic congestion in urban areas which consume the most crucial time of a patient.
To save live and facilitate quick emergency attention, some healthcare providers have come up with medical air evacuation services that use planes commonly known as air ambulances.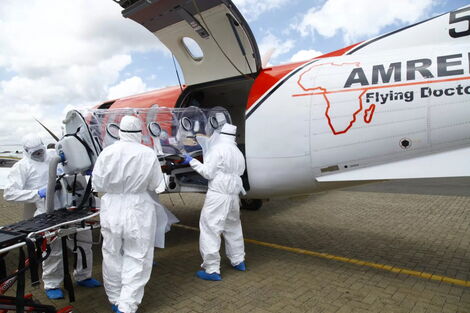 A file image of Amref Flying Doctor's medical staff loading a critically ill patient into an air ambulance.
How it Works
Under normal circumstances, whenever a loved one is in need of evacuation, one just needs to make a call to the service provider. The medical coordinators evaluate the situation according to the information provided and get back with the most feasible repatriation method and a quotation for the same.
Upon agreeing with the quotation, the medical coordinators then put together the right team and equipment for the job, in line with the specific condition of the patient. They load everything needed including diagnosis equipment, medicine and food and drinks among others. A highly trained medical team relevant to the reported case is usually on board and keeps in constant communication with the family.
Amref Flying Doctors
In Kenya, air evacuation has not been robust, with most healthcare providers still embrace the conventional byroad ambulances. However, some hospitals have managed to penetrate through the unexploited market, with Amref Flying Doctors and the Nairobi West Hospital being among the most notable pioneers.
Amref flying doctors started their aeromedical services in 1957 with their headquarters at Wilson Airport, Nairobi. The health care provider has a fully equipped fleet that is always available to evacuate people from remote airstrips to hospitals for improved medical care.
Amref also offers its services through many Advanced Life Support Ground Ambulances and an Operations and Emergency Control Centre at the Wilson Airport, running for 24 hours a day and seven days a week.
Amref Flying Doctors go further to provide medical repatriation for patients across the African borders, with non-Kenyan/African patients who face medical emergencies getting rushed to their countries.
Nairobi West Hospital
The most recent entry into air ambulance services in the Kenyan market is the Nairobi West Hospital that launched its air ambulance on November 24, 2021.
The hospital targets to address the growing demand for air evacuations in Kenya and East Africa, which will be made possible by the hospital's launch of a customized helipad at the top of its 17-storey building in Nairobi.
Speaking during the launch, the hospital's chief medical officer Dr. Andrew Gachie said that the milestone would help save the lives of many Kenyans by speeding their access to specialized medical care.
"Each minute will now henceforth make a huge difference in our patients' lives. The new helipad will speed up the time incurred transferring critically ill patients to the hospital, giving them the very best chance of survival," said Dr. Gachie.
"We are now moving away from the ground to a more efficient air medical emergency evacuation regime," he added.
Besides, the 50.5 meters-high helipad has a trauma bay below it to respond to arriving patients in need of critical attention.
All these interventions to boost medical care in Kenya are to be made more effective with the introduction of unmanned aerial vehicles to facilitate the delivery of medical supplies in congested areas such as cities and towns, while also helping reach people in disconnected locations.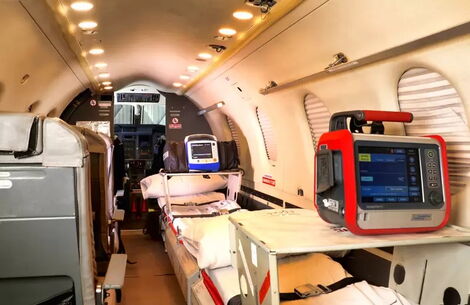 A file image of an interior design of an air ambulance.
Article first published on https://www.kenyans.co.ke/news/70897-how-medical-air-evacuation-works-kenya