As more Americans prepare to get their booster shots, large portions of the world still do not have access to the first vaccine shot. Despite calls for global participation in the fight against COVID-19, availability of both testing and vaccination equipment has been concentrated in the hands of wealthier nations.
As a result, more than1 billion people remain unvaccinated throughout the African continent.
"Africa just could not afford to get the test or the vaccines," Robert Kelty, Chief Executive Officer of Amref Health Africa, the largest health development NGO based in Africa, told Newsweek. "It was always in the back of the queue."
"The vaccines go first to wealthy nations," he added, "and they go second to the poorer nations."
While countries like the United States or the United Kingdom boast a vaccination rate upwards of 60%, many countries in Africa have gotten fewer than 2% of their total populations vaccinated.
This is due to a variety of factors, said Graciano Masauso, a Zimbabwe native who is the founder and president of the Africa Health Organization, a new international health agency that covers all of Africa.
"COVID-19 has affected the continent very seriously," he said. "Misinformation on social media about it has circulated across Africa from two years ago until now."
He said that many deaths from the pandemic went unreported.
"On the ground, most people with COVID-19 didn't go to hospitals," Masauso told Newsweek. "In the rural areas, where it is difficult to access, people were dying in their homes."
"Native African governments have been trying to stop it, but could not because of the lack of equipment, resources and funding," he added.
In response to these supply shortages, organizations like Amref Health and the Africa Health Organization have scrambled to get their hands on a limited supply of tests and vaccines.
Kelty said the biggest obstacle is a lack of supply.
"There was trust before COVID that the richer countries were going to distribute to Africa because they had in the past with childhood vaccines," he said, "but there was not that same global supply shortage [then]."
He said producing vaccines on the continent may be the only answer.
"The African Union is setting up the strategy to start producing vaccines in Africa," Kelty said. "That is going to take some time and investment, but it has become very clear that Africa has to start producing their own vaccine."
"We're trying to set up vaccination centers across the continent," he added, "but the money isn't there yet."
The accessibility of testing and vaccines has sparked calls throughout Africa for nations to develop them domestically. Kelty said the biggest obstacles to this production are funding and the major pharmaceutical companies' unwillingness to share intellectual property.
Masauso also put the responsibility on Big Pharma.
"It is a big stain on humanity that these giant pharmaceutical companies are refusing to share their knowledge of vaccination," he said.
"Africa has been disadvantaged by colonialism for a long time," Masauso said, "so it would take a long time, maybe 10-20 years, for us to catch up."
"For the sake of humanity, I'm appealing to them to share their intelligence, knowledge and experience, because they have been doing this for many years," he added.
A recent report from Human Rights Watch has identified more than 100 firms that can produce the required mRNA shots, including eight companies in Africa. But Pfizer, BioNTech, and Moderna are determined to protect the intellectual property that has made them billions.
In an interview earlier this year, Moderna's chairman, Noubar Afeyan, told The Associated Press that the company would not share the formula for its COVID-19 vaccine with others around the world.
"Within the next six to nine months, the most reliable way to make high-quality vaccines in an efficient way is going to be if we make them," he said.
Asked about appeals from the World Health Organization to share the formulas, he argued these pleas assumed "that we couldn't get enough capacity. But in fact, we know we can."
In addition to the WHO, many activists argue these major companies should share their technology with manufacturers in Africa to help provide urgent protection against the virus for the nearly 1.1 billion people still left unvaccinated on the continent.
Some have gone further, suggesting that the big pharmaceutical companies bear some responsibility for the recent spikes in global COVID-19 cases, which are aided by large populations of unvaccinated people.
While billions remain without access to the vaccine, companies like Moderna and Pfizer are bringing in record profits. Moderna reported $7.3 billion in earnings on sales of $11.3 billion through the first three quarters of 2021 — a 65% profit margin.
In an effort to answer these criticisms, companies like Moderna and BioNTech have announced plans to build their own facilities in Africa in mid-2022.
Masauso questioned their level of commitment.
"If they build facilities in Africa, I doubt they will be willing to share in the long run, because they are motivated by money and profit," he said. "They still wouldn't want to share profits with other companies, so I doubt whether that is a genuine thing or not."
"But to be honest with you, as long as they're willing to share in the long term, that's a good thing," he added.
Restrictive intellectual property laws allowed private companies to almost exclusively profit from the vaccines they released early this year, despite receiving massive initial funding from governments and public institutions.
President Biden argued that the U.S. is doing more than its part to battle the pandemic globally.
When questioned about the vaccine development process and the lack of equal global distribution, he told reporters, "The United States has already donated more vaccines to other countries than every other country combined."
"It is time for other countries to match America's speed and generosity," he added.
But until the large pharmaceutical companies decide to share their technology or build brand-new factories, African countries will continue to be heavily reliant on global vaccine donations, which have been underwhelming up to this point, Masauso said.
"Relying on donations is not a good thing in the long run," he said. "To be sustainable, you need to own and produce things. We don't want to rely on donations, because donations will dry up one day."
Without help from these major companies, organizations within Africa have set out to develop their own vaccines and distribution networks.
"The Africa Health Organization is planning to recruit people from Europe and America with past experiences of developing vaccines and medicines, so that they can start working with us," Masauso said. "We'll be starting from scratch, from zero, but with the skills and the talent of those people we are going to recruit from, I believe we will be able to do it."
While awaiting vaccine supply, African governments and health organizations have found innovative ways to make use of their resources to protect communities against COVID-19.
"Even if we don't have the equipment, we can reduce the transmission rates," Masauso said. "We are moving from villages in rural Africa to towns and big cities where people are living, trying to make sure that people have the tools. We are also working with governments to ensure that they have strict guidance and rules that are implemented on the ground."
"If people abide by the rules to wear face masks and observe social distancing, it will work," he added. "Even if we don't have the equipment, we can reduce the transmission rates."
Organizations like Amref Health Africa and the Africa Health Organization will need global support if they are to be effective in helping to vaccinate more than 1 billion people.
"The resources are the biggest worry," Kelty said. "But considering the limitations and delays in getting the vaccines, the governments in Africa have done a really great job."
Masauso argued that instead of focusing on making quick profits, global organizations and governments should approach Africa with a spirit of sustainability.
"Many countries in Africa need global collaboration and partnership to combat the coronavirus," he said. "But it will only work if these deals are based on fairness, equity and humanity."
"We need global cooperation," Masauso added, "cooperation between the Africa Health Organization and the World Health Organization, and cooperation with countries that are doing well to share how they are doing well, so that we can follow some of the good examples."
Masauso said the effort must go beyond charity.
"Organizations that give money to developing countries should also come up with better packages that ensure Africa is going to develop itself sustainably rather than having to rely on loans and grants," he said.
In addition to global collaboration, Masauso said a broad commitment to health in the public sector throughout African governments is critical.
"Education and public health should be at the top of every government's national budget," Masauso added. "In allocating money, that's the most important thing."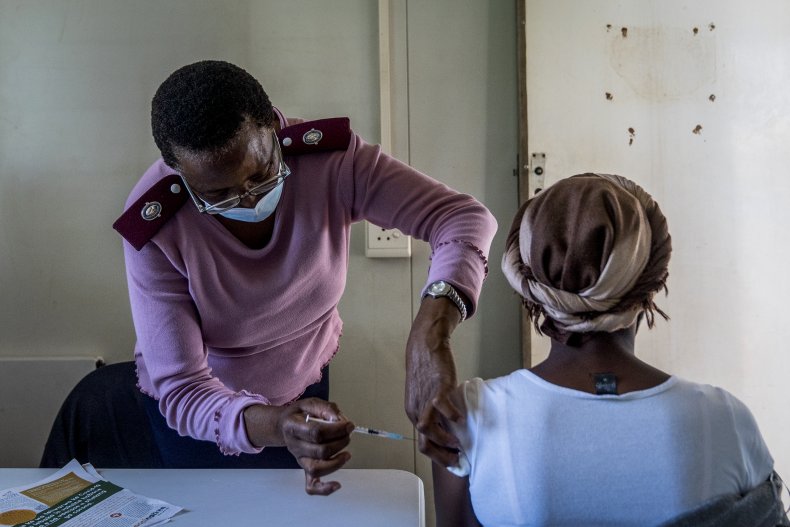 Article first published on https://www.newsweek.com/ngos-africa-battling-big-pharma-get-1-billion-people-vaccinated-1662403