The emergence of the COVID-19 pandemic hampered the progress and gains made over the years in global health. As a result, there was a need to urgently mitigate the disruptions through the provision of essential services including Tuberculosis (TB) care and treatment. World Health Organization's global tuberculosis report states that TB is among the top ten leading causes of death in Kenya and is listed among the 30 high burden TB states and accounts for more than 80% of the world's TB cases.
As we mark World TB Day 2022, there is a need to recognise that leadership and technical capacity is important to effectively manage TB at all levels of the health system. In January 2021, under the generous support from GlaxoSmithKline (GSK), Amref Health Africa's Institute of Capacity Development (ICD) launched a one-year project aimed at responding to TB and Malaria from six endemic zones in Kenya- Bungoma, Kakamega, Busia, Siaya, Homabay and Migori.
The project was tasked to address various challenges identified in the targeted counties which included – weak leadership and capacity gaps, poor data quality, inadequate adherence to treatment protocols and the Ministry of Health TB policies, guidelines and standard operating procedures.
In response to the persistent challenges and after one year of implementation, the project has made great strides in enhancing the Leadership Management and Governance capacity of county health management teams translating to more effective stewardship of TB control programmes.
This is evidenced in Siaya County. "The capacity building aspect was a key area which has not been supported by any other partner. After the training, there was a lot of improvement in the county. The Data for Decision making training has helped the staff to analyse data and use it to identify gaps and challenges as well address it effectively," Mary Wambura, TB & Leprosy Coordinator, Siaya County.
Mary acknowledges that because of the training and continuous supervision by the GSK project, the county has become the best in increasing diagnosed TB cases by 33% in 2021 compared to 2020.
"The training improved our overall knowledge in diagnosis and helped us identify the gaps and how to address them. We now have the skills and knowledge to manage patients as well as find more cases in the community, which is vital in eliminating TB," said Margaret Maureen Atieno, Sub-County TB Coordinator, Siaya County. "Before the training, the TB diagnosis done in most facilities in the sub-county was not of a quality standard."
A key component of the project is to enhance community awareness and utilisation of TB prevention and treatment services at the sub-county health facilities.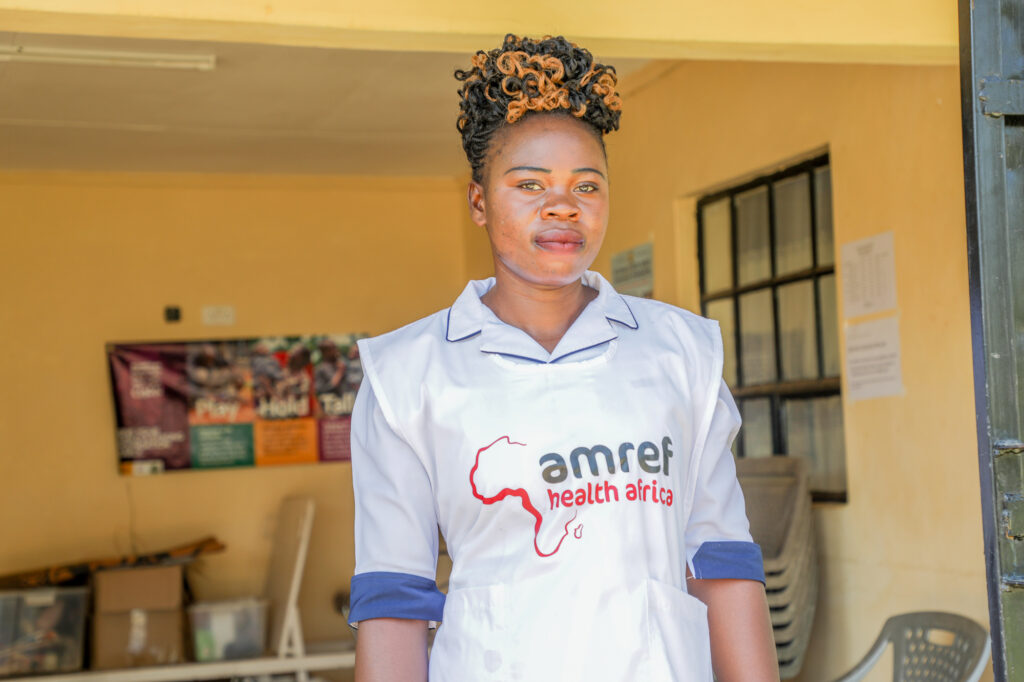 "The training has helped us to improve on tuberculosis (TB) diagnosis, treatment, and prevention at the health facility and enabled me to understand more on case identification and TB management," said Monica Onyango, a nurse at Mama Annes Odede health centre whose main role is to support care and treatment of TB. The health facility is located at the Ugenya sub-county.
The health facility still faces significant challenges while they focus on ending the epidemic. According to Mary, most clients have poor health seeking behaviour and tend to stay at home instead of coming to the facilities for medical services. To address this issue, Monica suggests, " it is important when we do a lot of community sensitisation and outreaches with Community Health Workers (CHWs) to help us achieve more case finding of TB in communities."
Mary admits that stigma has been one of the major drawbacks to accelerating the control and prevention of TB and it leads to delayed diagnosis and treatment. Equipped with knowledge and skills with facts and information on TB, CHWs have greatly contributed to the fight against self and societal stigma. "Most community members associate TB with HIV and that is where the stigma sets in. We tell communities that these diseases are curable and can be prevented," says Monica Akinyi Arega, a mother of four and a CHWs in charge of Odede Unit.
The GSK project is working under seven pillars: Leadership and Governance, Financing, Human Resource for Health (HRH), Health Information System, Service Delivery, Medical Products – Vaccines and Technologies as well as demand for and uptake of services. With this multi-tiered approach, the project has trained 2491 Healthcare workers from the six counties.
Author:
Maureen Cherongis, Communications Officer, Media and External Relations, Amref Health Africa