The Future of our Nations lays in the hands of the majority populations in Africa and these are our youth who are currently at 60% of the African continent population. This was an opening remark by the Local Council 5 chairperson for Kabale District Mr. Patrick Besigye Keihwa at the Official flag off ceremony of the 35 strong youth caravanists as they headed out to cross the Rwanda boarder from the Ugandan side in Katuuna.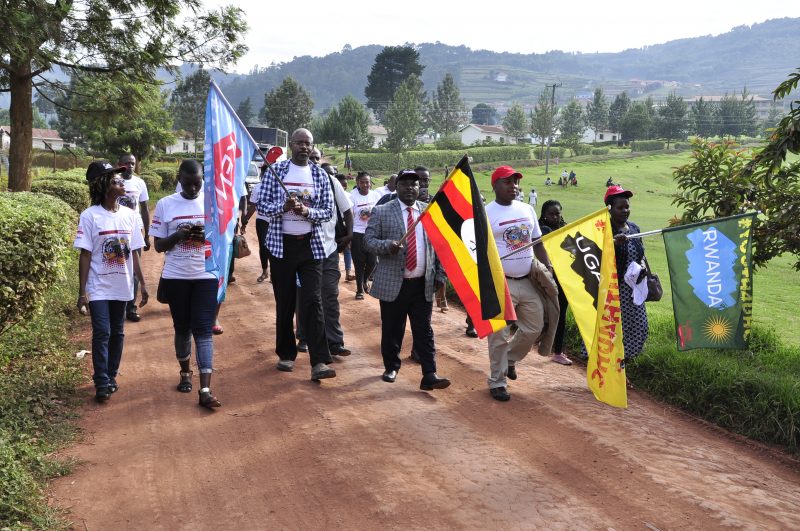 The event was tagged to the Youth Pre- conference that was held on the 4th and 5th of March , 2019. Amref Health Africa in Uganda under the Health Systems Advocacy project collaborated with Y-Act project based in Kenya to create awareness and rally every Youth to join the Pan- African Movement for Youth4UHC2030 that seeks to advocate for better health for all through affordable , quality, increased accessibility and promotion of better health services to all.
The Mr. Patrick Besigye Keihwa sighted the fact that youth are the majority in Africa and their voices count at every level and table of discussion. Indeed there is nothing for them without them. He implored the nation to continue striving to put Sexual and Reproductive health for young people at the center of Universal health coverage reforms because they are still youth and any thing that affects their reproductive health needs to be address head on.
He further noted that access to quality and affordable health services is a fundamental human right that needs to be treated as such across the country. He also highlighted that Universal health coverage (UHC) is crucial to achieving the 2030 agenda for sustainable development and is enshrined in SDG 3.8. This goal however can only become a reality if young people and women are put at the forefront and center of UHC policies, and if their sexual and reproductive health and reproductive rights are made a priority by ensuring universal access to sexual and reproductive health services , including family planning because the people who bear the greatest burden are the women and youth.
The dream of healthcare for all is not unreasonable, it is a right recognized around the world we the youth stand to be seen and heard. Take a personal commitment and together we will achieve #UHC2030 #HealthForAll #HLMUHC #Youth4uhc pic.twitter.com/vFWpRXTKDU

— YouthAct (@YouthActKE) April 30, 2019
LC 5 Chairperson also stated that the above mentioned facts are mutually reinforcing goals that must be pursued together to ensure overall success. Youth need to be able to access sexual and reproductive health services in a comprehensive way where by combining a broad range of services including health promotion, preventive and curative services making them youth friendly and responsive to the specific needs of young people and accessible to every youth who requires them including to the most venerable youth like the disabled.
He commended Uganda's commitment to increased access to and coverage of SRH services that has improved considerably in Uganda in the recent years however he also noted that these advances are uneven and this is where our focus must be.
He was in support of the young people's commitment to grow the young people's Pan African movement for Universal Health care for it is a positive venture that will be a stepping stone towards having collective voices for the youth at given forums in future. He gave some advise to the youth to be respectful of their position, help people appreciate it and do it in an integrated phase in the spirit of youth getting quality SRH services and Rights to better health because they are the future of the world and nation respectively.
He urged the young people to stand up against practices that derail their positive contribution to a nation and requested that this movement does not end after the Pre-conference but that it is natured into a strong movement whose voices are channeled towards making positive changes to health and other components that improve the quality of life of every Youth across Africa.
Mr. Besigye called upon all the caravanists to use the opportunity to represent fellow youth, "stand out and make a commitment to Youth for universal health care".
He closed his remarks by pointing out the fact that Youth are the now and future of our continent they must therefore start writing their story of Endurance, commitment and the love for better health, looking at the rich history of Africa and the relationships young people have built and the strategy they are using he was optimistic that indeed the Pan African youth movement is at a point of "No Turning Back"
On the other hand Dr. Patrick Kagurusi, the Head of Programs at Amref Health Africa in Uganda join the LC5 Chairman to flag off the caravanists and said the country is committed to achieving universal health coverage by 2030. This means every one should access services and health workers in any health facilities with out getting financially stressed. As youth they have a part to pay, if they are left behind them we will pay the price. We have to support them create forums that will bring out the youth unheard voices at the tables of discussion where policies are being developed and passed. Youth are part and parcel of the equation if Universal health Coverage is to thrive in Uganda by 2030.