Obstetric fistula is a severe maternal morbidity which can affect any woman or girl who suffers from prolonged or obstructed labour without timely access to an emergency Caesarean section.
It is one of the most devastating consequences of neglected childbirth and a stark example of health inequity in the world. Although obstetric fistula has been eliminated in industrialized countries, it continues to afflict the most impoverished women and girls in the developing world, mainly those in rural and remote areas.
Eliminating obstetric fistula as a global health problem necessitates scaling up country capacity to provide access to comprehensive emergency obstetric care, treat fistula cases, and address underlying medical, socioeconomic, cultural and human rights determinants.
To end obstetric fistula, countries must ensure:
• Universal access to reproductive health services;
• Eliminate gender-based social and economic inequities;
• Prevent child marriage and early childbearing;
• Promote education and broader human rights, especially for girls;
• Foster community participation in finding solutions, including through the active involvement of men.
Fistula is almost entirely preventable when there is universal access to quality sexual and reproductive health care.In 2003, the UNFPA and partners launched the Campaign to End Fistula, with the goal of making fistula as rare in developing countries as in the industrialized world. Obstetric Fistula was recognized as a neglected and human rights issue.
The campaign has drawn the attention of policymakers, health professionals, affected communities and individuals, as well as the general public, to the issue of obstetric fistula. Article 43 (1) of the Bill of Rights in the Kenya Constituion guarantees access to health care that includes reproductive health care. Occurence of fistula is a sign of neglect at the time of delivery and is constitutionally a violation of the rights of affected women.
However, despite remarkable achievements, many thousands of women and girls continue to live with the pain, stigma and shame of fistula. Ending the curse of fistula will require political will, additional resources and strengthened collaboration between governments, partners and civil society.
As a global partner of the campaign, Amref Health Africa is committed in fulfilling its responsibility through both advocacy and practice. Our vision is for "lasting health change in Africa": where communities are empowered with the knowledge, skills and means to maintain their good health and break the vicious cycle of poor health and poverty.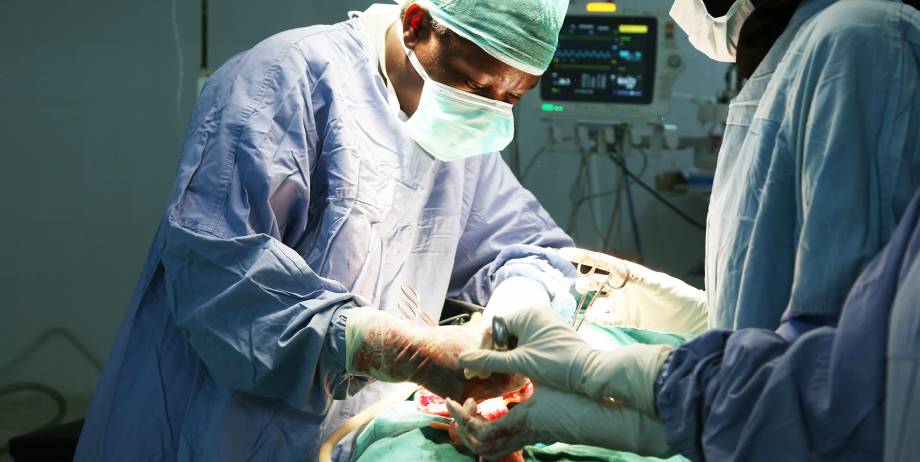 Amref Health Africa's Obstetric Fistula programme, established in 1992, aims at improving the quality of life for women with debilitating childbirth injuries through surgical interventions and community interventions to prevent Obstetric Fistula.
Since its inception, the programme has been involved in large scale surgical interventions targeting women and girls with obstetric fistula. The programme trains doctors, nurses and midwives in Obstetric Fistula awareness, prevention, surgical repair and post-operative care. This has seen an increase in the demand for operations. By providing on-job training and supportive supervision of rural health workers, the programme also giving city-based specialists the opportunity to practice rural medicine in resources-constraint settings.
One of the greatest barriers to good health among poor communities in Africa is the separation of communities from formal health systems, coupled with the low capacity of the health system particularly at lower health care levels. In line with the new health sector strategy of the Ministry of Health that recognises communities as integral to the health care system, Amref Health Africa strengthens communities, health care and other government systems to engage meaningfully for health development.
The community health volunteers are at the core of this programme ensuring that the communities are well informed to be able to make appropriate choices in pregnancy, delivery and post-delivery creating demand for maternal health services. This partnerships with communities, county authorities and the national government provides avenues for reducing the existing disparities in health care affecting the poorest communities, and have shown the need to build bridges between communities and health systems as well as the need to develop institutional capacity to improve health and reduce poverty. In this respect, Amref Health Africa draws on its experience at country and regional levels to strengthen communities and government systems in response to health priorities.
Amref Health Africa is convinced that greater and lasting impact will only be achieved through promoting fistula prevention. To achieve this, it is critical to scale up integrated prevention interventions through increase in utilisation and access to quality emergency obstetric care, and carry out community education and sensitisation to advocate for women's health and rights to access care as needed.
Help us end obstetric fistula! 
Join us, the British Chamber of Commerce Kenya, and the Rotary Clubs of Kenya  for a fundraising golf tournament – The Fistula Challenge – at Karen Country Club on Friday, November 24. Register today at www.thefistulachallenge.org