Public health emergencies in sub-Saharan Africa, have seemingly become a paramount litmus test that underscores public health systems' effectiveness, preparedness and response.
As global economic and health systems continue reeling from the impacts of the unyielding COVID-19 pandemic, other public health emergencies (PHEs) attributed to human conflict, natural disasters and infectious diseases such as the monkeypox (MPX) outbreak, continue to emerge. As of 26 August 2022, there were 596,873,121 confirmed cases of COVID-19 globally, including 6,459,684 deaths. At the same time, over 90 countries have reported outbreaks of the monkeypox disease, declared a global health emergency by the WHO, as confirmed cases crossed 46,300 (WHO).
The key to combating PHEs has been the multi sectoral response and cooperation of governments and partners, not only to assure coordination of activities at the international, national, and local levels, but also to improve readiness and reaction to upcoming threats. In Africa, engaging and involving the continent's leadership in public health emergencies preparedness and response is critical for effective outcomes in the health sector. For this reason, MSD, Africa CDC and Amref Health Africa partnered to develop a Public Health Emergencies Preparedness and Response (PHEPR) Leadership Training programme for Government and public health leaders across selected countries in Africa. The main objective of the training is to nurture leaders who will appropriately develop strategies to respond to public health challenges resulting from natural disasters or disease outbreaks in Africa.
The PHEPR Leadership Training was developed using a human-centered design approach; a design approach that is user centered. The key phases were; the exploratory research, the design research phase, a co-creation and validation phase. The infographic below gives a summary of the activities and deliverables of each phase.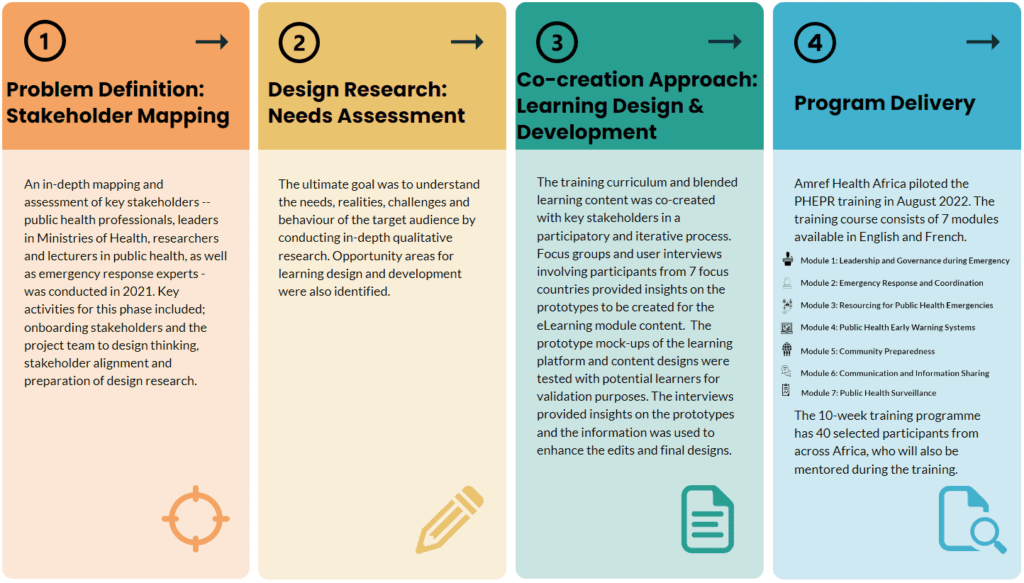 At the end of the training, digital certificates will be awarded to participants who successfully complete the Course. The project team will continuously iterate throughout the project to include key learnings and insights as the programme is delivered in a dynamic and cyclical approach. In addition, a summative evaluation involving the participants, mentors, project team and partners will be conducted at the end of this pilot programme to assess its outcomes.
Writer: Joyce Muthoni
Reviewers: Wairimu Muthaka, Leticia Buluma, Edna Osebe