The 2017 World Hypertension day was commemorated at an event held at the Uhuru Park, Nairobi on May. This was in the middle of the worldwide screening initiative, dubbed the May Measurement Month (MMM) which is aimed at highlighting the need for increased blood pressure awareness among the population in the month of May.
This year's World Hypertension Day saw several stakeholders in the health sector come together in a bid to bring more awareness to this misunderstood and ignored disease. The stakeholders who included the Ministry of Health, The Kenya Cardiac Society, The Nairobi County Government, Healthy Heart Africa through Amref Health Africa in Kenya among others were each represented by officials who all advocated for the need to get blood pressure measured.
Speaking at the event, the head of directorate of health standards at The Ministry of Health, Dr. Pacifica Onyancha noted that more than half of Kenyans have never had their blood pressure measured.
"It is only by having your blood pressure checked regularly can help one not develop serious health problems in the future", she encouraged.
"Marking this day means that we acknowledge the need to take urgent action to raise awareness of the risk factors for developing cardiovascular disease if we are to address this serious health threat" she continued.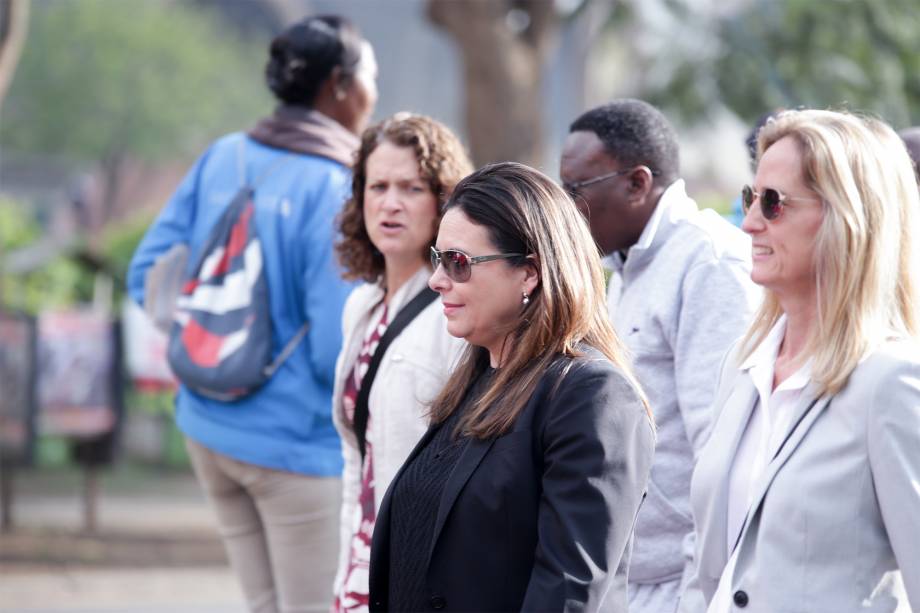 Katarina Ageborg (far left) Chief Compliance Officer at HHA during the walk event in Nairobi.
The Chief Compliance Officer for Healthy Heart Africa, Katarina Ageborg also present at the event recognised the importance of working with the communities to make people more aware and more responsible for their health and work towards a healthier future,
"This is about creating sustainable health care systems for the future generations, it's about looking out for our future" she said.
Amref Health Africa's HHA project manager, Dr Lilian Mbau encouraged the people on the need to work together in curbing the Non-Communicable Diseases (NCDs) menace and emphasized on Amref Health Africa in Kenya's support in doing this.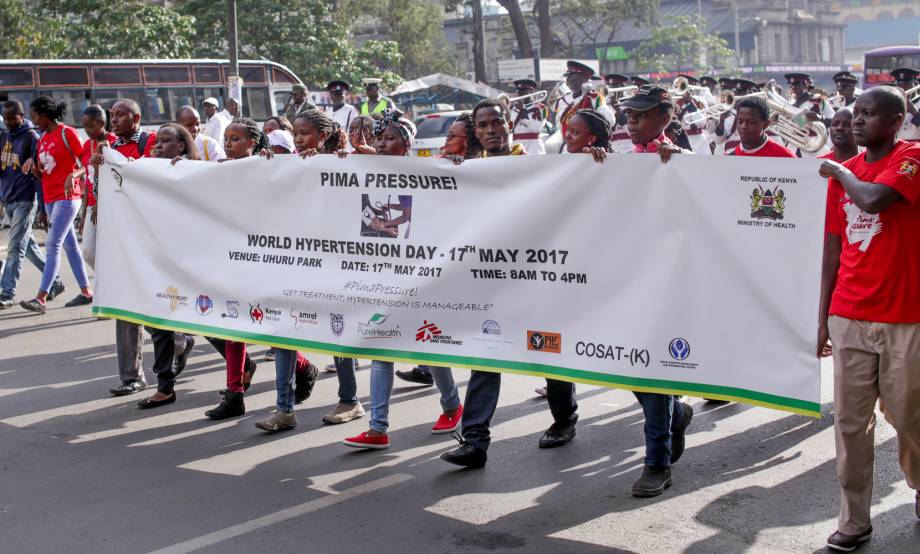 The 2017 World Hypertension Day procession from Kencom to Uhuru Park in Nairobi
"Working together is the first step towards reducing the risk of NCD's in the world and Amref Health Africa in Kenya's is fully involved in ensuring that we meet this goal" she concluded.
Written by Winfred Nduku