In partnership with Sightsavers, UNFPA and Amref Health Africa, programme aims to reach 10 million Kenyans by 2020
NAIROBI, KENYA – June 6, 2017 – Calling all heroes – Unilever today officially launched Heroes for Change, a social mobilisation volunteer programme anchored on the Unilever Sustainable Living Plan (USLP), to teach and empower college students to contribute to society and create a better future for all Kenyans.
The programme welcomes 100 university student volunteers from across five universities in Kenya – Strathmore University, University of Nairobi (Main and Lower Kabete campus), Jomo Kenyatta University of Agriculture and Technology, and Kenyatta University.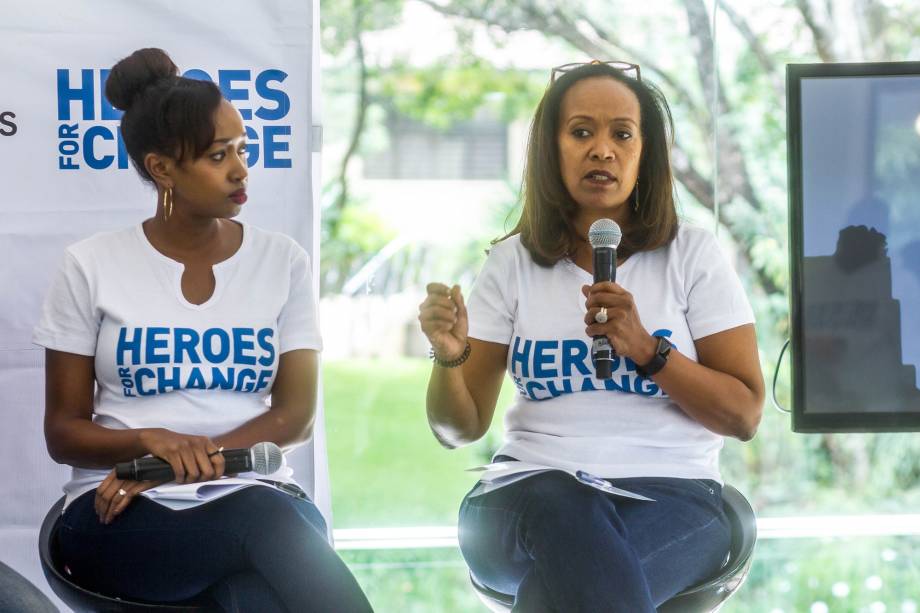 Volunteers will work towards improving health and well-being in their community, a key pillar of USLP, with the ultimate goal of reaching about 10 million Kenyans by 2020. The programme focuses on youth as an untapped force for good, empowering them to step up and make a change in their society.
Kenyan impoverished societies face multiple social issues impacting their health and well-being. In Africa, oral health issues are the number one cause of absenteeism in schools, while most of Africa's 550 million children start each day lacking the nutrients their minds and bodies need to grow.
In Kenya, more than 34,000 new-born babies die each year within their first month of life – translating to more than 90 deaths per day. An estimated 5000-7000 women also die each year from pregnancy and delivery related complications. Grave inequalities in maternal, new born and child health outcomes persist between regions. For example; only 15 out of 47 counties account for 98.7% of all maternal deaths.
"Through our Heroes for Change programme, we aim to tackle the multiple health and well-being issues in Africa and create a socially conscious society by mobilising the Kenyan youth to play a significant role in making a difference to their society," said Justin Apsey, CEO Unilever East Africa.
"There is an increasing appetite and mindset for social impact among today's youth. Youth in Kenya are no longer contented to live in the current society – they want to make a difference. This programme is a platform to make and change and we strongly believe that together with our partners, we can work together with the wider community to effect positive change in our community by 2020."
Over a six-month period, students will be trained on the following programmes which reach their broader community:
Based on the USLP, the Heroes for change programme further enhances Unilever's blueprint to create new sustainable business models through which the company is making meaningful and incremental contributions to tackle some of the world's development challenges.

"Amref Health Africa has a shared goal with Lifebuoy – to improve the health outcomes of new borns and infants so that more Kenyan children will reach the age of five. That starts with teaching mothers-to-be and newborn mothers the lifesaving habit of washing their hands with soap before their touching their baby," said Desta Lakew, Director Fundraising & Partnerships.
Together with all our partners, and now the Heroes for Change volunteers, we know we can make an impact to advance reproductive, maternal and new born health in most vulnerable communities in Kenya," added Gift Malunga, UNFPA Kenya Deputy Representative and Officer in Charge.
"Trachoma is one of the leading causes of preventable blindness across the world, including Kenya, infecting over 1 billion of the world's poorest people.5 We look forward to working with the youth volunteers to educate kids and mothers on the importance of developing lifesaving habits such as regularly washing hands and face with soap to help reduce their exposure to the bacteria responsible for causing the disease." shared Beatrice Wassuna, Technical Adviser, Super School of 5 trachoma programme, Sightsavers.
In addition to creating an impact in society, Heroes for Change also aims to address issues such as skills training, employability and social challenges facing Kenyan youths today. According to data from the World Bank, youth unemployment in Kenya has averaged 20 per cent in the last 10 years, and almost 155,000 youth who join the labour market annually after completing training in universities and other training institutions often do not meet the expectations of employers7.
Through face-to-face coaching sessions and online tutorials, the enrolled heroes will be given the chance to see the workforce and gain hands-on learning experience. All volunteers will be awarded a certificate of participation upon completion of the six-month programme, while ten outstanding heroes will be presented with internship opportunities with Unilever.
"Our Heroes for Change programme also aims to tackle the issue of youth employability in Kenya. We not only give our student volunteers the chance to impact their society, but also equip them with important skills to better prepare them and make them more employable as they embark on their career journey," noted Justin Apsey.