In Summary
• The project has been financed by East African Breweries Limited and implemented by Amref Health Africa.
• It comprises a borehole, a 50,000-litre elevated steel tank, a 6.4-kilometre distribution network and three water kiosks.
About 6,000 people in water-scarce villages of Malava in Kakemega have finally heaved a sigh of relief after the completion of a Sh14 million community water project.
Water from the Lukume project is already being used ahead of its commissioning, which will take place once the coronavirus is contained. The residents have had to walk long distances, some four kilometres, to buy water.
The project has been financed by East African Breweries Limited (EABL) and implemented by Amref Health. It comprises a borehole, a 50,000-litre elevated steel tank, a 6.4-kilometre distribution network and three water kiosks.
According to Amref Health Africa in Kenya project officer Juma Chitiavi, the three water kiosks will serve residents in parts of Kabras West, South Kabras and Ingotse-Matiha wards, as well as four schools and one health facility.
Juma said water will be pumped from the borehole into the overhead Lukume market tank, which is installed 12 metres above the ground, and distributed through gravity to residents and institutions.
The Kakamega government, through which the project was realised, is expected to provide support towards major maintenance of the non-profit project as part of its sustainability plan.
A community-based committee has been created and members elected to steer the project. It will be responsible for the overall management and routine maintenance.
Juma said the committee has been trained to take over and sustain the project.
Committee chairperson Shigogodi Wasia said residents will buy water at Sh3 per 20-litre jerrycan. Supply to institutions will, however, be metered.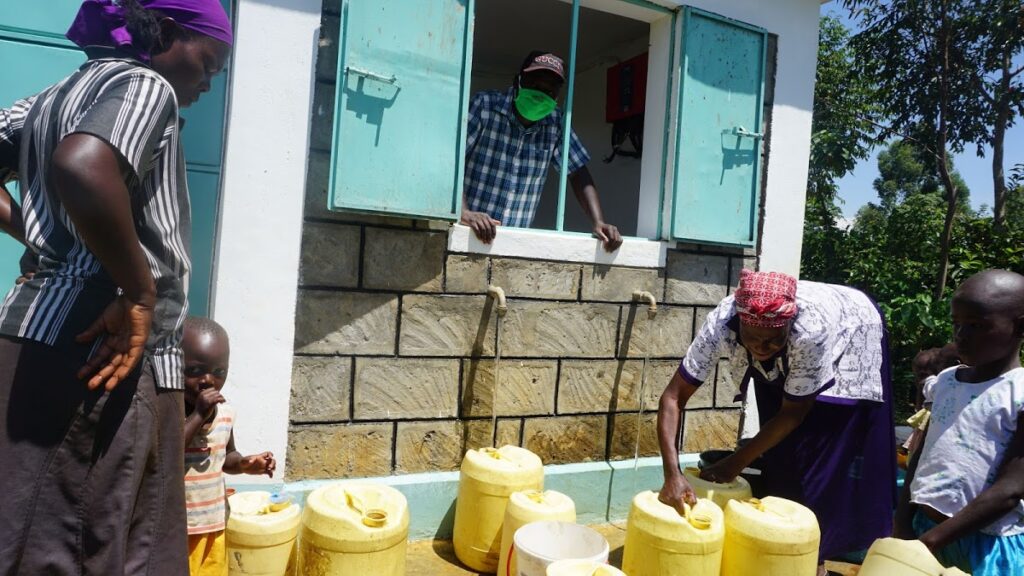 One kiosk serves the Lukala community where the borehole has been sunk. Another serves those in Lukume market and its environs. The market is two kilometres away from the borehole and hosts the steel tank. The third kiosk is in Sawawa market.
The institutions to be piped include Imbiakhalo health centre, Lukume Secondary School and Ingwe, Imbiakhalo and Lukume primary schools.
Wasia said a bank account with three signatories had been set up to manage the proceeds of the project for its sustainability.
"We are also exploring token-based prepayment methods to strengthen the safety of the proceeds," he said.
Elnina Ondiaso, a resident, said the quest for safe water for domestic use has meant long walks for her and her family. She said their situation had been worsened by pollution of the main streams by sugar millers.
"We have to walk to faraway ponds and streams and carry heavy buckets back home. When it rains, many springs pop up, but those are usually gone as soon as the rains stop, and the nearby ponds soon become polluted, forcing us into long walks in search of water," she said.
She said the project is a huge relief and she will not mind paying a small charge to get clean water "this close to my home".
Maryanne Nderu, the Kenya Breweries Limited (KBL) sustainability manager, said the project was informed by the need to promote ease of access to clean water. She said several such projects have been implemented to save the women and girls the agony of carrying water long distances.
The women and girls can spend the time doing productive activities that boost their lives, she said.
"We are aware women and girls in many parts of the country, like Lukume and its environs, spend a lot of time fetching water. The heavy loads also gradually expose them to back and chest problems on top of risks arising from the consumption of water whose quality cannot be guaranteed," Nderu said.
She said the project is part of a five-year (2016-20) plan to give back to the community.
"Water is the main ingredient in our products, and we are trying to replenish what we use through concerted conservation efforts and giving back to the community we serve and draw our raw material from," Nderu said.
The plan sought to supply more than 500 million litres of water to households. The projects are spread in Homa Bay, Kakamega, Kajiado, Kericho, Kiambu, Kitui, Kisumu and Nyeri counties.
(Edited by F'Orieny)
Article first published on The Star, Kenya.