The frontline of natural disasters and pandemics always seems surreal. Life upended by abrupt change beyond the control of those affected by the situation. An under-reported frontline usually has a mixed bag of surprises when an outsider first encounters it. Mvita sub County is one such place.
Ubuntu: Old Town
I am because we are. Thus we must live together in close-knit communities consisting of extended family members – the perfect setting for a COVID-19 wildfire in Mombasa's Old Town.
Mvita sub County packs approximately 9,547 souls per square kilometre. Narrow streets with storied houses whose balconies almost hug each other, some buildings are centuries old and have dispassionately witnessed the passing of time. Before the pandemic, a leisurely walk through the streets of Old Town had been part of the curious tourists' experience. A door-to-door sensitisation campaign by community health volunteers (CHVs) at the onset of the pandemic resulted in some getting infected with COVID-19.
Cases soared, and health workers struggled to manage the situation, under-funded, under-staffed and under-equipped – a difficult fight.
Muoroto Slum
I remember the first time we visited the informal settlement of Muoroto in late 2018 for the establishment of a community toilet block. A dark valley by the sea, too steep for typical luxury beachfront properties. The middle-class Tudor Estate overlooks the slum, like a medieval castle of a prince overlooking the humble dwellings of serfs.
A poor drainage system and mangled housing closely packed between a labyrinth of narrow footpaths. A thrifty woman was busy running a Café beside a ditch of dark, stinky wastewater mixed with sewage, snaking its way down to the sea.
At the bottom of the valley, near the seashore, makeshift latrines empty their contents into the turbid seawater that has turned a mouldy green.
Water is a scarce commodity in this hot and humid valley. Frequent hand washing, physical distancing or staying at home does not make sense for the residents of Muoroto. If an asymptomatic COVID-19 patient coughs in one of Muoroto's narrow alleyways, the droplets which linger in the air could infect quite a substantial number of residents as a result of the immense foot traffic.
The ingredients for a perfect storm just waiting to happen.
A Deadly Dance with COVID-19
Muoroto, Old Town and essentially any Mvita resident can walk into Mvita Sub-County Hospital which has a rickety handwashing station without soap at the main entrance and a suspiciously dry sanitising booth that has not been functional for quite some time. There are no temperature checks in place. At the Malindi Sub-County Hospital, the situation is almost similar, but at least they have a functional sanitising booth.
On a cloudy Tuesday morning in late June when we were meeting with Dr Khadija and her colleague Ahmed, the Public Health Officer in charge of WASH in Mvita sub-county, the hospital had just reopened after being closed down when some health workers tested positive for COVID-19.
They do not have proper personal protective equipment (PPE) like N95 masks to protect themselves while serving patients in this COVID-19 epicentre. We assumed that resources would have been concentrated on this particular frontline. Every working day, the health workers are forced into a deadly dance with COVID-19 when they report to work – the risk of getting infected is 50/50.
"I woke up at 3 AM to catch up with work," Dr Khadija shares as she quickly mobilises a team to go out to the field. When we ask Ahmed and Khadija about the challenges that they are facing, pens eagerly awaiting to scratch away on our notebooks, they both laugh.
"Where should we start?" Khadija asks rhetorically, looking at Ahmed.
"Our health workers are over-stretched, and we are in dire need of key commodities – PPEs, disinfectants for fumigation, hand sanitisers. Logistics are another problem because we have so many cases in terms of contact tracing to handle. Availability of adequate airtime for making phone calls is a major problem, our current airtime allowance barely lasts a few days," Khadija shares, "But we must do what we can with what we have, so we appreciate the support given by partners like Amref."
A Gift beyond Expectations
Eyes light upon seeing the infrared non-touch thermal guns. "This is very good quality, look! They even come with battery packs ready for use," Dr Khadija says with excitement.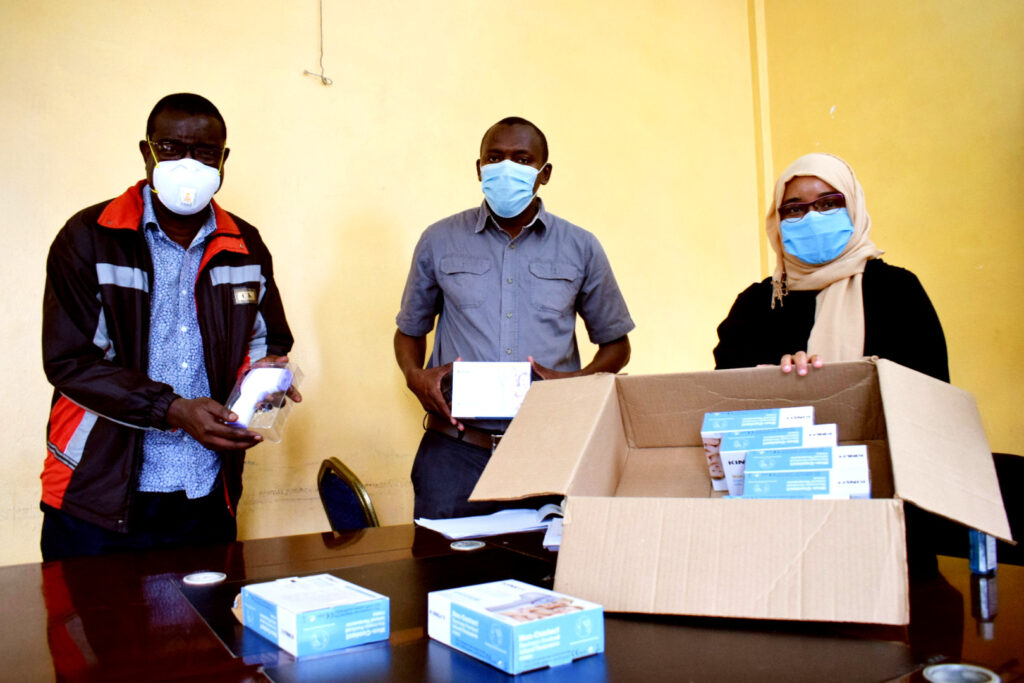 Dr Sultan Hubess of Malindi Sub-County Hospital was also very curious to see what type of thermal guns Amref Health Africa was donating. Upon opening a box containing one of the thermal guns, his face lit up too.
"You know we received some donated thermal guns that were not of the required quality, so I appreciate that Amref is very keen on quality. These are very good gadgets that will give reliable service," he comments reflectively. These items are much needed for the screening of patients," Dr Sultan Hubess, Head of the COVID-19 Response, Malindi Sub-County Hospital.
On our way to Dr Sultan's office, another department head at the hospital seriously lobbied for at least one thermal gun, but we referred him to the good doctor, who we left with the dilemma of how to share such a scarce but much-needed resource.
With the support of the Coca-Cola Foundation, Amref Health Africa procured and distributed 21 thermal guns to the two health facilities.
Ahmed, the Mvita Sub-County Public Health Officer, is one of the very brave Kenyans in the COVID-19 frontline doing the best he can with his team, with ever diminishing resources:
"Our frontline workers will use these infrared thermal guns, especially the ones doing contact tracing door-to-door and will be key in detecting potential cases while at the same time protecting our health workers from getting exposed to COVID-19. I must say that as a sub-county, we greatly appreciate every kind of support that we can get from partners like Amref. I am also looking forward to deeper collaborations on WASH issues in Mvita sub-county."
Mombasa already has a chronic water shortage problem, with handcarts jingling with flattened bottle tops tied to cartwheel spokes, signalling road users to make way or rather reminding them that reliable access to a piped water supply is still a pipe dream.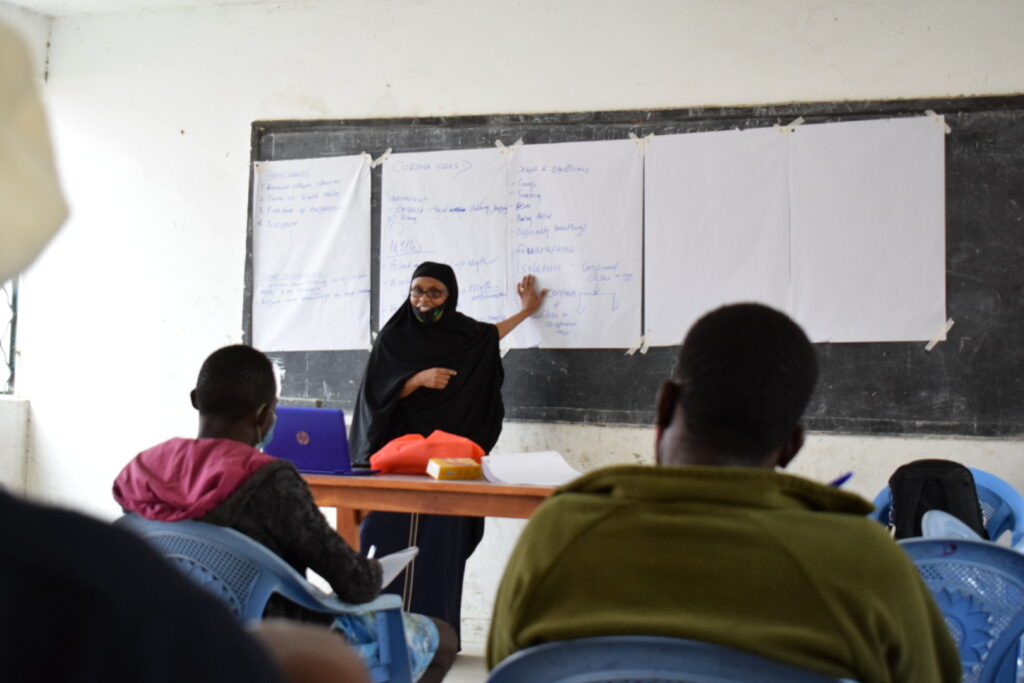 Zulekha Said is a humble and hardworking frontline Community Health Extension Worker with a sense of calmness that can ease the fears of even the most anxious of COVID-19 patients that she attends to. A patter of early morning rain beats our project car's windows as we drive to Muoroto, we discuss contact tracing in an environment where residents firmly believe that COVID-19 does not exist:
"Contact tracing is hectic. Sometimes when I call a person and explain that they have come into contact with a confirmed case of COVID-19, the person blocks my number, switches their phone off and takes flight to hide in a different place. In such cases, we liaise with the Police such that the moment that person switches on their phone, we get their location and swoop in," Zulekha Said, Community Health Extension Worker (CHEW).
But logistics using public transport become slow, inconvenient and expensive. There is no ambulance to transport Zulekha or other frontline workers doing the contact tracing. She confirms the need to call contacts as shared by Dr Khadija and Ahmed:
"Yes, the context is different. You cannot send someone an SMS when it comes to such a sensitive matter; you have to call and explain to them…a human touch to dealing with the pandemic."
Mvita Sub-County has been doing targeted fumigations of homes where COVID-19 cases have been confirmed for the efficient use of the scarce fumigation resources available to them.
The Road Ahead
Given the sub-county's high population density and communal nature of extended families living together, the fight against COVID-19 will be long and difficult. The health system will need all
the support available before the virus peaks and even afterwards, where the resurgence of infection is likely to happen as evidenced in other hotspots across the world.
In the next round of activities in a few weeks, Amref Health Africa in Kenya with the support of the Coca Cola Foundation intends to donate much-needed resources in this COVID-19 epicentre – PPEs, fumigation chemicals, hand sanitisers, hand washing stations, technical training for health workers and CHVs on infection prevention and the control of COVID-19 in health facilities and at the community level.
This is just the first wave of COVID-19 infections, and the Mvita sub-county health system is already under serious strain. The home-based care protocol issued by the Ministry of Health may ease pressure on hospital beds and ensure other health services are not seriously disrupted. Still, it creates a logistics dilemma in terms of the resources needed to effectively manage contact tracing and regular follow-up of asymptomatic patients across targeted households.
There is so much more to be done.