While the other stakeholders struggle to ensure that there is safe water for all, political leaders are playing a major role in the rehabilitation of the damaged installed boreholes and the construction of new ones too.
By Kinyera Anthony Lakomekec
Camilla Achieng, 83 is an elderly person who lives in Onyol central village in Agago district expressed her discomfort while talking about the issues affecting them as being one of the special interest groups. Achieng age 80s says that they always have to trek roughly 2 kilometres in search of water from the neighbouring communities of Geregere trading centre or even Patongo town council because there is only one borehole functioning out of the four.
According to Achieng, age is catching up with her, and she cannot carry heavy containers with water inside. "The government should support us by rehabilitating the spoiled and installing more boreholes to ease our access to clean water and sanitation," Achieng says.
Marcelino Odur, aged 68, a resident of Acuru parish says the government effort of installing motorized water points is really of good influence on their lives since it will reduce the energy they used to trek long distances in search of water due to scarcity in their area.
Emmanuel Odur, parish councillor III for Opari in Omot Sub County stated that there are stretching issues that are affecting the locals in Atula central village in Omot Sub County due to lack of water for both domestic and economic use. Odur added that the tap water provided by the CSOs has got some issues as well.
He says that the demand for water by the locals is surpassing the quantity of water supplied by the motorized water pump, hence causing panic and insecurity about the sustainability of the newly constructed water point in his area. There are issues arising from the locals that the pricing of the water is also very high, rated at 50 shillings per 20 litres of water.
The area member of parliament, Anywar Ricky Richard, says that Acuru parish in Agengo sub-county will have a motorized water system upon the submissions to the central government, and assessments of the project are done.
"There is additional funding of 75million shillings for rehabilitation of boreholes and other 15million shillings for the materials to be used in the rehabilitation such as pipes, nuts etcetera in the constituency of Agago West County," Anywar added.
While the other stakeholders struggle to ensure that there is safe water for all, political leaders are playing a major role in the rehabilitation of the damaged installed boreholes and the construction of new ones too.
Meanwhile, as the struggle to obtain safe clean water for all continues, some communities appreciated the activities of the CSOs despite other challenges.
In Omot Sub County, a water pipe project constructed under the project of IRCWASH Uganda in conjunction with other CSOs including Amref health Uganda, Simanvi, Uganda WASH Alliance, Water Aid Uganda, among others, is already serving the population of about 10,000 with its ten installed taps pumped by a motorized machine.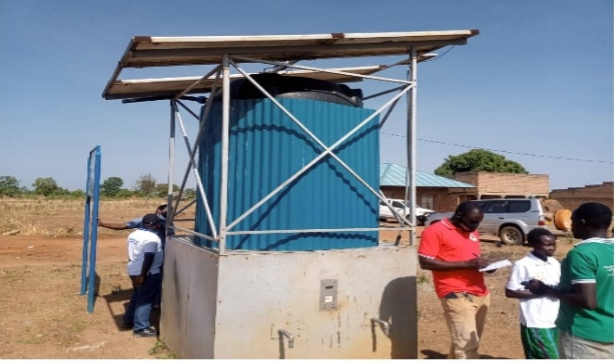 One of the installed motorized water pumps under the WASH project is being implemented in Omot Sub County. It is powered by solar panels. This water source is connected to 10 households, hence supporting over 2000 according to the required numbers of beneficiaries per water point installed. It's reported that the challenge with the above water source is that sometimes it pumps inadequate water, and the price charged is high; that is, 75 shillings per 20 litres of water. It was later boycotted by the concerned person, Noah Otim Okot, saying that the price is 50 shillings, but not 75 shillings.
Water: The unending scarce resource
As the world grapples with climate change that is affecting human activities, other parts of the world still hang in balance on how to access a clean and enabling environment for a healthy life. An estimated population of over 25,000 has been so far been reported to be depending on one source of water for daily use and, in particular, the majority being special interest groups According to individual research I did.
A case study of Agago district was done in response to the availability of water for all under the IRCWASH project during fieldwork with different organizations to check on the water-related issues, latrine coverage, and sanitation as a whole.
Population in relation to water access…
According to an organization that deals with studies on water coverage in Uganda, water.org, Uganda has experienced two decades of economic growth that has led to large population movements from rural areas to small settlements in urban centres. An increase in population stressed water and sanitation services at risk. According to water.org, over 7 million Ugandans lack access to safe clean water and 28 million cannot access water to improved sanitation facilities.
Due to these disparities in water access in Uganda, urban people living in poverty pay almost 22% of their income for water. Such a high percentage of earnings spent on water reduces the household income, and opportunities to save money and fight poverty. Only 32 percent of Ugandans have access to a basic water supply, while 19 percent have access to basic sanitation and seven million Ugandans practice open defecation, according to Globalwaters.
Agago district, in Uganda, has got an estimated population of 227,792, according to the Uganda Bureau of Statistics (UBOS) from the population census of 2014, with a projection of over 251,200 by 2020. It's located in an area of 3,514km2 with a population density of 71.49/km2 and over 16 sub-counties.
Omot sub-county has a population of over 14,000 according to UBOS, on projections 2020 with annual growth of 1.7% in the periods of 2015 to 2020.
Water scarcity continues to be a challenging need of human life that is paramount in the greater east Acholi districts of; Agago, Pader, Kitgum, and Lamwo. Recently, they appreciated the government's proposal of installing a motorized water pump system which will sort out the scarcity of water that has affected people badly.
Bosco Okello, a resident of Labworokemoi, says since the nearby borehole has spoilt, people have to foot over 3 to 4 kilometers looking for clean water, making people depend on Acugu damp water which is shared by animals.
Johnson Otim says that the community is in terrible condition due to water scarcity in the village, and further urged the district leaders to help the people, or very soon there will outbreak of diarrhoea.
Latrine coverage in Lamiyo sub-county
Last year ADRA with the sub-county leadership did a household survey in regards to statistics of toilets in the community. A report from the sub-county chairperson's office indicates that; over 60% of the total population is with toilets, 29% was under construction, and only 11% was without. The majority of the population who are without toilets are elderly people aged 75 and above.
Due to the nature of life, old people are no longer able to dig toilet pits, but the sub-county leaders are advocating and calling upon the youths to dig the pits for the elderly.
As one way of maintaining the constructed toilets, the leaders in Lamiyo came up with a bylaw that would see each household have functional toilets. Failure to do so provokes the bylaw that calls for confiscation of properties to cater for the youths to dig the pit.
The office of the sub-county chairperson reported that handwashing was not a norm among the community members until Covid-19 broke out in March 2020. Hand washing was at 15% out of the estimated population of 14,000, but due to the covid-19, hand washing went up to 50%. After the lockdown eased drastically, hand washing dropped to 35%.
Civil society organization WASH intervention
Due to the growing number of challenges in obtaining safe water for drinking, civil society organizations and other stakeholders have intervened to change lives and the mindset of locals from Open defecation to construction of latrines, imparting knowledge on the negative impacts associated with open defecation, among others.
Agago district remains under the spotlight with the immigrants from Karamoja regions who left their homesteads for safe water and food.
These immigrants increased the population coverage that previously had little latrine coverage. It's reported that the Karimojong always practice poor hygiene hence deteriorating the situation at hand according to ReliefWeb's new research in 2010.
Toilet coverage
As one of the strategic partners in WASH Alliance, Amref-health Uganda represented by Isa Sematimba, says that they triggered villages through behavioural change with elements that include the approaches of Community Led Total Sanitation which provides the locals with information to support their households with safe latrine coverage to promote good sanitation on their own.
Sematimba says most of the interventions from the partners are not handouts as the major components of the project are 'behavioural change' of the people using the diamond approach. We're working in fifteen villages in Geregere and Omot sub-counties on issues of WASH.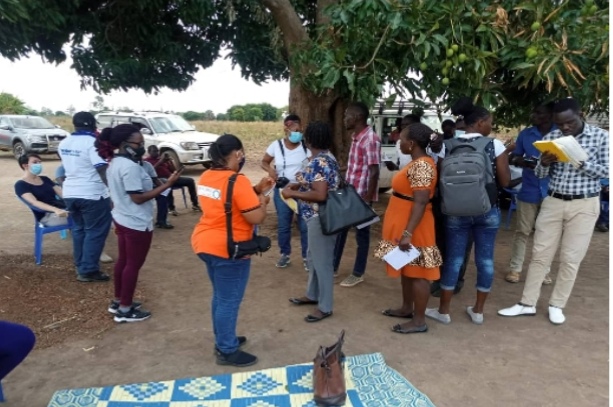 In Geregere, there were only 10 latrines in the village of Onyol Central, Baradanga parish before the intervention numbers. The number of latrine coverage increased by almost 90% from 10 to 51 out of 56 households.
Sematimba says that the remaining five households without the latrines shall share the existing latrines. The CSOs are working hard to ensure that the lives of the locals are protected through the SDGs that talk about improving access to safe drinking water, sanitation, safe and clean environment.
According to Sematimba, the WASH program was supposed to end in June last year, but because of covid-19, it was extended to this." He predicted that it will end in January 2023.
Moses Rujumba, a social worker with Health through Water and Sanitation (HEWASA) stated that decision making in regards to policy framework by creating enabling environment through prioritization from all stakeholders is another thing that must be embraced to achieve the WASH goals and objectives. Rujumba added that the media are partners that play an important role by unearthing issues that are pressing in regards to WASH in the community.
Emmanuel Abibi, a social worker with the WASH project hinted at the challenges reported by locals in regards to climate change, soil type, among others which also affect the performance of the WASH programs. He said that empowering the local entrepreneurs in sustaining WASH should be incorporated for better result realization.
Climate in relation to the water scarcity on locals in Agago district
Agago district is at an elevation of 1036.02 meters (3399.02 feet) above sea level and has a Tropical wet and dry or savanna climate (Classification: Aw). Agago district has got a yearly temperature of 25.02ºC (77.04ºF) and it is 1.55% higher than Uganda's averages. Agago typically receives about 168.7 millimetres (6.64 inches) of precipitation and has 237.74 rainy days (65.13% of the time) annually.
Floods/Droughts
The topography of the Agago district is coupled with a tropical climate's rainfall intensity and/or local or regional land degradation issues like deforestation and wetland drainage or the construction of hydraulic structures that create flow blockage, increase the potential flood risk and vulnerability of the local population, infrastructure, and economic activities in flood-prone areas. Flood risk is exacerbated by the modifications to the runoff characteristics due to deforestation resulting from the increased population pressure in the catchment areas particular close to the water bodies such as river flood-prone areas or wetlands. Apart from damage in the floodplain areas, direct damage from floods in the nearby swamps is typically limited while indirect damage e.g., outbreaks of water-borne diseases among people and livestock, displacement of population, and cutting off key transport links, are reportedly more significant.
The direct consequences of floods are usually limited to the indirect ones (such as the spreading of waterborne diseases), the proper strategy, in this case, is to develop a more suitable land use planning and management system taking explicitly into account the extent and return time of both ordinary and extreme flood events in rivers and wetlands. The drought year varies from about 80% to 84% of the mean year within the region.
General Water Demand
The current and projected water demand was categorized based on the user category, with the main categories considered being; Water for people/Domestic water; this was estimated using population and per capita consumption relative to each type of user, Water for production; such as crop; this was estimated using crop production, the cultivated area, and the crop water requirements, livestock; this was estimated using the livestock density and the per capita consumption.
What does the constitution provide for in terms of water and sanitation access?
In 2016, the Government pledged an annual target of drilling 5,000 boreholes in five years at a rate of 1,000 boreholes per year and fitted with hand-pumps based on their yield. To date, the sector has drilled 846 boreholes per year translating into 84.6% performance. These boreholes have helped serve an extra 253,800 people across the country.
According to the presentation of reports by the Hon. Sam Cheptoris, Minister for Water Environment on Implementation NRM-Manifesto for 2016-2021 during the NRM week, planned to increase access to clean and safe water from 65% to 79% in rural areas and from 77% to 100% in urban areas by 2021 to provide a water source in every village. This will perhaps be implemented through the ministry of water and environment headed by Sam Cheptoris.
The Constitution of the Republic of Uganda (1995)
The constitution of 1995 sets many national guiding principles relating to, and supporting the principles of sustainable development that include; having balanced and equitable development, which requires that the State adopts an integrated and coordinated planning approach.
It further stipulates that the State ensures balanced development between different areas of Uganda and between the rural and urban areas with special measures employed to favour the development of the least developed areas. Through the constitution, the State is entrusted to protect important natural resources including land, water, and wetlands on behalf of the people of Uganda.
The state must further endeavour to fulfil the fundamental rights of all Ugandans to social justice and economic development, with all developmental efforts directed at ensuring the maximum social and cultural well-being of the people. In terms of the Constitution, all Ugandans have a right to clean and safe water and a decent shelter. It's the same state to take into consideration the well-being of the installed structures harbouring the entities related to water and the environment. Through all this, the Constitution sets the scene for Integrated Water Resource Management in Uganda.
National Water Policy (1999)
The 1999 National Water Policy provides an overall policy framework that defines the Government's policy objective as managing and developing water resources of Uganda in an integrated and sustainable manner, to secure and provide water of adequate quantity and quality for all social and economic needs sustainably, with the full participation of all stakeholders," (Directorate of Water Resources Management, 2012).
According to the National Water Policy and the Water Act Cap 152, the responsibilities to provide water services and maintenance facilities were devolved to local councils in districts and urban centres. The role of the Central Government's Agencies is that of guiding and supporting as required.
The Act thus emphasizes the shared responsibilities in the development and management of water resources among stakeholders, including the Private Sector and non-Government organizations (NGOs) to regulate human activities that can pose risks to water resources. It also provides for pollution control measures with associated penalties and fines.
Water Act Cap 152 (1997)
Uganda's Water Act Cap 152 provides for the use, protection, and management of water resources and supply; and facilitates the devolution of water supply and sewerage undertakings. Its objectives are:
According to the National Water Policy (1999) and the Water Act Cap 152, the responsibilities to provide water services and to maintain facilities are devolved to local councils in districts and urban centres, with full mandates to construct, acquire or alter any water supply work.
The role of the Central Government's Agencies is that of guiding and supporting as required. The Act thus emphasizes the shared responsibilities in the development and management of water resources among stakeholders (including the Private Sector and NGOs) to regulate human activities that can pose risks to water resources. It also provides for pollution control measures with associated penalties and fines.
Article first published on https://www.watchdoguganda.com/news/20220419/134503/where-does-the-future-lies-water-scarcity-amidst-increasing-population.html