Amref Health Africa, the largest African-led international organisation on the continent, welcomes the recent findings published in BMJ Global Health that the prevalence of female genital mutilation/cutting of girls under the age of 14 has fallen significantly in the 29 countries in Africa that were part of the study.
Using Demographic Health Survey (DHS) and Multiple Indicator Cluster Survey (MICS) data sets from Africa, the study finds that the prevalence of FGM/C for girls under 14 dropped the most in East Africa where it went from 71.4% in 1995 to 8.0% in 2016.
"It is very encouraging to see that decades of effort by organisations, communities and governments in Africa has helped lead to such a significant reduction in the prevalence of FGM/C among this age group," said Peter Nguura, Director, Amref Health Africa's End FGM/C Centre of Excellence, based in Nairobi, Kenya.

"In the past 10 years alone, we have certainly seen an increasing number of communities in Kenya and Tanzania abandon the practice through community-led initiatives, such as Alternative Rites of Passage."
The study also corroborates earlier findings from UNICEF's report of 2013, another extensive regional study on FGM/C whose data came from 29 countries with the highest FGM/C prevalence. UNICEF's report revealed that the majority of the populations in these countries actually want FGM/C to end and further projected that some countries in Africa may be capable of attaining total abandonment of FGM/C by 2030.
"This recent study should give the movement to abandon FGM/C in the East Africa region new momentum, and result in combined efforts to accelerate progress," Mr. Nguura said. "If this does not happen, the reverse could be the case, where the findings give the communities, donors and other stakeholders a reason to relax thereby reversing the gains attained so far."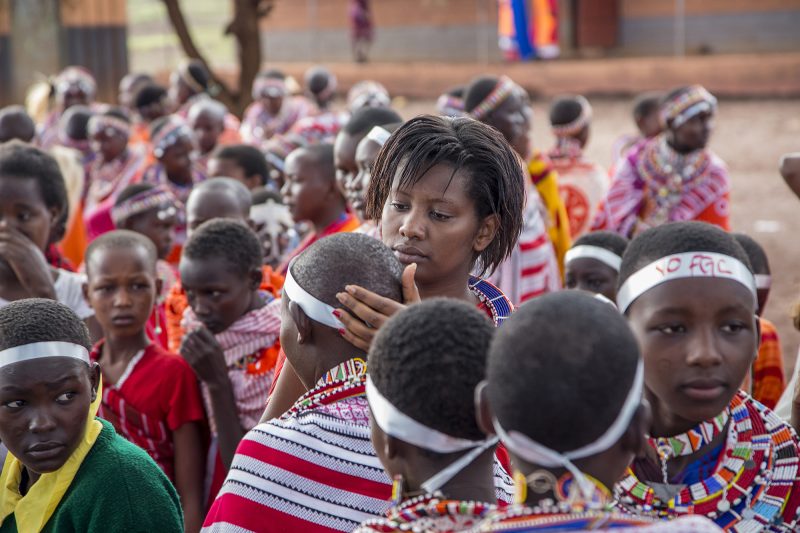 As the researchers of the study underline themselves, even though the findings are based upon large quantitative research (90 sets of survey data, covering 208,195 girls) caution is urged in interpreting these figures. The study is limited to girls under the age of 14, leaving out an untold number of girls aged 14 and older who undergo FGM/C as teenagers, often as part of a cultural ritual that marks their transition from girl to woman.
In countries where Amref Health Africa currently works with communities to end the practice of FGM/C, national prevalence rates for girls/woman aged 15 to 49 are still high –  Kenya 21% , Tanzania 10%, Senegal 25% , for example. It is also important to note that prevalence rates vary greatly across each country, with some communities having rates in the range of 80 to 90%.
In addition, gathering reliable responses from respondents to surveys, like the Demographic Health Survey, for very sensitive issues such as FGM/C can be challenging. When young girls are asked questions, such as: 'Have you been subjected to female genital cutting?' their responses may be affected by the fact that FGM/C is prohibited by law in many of the countries in Africa that were part of the study. An under-reporting may occur due to fear that answering the question in the positive will lead to prosecution of relatives if disclosure were to be made about their FGM/C status.
"We agree with the study's authors that further efforts are urgently needed to eradicate the practice of FGM/C wherever it is happening," said Mr. Nguura.
"Governments, communities and organisations like Amref Health Africa must use the results of this study as a rallying point to redouble our work to ensure we meet the Sustainable Development Goal target of ending FGM/C by 2030. Communities must be supported to take leadership and ownership of the movement to end FGM/C, and young people must also receive support to work together with their cultural and religious leaders in transgenerational partnerships to mobilise their communities towards abandonment of FGM/C. Implementers need to work in partnerships that empower communities to lead the change of harmful social norms."
Amref Health Africa is working to end FGM/C in sub-Saharan Africa through solutions created and led by communities themselves, with a focus on ensuring the health and human rights of girls and women are upheld. The organisation does this by supporting communities to hold structured community dialogues where they can freely and deeply interrogate the harmful norms without judgement, and to explore and adopt culturally acceptable alternatives for FGM/C that come without the harmful cut.
To date, more than 16,000 girls in Kenya and Tanzania in communities Amref Health Africa partners with have undergone a community-led Alternative Rite of Passage that does not include FGM/C. The organisation is also committed to partnering with researchers to add to contextual approaches and interventions to bring an end to FGM/C (see Amref Health Africa's qualitative study published in 'Culture, Health and Sexuality.'), and has created a vision to end FGM/C in Africa by 2030.
To share lessons it has learned partnering with African communities in supporting them to take leadership and ownership of ending FGM/C, Amref Health Africa has launched its End FGM/C Centre of Excellence. The centre is working towards mobilising diverse partners to strengthen collaboration and global commitments to a world free of FGM/C.
For more information, please contact:
Jennifer Foulds, Acting Global Communications Director, [email protected]; +1 647-771-5815  (mobile)
Marije Beekhuizen, Corporate Communications Manager, Amref Flying Doctors in the Netherlands, [email protected], +31 619 340 224 (mobile)
Janice Njoroge, Communications Manager, Amref Health Africa in Kenya, [email protected], +254 720 845 643 (mobile)