The grim reality in South Sudan is that an estimated seven girls per ten boys attend primary school and only five girls per ten boys enroll in secondary education according to a report on Education in the Republic of South Sudan conducted by World Bank in 2012.
This means completing primary and secondary school for Sudanese women and girls remains a mirage. But amidst these statistics, poor health indicators and low skilled health workers, more than 1,000 girls in Maridi Girls Boarding Secondary School for Science continue to blossom in Africa's newest nation.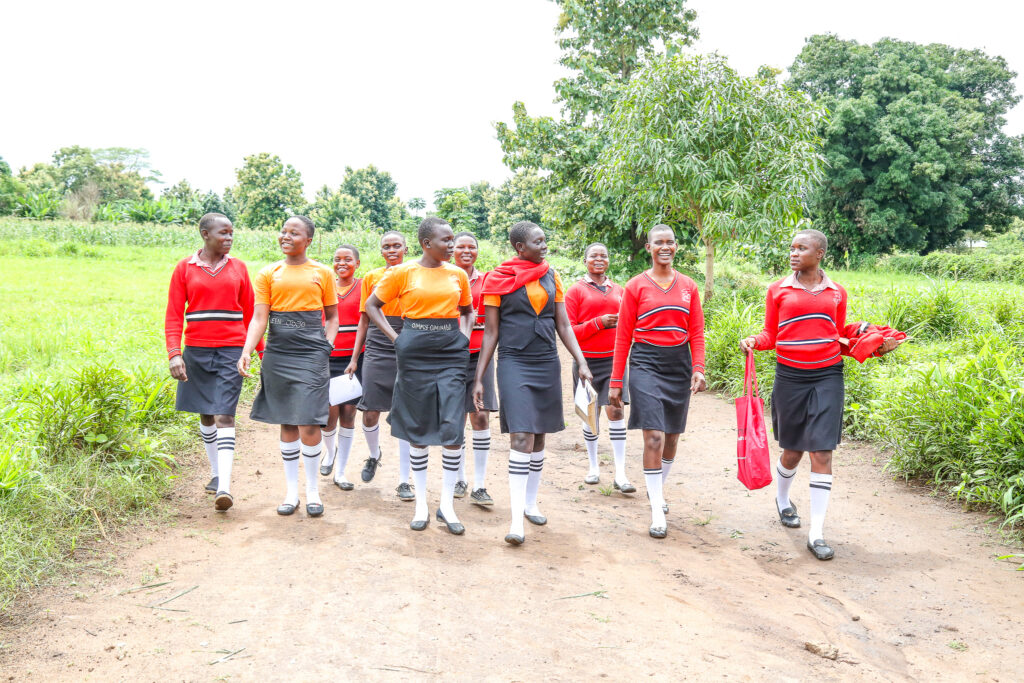 Given the fragile situation coupled with years of civil wars, many schools like Maridi Girls were left deserted, shut or destroyed, with only infrastructure missing the integral part of a school, students and teachers.
Today, the school is a safe haven for many girls, thanks to Amref Health Africa in Italy, which revamped the school in 2013 after the civil war, renewing the girls' hopes for a bright future.
"We started from zero. In 2013, we enrolled only 50 students. In 2019, we had 170 students and the number is on a steady increase," says Mr Bullen Emmanuel Batavuru, the school's Principal.
The school aims at empowering girls, especially those with a science background to become nurses, clinical officers and midwives, thereby ensuring gender equity in the health sector.
Mr Batavuru appreciates the impact of training girls and women in the community. "The school has increased the number of girls joining Maridi Health Science Institute to pursue science related courses from 50 to 170," he confirms.
Natabugu Zosia Augustino, a former student of Maridi Girls is now pursuing a Diploma in Midwifery at Maridi Science Institute of Technology. She is set to graduate in 2020 and advices and encourages other girls to take up science courses.
"The secondary school molded me to venture in science related courses; it was a steppingstone to my goal. I wanted to be a doctor. The training also taught me agricultural skills and now I have a small garden that I take care of in Maridi Institute," says Augustino.
Apart from academics, the school also equips the students with social and entrepreneurial skills that help them after school. They also have the opportunity to join Debate, Agriculture and Academic clubs.
Parents have greatly supported the school. They joined hands and constructed toilets and washing facilities. "Parents pay a little fee for their children. We tell them to invest in education especially for girls. They have trusted us, and that is why they cost share the fees for sustainability," says the headmaster.
The school also conducts weekly health forums to empower girls and talk to our students on Sexual Reproductive Health Rights issues such as teenage pregnancies and early marriages.
"In 2013, five girls dropped out of school as a result of early pregnancy. This year, only two girls dropped. As much as the numbers are declining, we are working to ensure that no girl is out of school because of pregnancy, "adds Mr Batavuru.
17-year-old Jane Wote, a senior two student and chairlady of Academic club confirms that she could be wandering in streets if the school did not give her a second chance.
"Some of my classmates gave birth and left their children at home, they came and continued to study despite being mothers. If this school was not there, I would be married by now. This school has empowered girls in this community and when they come here, they put effort in education and perform well,'' she explains. The school faces a myriad of challenges, among them, lack of laboratory apparatus, books and funds to support development projects. Despite these challenges, the institution continues to empower women and girls to reach higher academic heights.